Ukrainian marine tells his story of trying to blow up bridges in Chonhar on brink of Russian invasion
Thursday, 6 July 2023, 05:30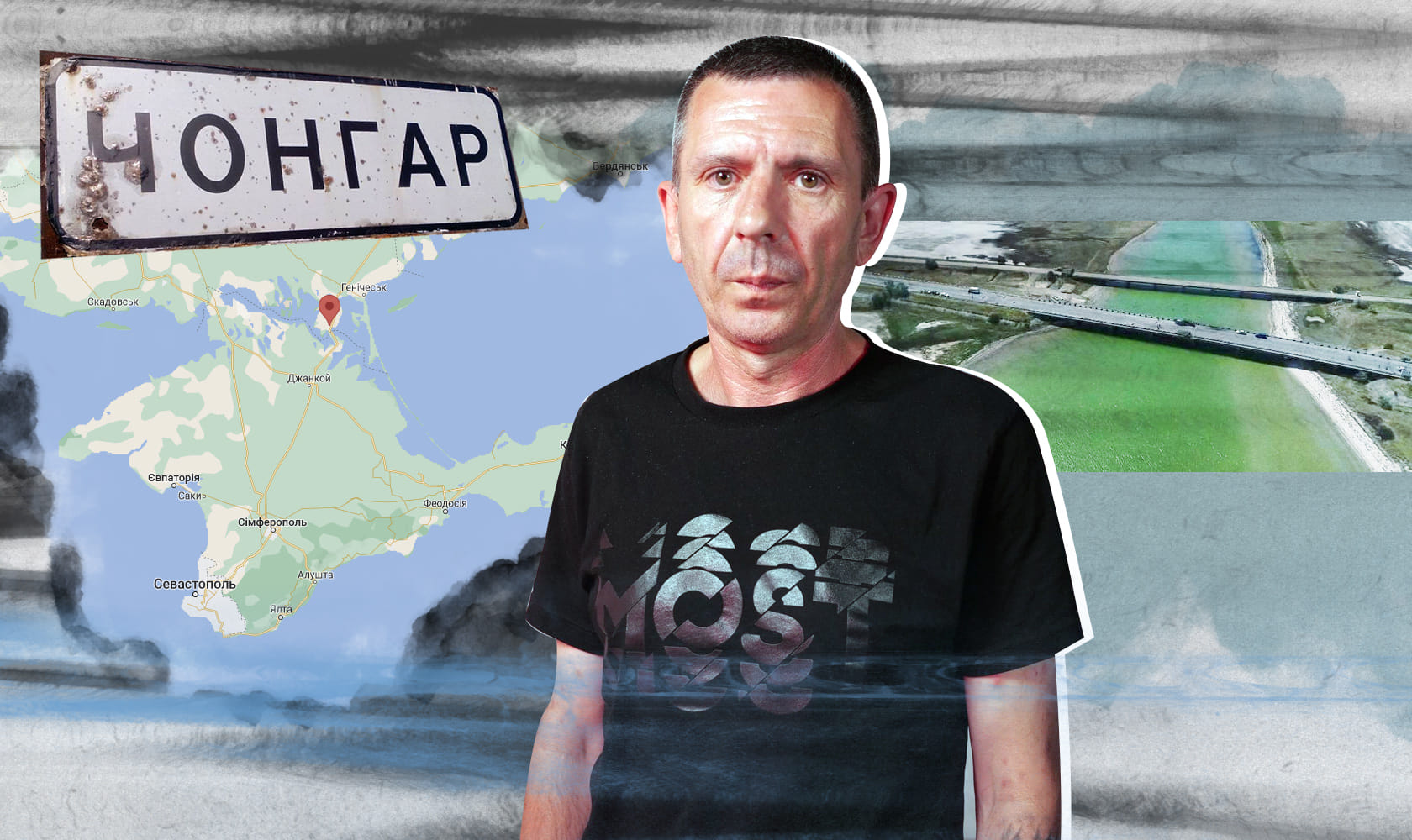 Among the numerous stories of the Russian-Ukrainian war, there is a legend about the village of Chonhar. The legend raises the question of why the bridges connecting Crimea with mainland Ukraine were not blown up in February 2022 to prevent the advance of the Russian invaders.
"Who demined Chonhar?" Under such an emotional headline, this legend is spreading on the internet, including amongst the associates of Petro Poroshenko, the ex-president of Ukraine. They accuse the Office of President Zelenskyy of high treason.
More neutral critics of Ukrainian authorities wonder who was directly responsible for the fact that the Russian army could freely cross the intact bridges to the south of Ukrainian mainland.
Such questions do not arise by chance. The rapid occupation of the south significantly helped the Russians to advance within Ukraine.
"The enemy covered a rather large distance with virtually no resistance. Practically without fighting, they marched from Crimea and ended up on the western outskirts of the city of Mariupol," Denys Prokopenko, commander of the Azov Regiment, told Ukrainska Pravda in the spring of 2022, while defending Mariupol.
So who is responsible for this rapid occupation and, in particular, for not blowing up the bridges?
In a conversation with Ukrainska Pravda, Ukraine's Defence Minister Oleskii Reznikov argued that this is a "purely military issue."
"Someone came up with this narrative and conjured up this idea that someone could have given orders to blow them up, not blow them up or demine them – this is a purely military story, a sapper story," Reznikov assured us.
The military command has referred to statements that suggest there was deliberate "deminining" as just rumours.
"The bridge was mined, but we were facing enemy forces that were 15 times superior," the General Staff explained.
It has been publicly disclosed that a criminal investigation is under way into the events of 24 February in Chonhar. However, security officials did not reveal the details of the investigation.
UP learned from its sources that the investigation began in April 2022. It is being conducted by the State Bureau of Investigation (SBI) together with the Security Service of Ukraine. The SBI, which is under the authority of the Office of the President, is playing a major role.
The process is being conducted pursuant to the articles on "negligent treatment of military service" and "high treason" [of the Ukrainian Code of Administrative Offences and of the Criminal Code respectively - ed.]. Law enforcement officers are investigating possible negligence by the Southern Command. They say that it was the military that "did not organise measures to May ne structures (bridges, dams, etc.) appropriately."
There is nothing concerning the role of civil authorities or traitors among the military in the short description of the case.
But, as Ukrainska Pravda discovered, for more than a year the investigation has not questioned the main witness to the events in Chonhar. His name is unknown to the general public. We will name him publicly here for the first time.
The witness in question is Ivan Sestryvatovskyi, a 48-year-old soldier who served on the border with Crimea. It was he who, on the fateful night of 24 February, was supposed to blow up bridges.
In a conversation with UP, the soldier talks about whether there were mines at Chonhar, what happened at the site during the first hours of the full-scale invasion, how he was left alone to blow up the bridges, and finally, why they were never blown up. The soldier also speaks of his experience during a long year in Russian captivity and his subsequent return to Ukraine.
What follows are the words of the defender of Chonhar, Ivan Sestryvatovskyi.
This conversation is the first in a series of publications about the invasion and defence of the south. This one concerns only the attempt to blow up the bridges at Chonhar.
The editors are studying the circumstances of mining nearby territories, as well as the role of officials responsible in these events. It is important for us to learn the truth. If you know any facts that can help UP in this, please write to us.
Was Chonhar mined?
I serve in the Marine Corps, in the 137th Separate Battalion – the same one I started out in when I joined the army in 2016. I participated in the anti-terrorist operation, now known as the Joint Forces Operation, and went through three rotations in total, all on the Donetsk front.
In the fall of 2021, I began to serve in Chonhar. I held the positions of chief platoon sergeant and deputy platoon commander.
Before the start of the full-scale invasion, we conducted exercises. These are held fairly often – coordination, training of personnel, as the military is always preparing for possible invasion.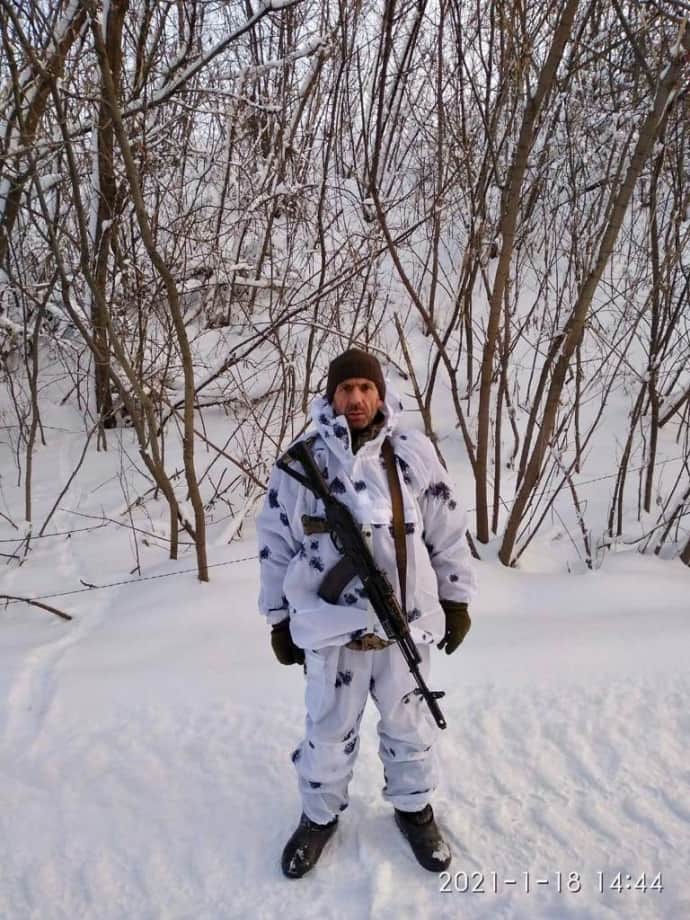 But at the beginning of 2022, we received instructions to intensify observations of possible provocations on their [the Russian – ed.] part. We were told not to intimidate anyone, but to monitor them more attentively.
Personally, I thought maybe there would be some kind of provocation. I hoped they wouldn't risk an invasion.
There were no special fortifications prepared in Chonhar. But everything there had been mined in advance since 2014. All bridges – a railway bridge and two bridges from Chonhar – were mined.
Advertisement:
Before the full-scale war, these mines were checked. I could be wrong, but it was about a week and a half or two [before the invasion – ed.].
There was a log where every time someone conducted a check, this would be entered in the log, noting what is good, what is not good, what they did, whether everything is in order. There was no demining.
How exactly those bridges were mined is something only the sappers knew, only those people who mined and serviced these bridges. I personally knew where the mines were located, and I was instructed on how to connect it all. And I had to stay to blow the bridges up.
How the great war began in Chonhar
The night of 23-24 February is still vividly before my eyes.
On the 23rd there were already some movements by Russians on the peninsula. Everyone was waiting, and we were a bundle of nerves. Nobody slept, just maybe napped a bit. We were woken up at around 3:00. Everyone was in position.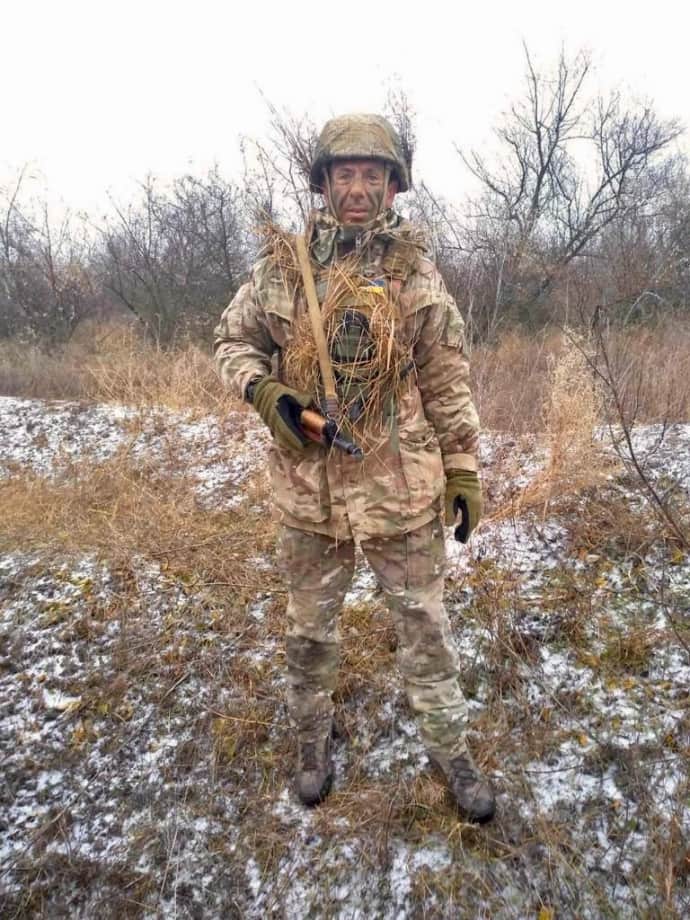 The commander, senior officer on the position, and I went to connect the devices to blow up the bridges. I remained there, and he was engaged in managing the personnel.
Everything began with mortar shelling from Crimea. They struck our positions and the positions of the border guards. It was about 4:30.
The order to blow up bridges had to be given to me by the immediate commander on site, and who in turn had to receive an order from senior officers.
Sappers developed a special plan: there were envelopes that would be opened if necessary, and those envelopes contained instructions for connecting the explosive devices. We ran that connection, and I was left to carry out the explosions.
There was no communication,as our radios did not work. The commander was engaged in managing the personnel, running from one position to another to give orders. Explosives were already detonating. It was very loud, so you would not be able to hear anyone.
Therefore, I made up my own mind and took the decision personally to blow up the bridges.
Were the bridges in Chonhar blown up?
About 10 minutes after the shelling began, I decided to blow up the bridges.
I tried to blow them up, but there was no explosion. I should have seen it, as I was standing near the bridges, on the first line [of defence – ed.].
I tried to reconnect the charge, to check the wires again: maybe there had been some error, something had been connected incorrectly. Reconnected, tried again. I did this three times, but there was no explosion.
I'm not a sapper, but there are two possible explanations. Either a sabotage group had arrived, or the demolition wires were damaged by mortar strikes.
And then I did as was ordered, as we had to retreat to other positions.
It was agreed that if something happened, if I were unable to evacuate, then I would leave in my personal vehicle. And that's what happened – I did not have time to leave with everyone.
Therefore, I was in the process of leaving with two more conscripts by car. When we left, the shooting began. Then a shot from a grenade launcher landed right in front of us; the car was blown aside and I was wounded.
Advertisement:
The car was damaged, so it was no longer possible to go anywhere. Together with the conscripts, I tried to move away on foot as far as possible, I had already drawn up a route. Then we were joined by three border guards, who also did not have time to leave with their units.
I saw the first Russian tanks to enter [southern Ukraine - ed.], and then the air defence came in. Mobile communications were still working, so I contacted the company commander and reported to him. At first, we counted how many and what kinds of vehicles were advancing. From my side, I did everything I could.
At about 16:00 that evening we were surrounded, so that there was nowhere to go. And then we were taken prisoner.
Captivity in Crimea and Russia
We were taken to Crimea.
They immediately asked if anyone had health complaints or needed medical attention. My arm was broken, as a fragment [from an explosion - ed.] had pierced it. One conscript had a fracture and one border guard had a shrapnel wound.
The three of us were taken to the town of Dzhankoi, where there was a field hospital. They provided medical assistance and put on a cast. On the second day in the morning we were transported to a hospital in Simferopol.
At first, we were together with wounded Russian soldiers. There were a lot of them, while there were only 14-15 of us wounded Ukrainians. Only 3-4 days later, we were transferred to a separate ward and security was put in.
The Russians did not know that I was the person who was supposed to blow up the bridges. Of course, I was interrogated. If I had said who I was, I would have been interrogated even more intensely, so I decided to remain silent.
They had a standard set of questions: where are the warehouses [of matériel - ed.], where are the fuels and lubricants, and where are they being moved. They were interested in everything. At first there were some questions about the bridges, but my answer was: I'm not a sapper, I don't know anything.
While we were in Crimea, the conditions were more or less humane. As soon as we got to Russia, everything changed. We were kept in prison, and the first round of interrogations was carried out "with passion," every day, sometimes even three times a day, with examinations and verifications. They used tasers, rubber batons, and kicked us with their legs.
For about a week we were kept in Taganrog, which is in Rostov Oblast, then we were taken to Voronezh Oblast, the city of Borisoglebsk. And from there we were transferred to the village of Pakino, Vladimir Oblast.
They gave me some papers to sign, which stated that I was being treated as a witness. The FSB and the Intelligence Service communicated with me. They did not usually introduce themselves: everyone entered wearing balaclavas, even the guards, so that I would not, God forbid, see their faces. Everyone was wearing masks, even those who brought us food.
Calling it "food" would be a bit of an exaggeration. I can't explain what we were fed, but it's hard to call it food. At best, it was a kind of mush made of pasta.
Relatives were not allowed to contact us, and we received no information about Ukraine. My family knew I was in captivity. I had the opportunity to call my wife from the hospital. Once a week, you could ask someone for a phone, quietly, so that no one could see or hear, and go to the toilet to make a call.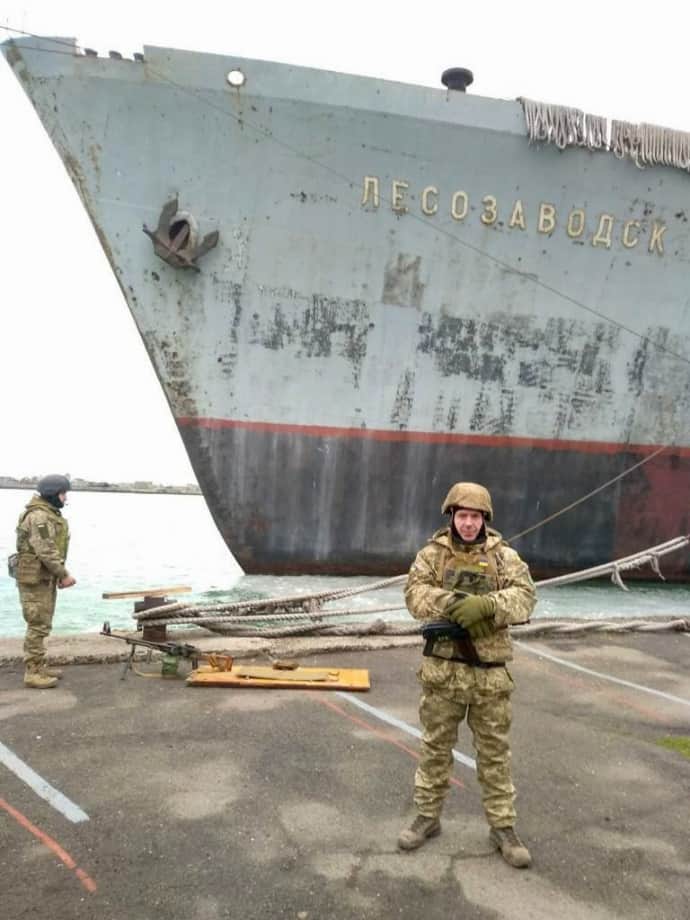 Before I was captured, I called my son while we still had a mobile connection, sometime before 12 noon. My son is also a soldier; we serve in the same battalion, but in different units.
When I had reached Sevastopol – they opened a kind of demonstration camp there – we had no more connection. The guys asked about communicating with relatives, and the Russians replied: "Yes, we agree on this issue, and as soon as everything is ready, we will give you the opportunity to call."
Once in the town of Borisoglebsk, Voronezh Oblast, we were given pen and paper – our captors told us to write letters home. I immediately thought that this was either some kind of provocation, or maybe someone might write something compromising, or either the FSB or psychologists would examine those letters.
I didn't think they would ever get to the point of actually sending my wife a physical letter. Maybe they would rewrite it or take a picture and send it by email. But sending an actual letter is a bit archaic in our times. I could not even imagine that people would still do this. Or perhaps they have not yet moved with the times.
My wife did receive that letter. When I found out, I just laughed. She sent two letters in response, but they never reached me.


How the defender of Chonhar was returned to Ukraine
Nobody said anything about there being an exchange. At different times, people were taken from the cells. Whether they were transferred or returned home as part of an exchange, we could only guess and hope for the best.
I guessed that I would be lucky enough to be exchanged when they took me out of the cell. There were 14 of us in the cell, and they took me out alone and transferred me to another building. The guard who was transferring me immediately asked for my shoe size. There was already hope that this would be an exchange.
I was put in a separate cell and dressed in civilian clothes, because until then I had been kept in the uniform given to me in prison. Then, more guys were dragged into the cell. When they took us out, they put bags on our heads.
Usually, when we were transported somewhere, this was either in paddy wagons or curtainside vehicles. Here, by contrast, we were being taken straight to an airfield to board a plane.
I was exchanged on 26 April. There was another border guard with me, with whom I was in captivity for 8-9 months. I do not know the fate of those with whom I was captured, since I was transferred to Sevastopol. One conscript is still in captivity, and the other seems to have been exchanged.
I am now back in service. For the moment I am at a permanent location. I will soon go to Donbas again.
Chonhar's place in the history of war
I cannot remember exactly how I learned that the story of the bridges on Chongar is being widely discussed in Ukraine. But when I found out, I was shocked. How is it possible that no one knows how it realy happened and that someone is being accused?
I personally believe that had the bridges been blown up, it would not have stopped the [Russian - ed.] offensive. It would only delay it, but not for long – for an hour and a half, perhaps. They would just have thrown down pontoons. They were preparing for this war.
The official investigation has not yet contacted me. Military leaders have not talked to me about this story. Maybe just because I was still in rehabilitation, undergoing a medical examination. I'll have to talk to them anyway.
My immediate commander in Chonhar has died. Of the other witnesses to those events, only one more is alive, a sailor.
I wasn't rewarded. I don't think it's necessary. Those who deserve it should be rewarded. My mission was not accomplished.
Why didn't the bridges blow up? I know the answer: either it was the work of a Russian sabotage group, or the wires were damaged by a mortar. I have no other answer, and I'm not looking for it.
By Sevgil Musaeva and Sonia Lukashova for Ukrainska Pravda
Translation: Theodore Holmes
Editing: Monica Sandor