We need artillery! Sound the broken alarm, while we cover Pisky with our bodies
Thursday, 04 August 2022, 09:20
What is there to lose, what else can be taken away from me on the sixth day of my personal hell in Pisky [a village on the outskirts of Donetsk in eastern Ukraine], one kilometre away from the first street of Ukrainian Donetsk?
The bodies of those who were more precious to me than family are lying there in the heat, in trenches f**ked up by a 152 calibre [​152-mm artillery].
As I have written earlier, [there were] 6,500 shells per damn village in less than a day.
It's been six days of this already, and I can't imagine how even a tiny number of our infantry has survived in this onslaught of enemy fire.
No, I'm not whining.
On our side we have two mortars, 82[-mm calibre] and 120[-mm calibre].
Sometimes two artillery barrels wake up and "sneeze" in the area of Donetsk.
We can barely respond. There's no counter-battery fire at all, the enemy fires artillery shells into our trenches without any problems, dismantling very strong concrete positions in ten or twenty minutes, without a break and minimal rest, pushing through our defence line.
The day before yesterday it [the defence line] was ruined, and the Cargo 200 (dead soldiers) and 300 (injured soldiers) were flowing like a river. I won't publish any statistics, that's not allowed in this country, but you have no idea of the number and percentage of losses.
This is a f**ing meat grinder, where the battalion just holds back the onslaught with their bodies.
For nearly a week we've been waiting for at least some kind of help that would hit the enemy's artillery; we are, I repeat, being fired on with impunity with everything that the Russian military system has at its disposal. Their aircraft were working on us today.
I'm proud of the leadership of the battalion who've remained here with us. The battalion commander is with us, everyone is with us; concussed and lightly injured Cargo 300 are bandaged up and after a couple of hours they come back to the positions, if you can use that word for these bottomless craters.
There is a war going on.
But without a counter-battery fight, it turns into a senseless meat grinder, where an insane amount of our infantry is ground up in a day.
Did you really want the truth? Here it is, the naked truth.
The reserve goes to the position, helping to cover the breakthrough, and within five minutes only one in 15 of them is still intact.
The bodies just lie there. If you are a lightly injured Cargo 300, maybe you'll be lucky, you'll hide, and you'll get out on foot, you'll reach the doctors.
We've just taken away an injured Cargo 300. He screamed all the way, "Where's the support? Where's the artillery? Why have they abandoned us? Why didn't anyone cover us?"
I don't know, my friend, why no one covered us... He screams, and I'm ashamed that I'm still safe and sound - I've been deafened a couple of times, that's all.
I threw up, then I took a dump, excuse me, and I'm back on track.
All the reserves are f**ked up, the military equipment is on fire, the enemy approaches and takes our positions without any problems after another barrage of artillery.
Right now we are losing Pisky. All our resources - human and material - are almost exhausted.
Denys – a guy from Mariupol who told me, "Well, I believe Arestovych [Oleksii Arestovych, adviser to the head of the President's Office], we'll soon take everything back" – is dead. He was wounded twice, we bandaged him up right there in the trench, and we told him, "Denchyk, go and evacuate," but he answered, "Guys, I won't leave you."
He carried on firing back after he was wounded, both the first time and the second time.
We still haven't taken his body away. He's lying there with his arms outstretched on the ruins of Pisky, and his gaze is frozen. He asks for revenge. How can I refuse his final request? How can we all leave Den?
Dimka, though – I believe he survived after all. Because he couldn't die: he'd recently returned from hospital, he'd just proposed to his girlfriend.
They say that he simply disappeared after one of the strikes. He sank into the ground. But I believe that was a mistake, and he's alive. Foolish hope and expectation.
I know my country does not like thinking out loud. But I've been left with no choice between "pobedobesie" (victory frenzy) and "arestovshchyna" [the statements made by Oleksii Arestovych, the adviser to the head of the President's Office, sometimes cause discussion in the Ukrainian social media community and are called inconsistent]. The truth should be heard, not whispers in the kitchen.
Of course I'll get into trouble for this post, because how can the state lie to its own citizens?
I wouldn't be surprised if someone today calls me a "Kremlin agent" and says "Sirozha's blabbed about the brilliant plan for victory on the Donetsk front - let's put his name on Myrotvorets [Peacemaker, a Ukrainian website that publishes a running list (and sometimes personal information) of people who the authors consider to be "enemies of Ukraine"]."
I'm fed up with saying that everything is under control. Right now everything is not under f**king control in Pisky, but for some reason the situation is being hushed up.
Ring out the broken alarm bells, while we cover Pisky with our bodies.
We need artillery.
Give us something here so that we can hold on.
2 August 2022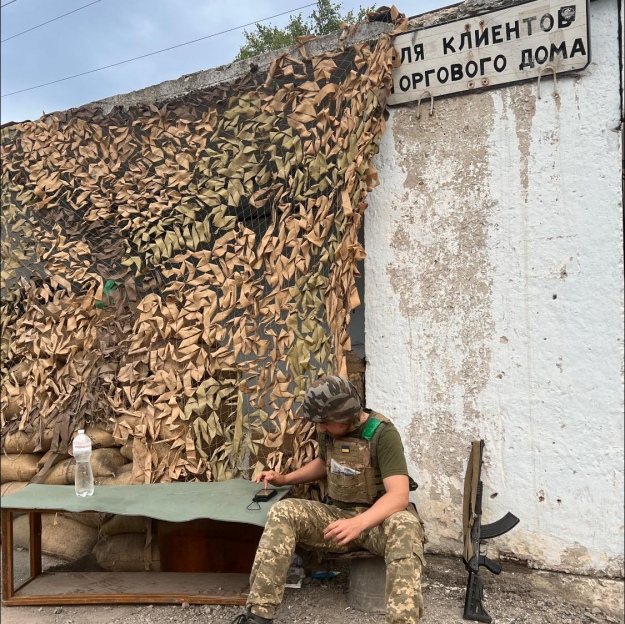 Serhii Hnezdilov