Ukrainian Armed Forces repel Russian offensives in Bilohorivka and near Vuhlehirska Thermal Power Plant – General Staff report
Monday, 4 July 2022, 19:05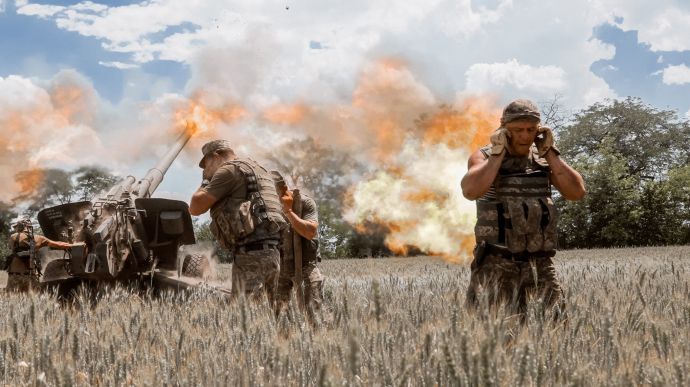 KATERYNA TYSHCHENKO – MONDAY, 4 JULY 2022, 19:05
The Ukrainian Armed Forces repelled Russian offensive operations on the Kramatorsk and Bakhmut fronts.
Source: General Staff of the Armed Forces of Ukraine on Facebook, information as of 18:00 on 4 July
Advertisement:
Quote: "On the Kramatorsk front, the aggressor fired on the areas around Bilohorivka and Verkhnokamianske, using tanks and tubed artillery, and conducted an airstrike near Tetianivka.
Ukrainian troops have successfully repelled [Russian] assault operations in the village of Bilohorivka. The occupiers have retreated.
On the Bakhmut front, the enemy fired on the areas around Spirne, Berestove, and Vershyna using tubed artillery. Enemy aircraft conducted an airstrike near Vershyna.
Ukrainian defenders forced the enemy to retreat after an [unsuccessful] offensive in the direction of the Vuhlehirska Thermal Power Plant and a failed attempt to conduct reconnaissance-in-force in the direction of the outskirts of Berestove."
Details: On the Kharkiv front, Russian occupation forces continued to use artillery to fire on the city of Kharkiv and on the towns and villages to the north, northeast and east of Kharkiv. Russian aircraft conducted airstrikes near Petrivka. Ukrainian troops have decisively repelled a Russian attempt to conduct an assault operation in the direction of Sosnivka and have pushed the Russians back.
Russian forces conducted remote mining of the Ukrainian territory in the vicinity of Cherkaski Tyshky in an attempt to disrupt the logistics and supply systems of Ukrainian Defence Forces. Counter-battery fighting continues in this area.
On the Sloviansk front, Russia continues to attempt to improve the tactical positions of its troops. Russian forces fired artillery on the areas around dolyna, Dibrivne, Bohorodychne, Mazanivka, Sukha Balka, Krasnopillia, Virnopillia, and Velyka Komyshuvakha, and conducted airstrikes near Dibrivne and Bohorodychne. Russian occupying forces are conducting assault operations in the direction of Mazanivka; the assault has so far been partially successful.
On the Donetsk front, Russian occupation forces are focusing their efforts on exerting fire damage on units of Ukrainian troops. They conducted aerial reconnaissance using Orlan-10 UAVs near Pavlohrad and Pokrovsk.
The situation has not changed significantly on the Volyn and Polissia fronts, where units of the Belarusian Armed Forces continued to reinforce their defence positions near the Belarusian-Ukrainian border.
On the Sivershchyna front, Russian forces fired on the areas around Vasylkivske, Bilopillia, and Atynske in Sumy Oblast.
On the Avdiivka, Kurakhove, Novopavlivka, Zaporizhzhia and Pivdennyi Buh fronts, Russia used tanks, mortars, as well as tubed and rocket artillery in order to relentlessly fire on Ukrainian troops along the entire contact line. On the Pivdennyi Buh front, Russian aircraft conducted an airstrike in the area around Ternivka.
Three Russian high-precision missile carriers (with a total array of up to 20 Kalibr naval-based cruise missiles) are on standby in the waters of the Black Sea.