Zelenskyy presents US National Security Advisor with Order of Prince Yaroslav the Wise
Friday, 4 November 2022, 21:06
Volodymyr Zelenskyy, the President of Ukraine, awarded Jake Sullivan, the US National Security Advisor, the Order of Prince Yaroslav the Wise, 2nd class.
Source: European Pravda, citing the Office of the President of Ukraine
Sullivan received the award during an unannounced visit to Kyiv on Friday, 4 November. The Order was conferred "for significant personal merit in strengthening interstate cooperation and support for the sovereignty and territorial integrity of Ukraine."
Advertisement: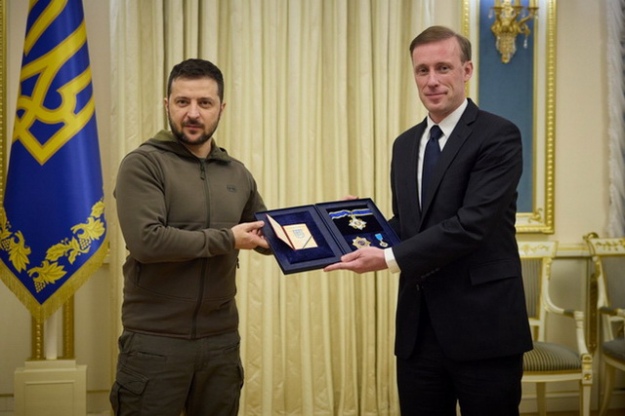 Zelenskyy also awarded Amanda Sloat, Senior Director for Europe at the US National Security Council, with the Order of Merit, 3rd class.
During the meeting, the parties discussed further US support for Ukraine's defence and the liberation of Ukrainian territories from the occupiers, increasing Ukraine's capability to protect critical infrastructure, financial and humanitarian support, strengthening of the sanctions against the Russian Federation and the consolidation of international support for Ukraine.
During his visit, Sullivan stated that no matter the results of the US Congressional elections to be held on 8 November, bipartisan support for Ukraine will be maintained and Ukraine will continue to receive help to fight against Russian aggression.
He added that Moscow has unacceptable expectations when it invites other states to hold negotiations in order to end the Russo-Ukrainian war.
Watch a European Pravda coverage of Sullivan's visit: "The USA agreed on which outcome should be considered the victory of Ukraine"
Journalists fight on their own frontline. Support Ukrainska Pravda or become our patron!