Blood sisters. What do combat medics Field Toad and Steppe Viper carry in their tactical backpacks?
Tuesday, 25 July 2023, 05:30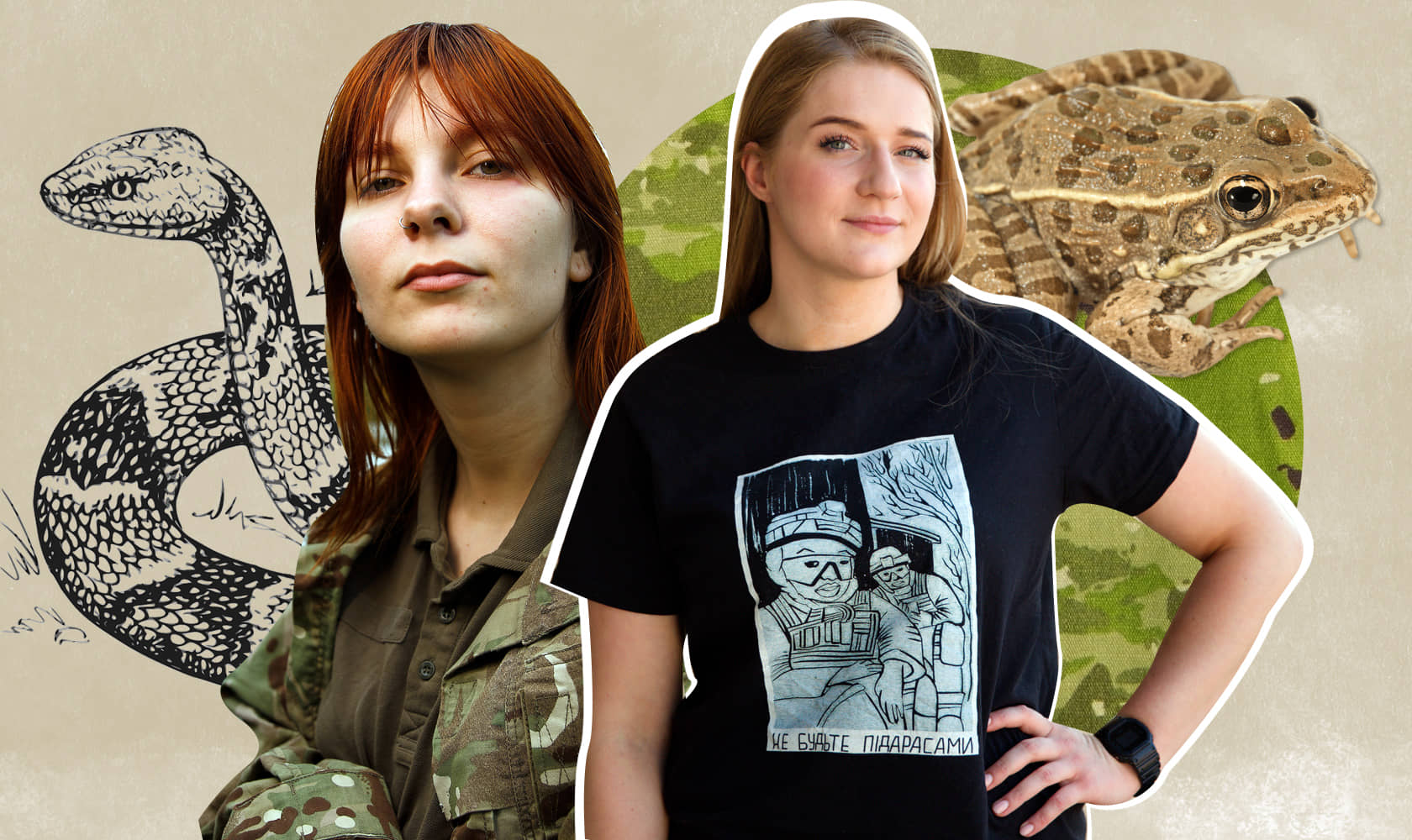 One calls herself Field Toad, and the other goes by Steppe Viper. Tens of thousands of Twitter followers know them by these nicknames.
One teaches tactical medicine mainly in the rear, and the other one practises it at the front.
They are not relatives, but "blood sisters".
Mariia Nazarova and Rina Reznik are fighting for the opportunity to transfuse wounded people at the pre-hospital stage with blood rather than simply putting them on a saline drip.
After the start of the full-scale war, the Ministry of Health allowed such transfusions. However, combat medics are still unable to perform them. Under a Cabinet Ministers' resolution adopted in July 2023, only healthcare workers and military personnel with medical education are allowed to transfuse donated blood and its components, since the Medical Forces Command insisted on this.
However, tactical medicine instructor Mariia (Masha) Nazarova and combat medic Rina Reznik are not only defending the right to transfuse blood at the front. They are fighting for more modern, flexible and non-lethal military medicine.
Tourniquets, bandages, scissors, needles – these are the useful items that save the lives of the wounded at the frontline and are always in a combat medic's tactical backpack. But the packs contain a lot more than that.
Each medic also carries a load of knowledge, mistakes, observations and stories. We asked Rina Reznik and Masha Nazarova about them.
Rina Reznik's tactical backpack
Rina Reznik was lucky: until February 2022, she was not familiar with tactical medicine. She was very fortunate, she admits.
Now Rina is one of its representatives.
As a combat medic with the Hospitallers Medical Battalion, she can tell us how she stabilised the wounded on the road from Soledar or hid from shells in the basements of Bakhmut. And as an ambassador for blood in the army (this is the definition she gave herself on Twitter), she can tell us about her feeling of disgust when the Medical Forces Command blocked the point in the Cabinet Ministers' resolution that would have allowed combat medics to transfuse blood.
A former biology teacher, Rina constantly hears reproaches from her "professionally" qualified colleagues that she does not have a medical degree. However, the wounded she takes out under fire from the zero position of the front line ask Rina for painkillers, not a diploma.
She still does not consider herself to be a member of the military or a doctor, although at the moment Rina is working mainly on the front line rather than on the home front. The front is a place of quick victories. "If you remove a person from the front line, you are a good person. If you also happen to survive, that's great," she says. But on the home front, in order to stand up for reforms in military medicine, you have to endure delays and make compromises.
However, on the front line, the 23-year-old Rina is fighting a system that has its roots in the Soviet past. And the price of defeat in this fight for reform is the daily loss of those who could have been saved.
If you put Rina's present into a tactical backpack, what would it contain? We tried to imagine its contents.
Here are Rina Reznik's words about the meaning of each item in this imaginary backpack.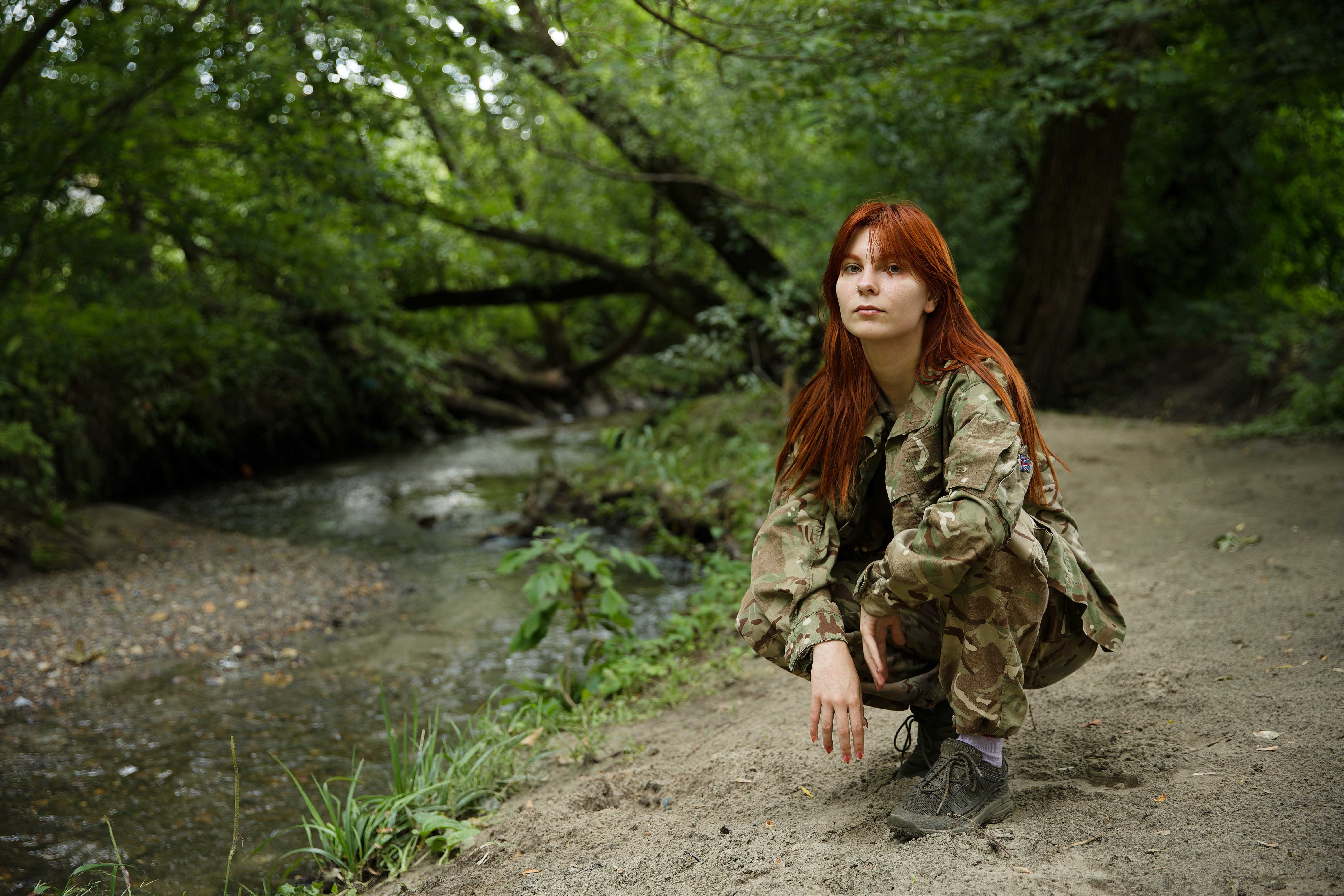 Form No.100
Military medicine is the worst thing in the army. Military doctors are not quite military and not quite doctors. All sorts of terrible things that date from the Soviet era overlap with each other, and there is total insanity.
In our country, medicine is kept behind a sacred curtain, and mere mortals are not allowed to enter it. That's why doctors often consider that: "My personal experience is the ultimate truth". This also dates from the Soviet Union.
"We deliver them alive on saline solution." In other words, a person has transported a soldier, left him or her, and that's the end of the wounded person's journey. In Europe, paramedics take the view that: "After I finished my work, did the wounded patient survive for 30 days?" This is a different way of thinking. They think in the long term. Ours are not yet able to do that.
We do not collect public health data. Not at all, even though this data is invaluable, and people are willing to pay millions of dollars for it. We do not analyse the information and therefore do not learn lessons from mistakes, We do not have adequate forms. Form No.100 (initial medical record), which we fill out for the wounded, is a Soviet piece of paper, dating back almost to World War II. It is a shame.
Advertisement:
Car keys
The wounded should be stabilised within the first hour. The further away one gets from that golden hour, the lower his or her chances of survival.
When the Medical Forces Command claims that we are within that golden hour, they overestimate the quality of our roads and underestimate the density of artillery shelling. A typical situation is one where a wounded person reaches a first-aid post only after six hours.
For example, say an MT-LB is travelling and is hit by an anti-tank missile. A second one goes over, is shelled and turns back. The decision is made to wait, so as not to lose the second vehicle.
Delivering a wounded man to the first-aid post during the golden hour works when you are fighting "terrorists in slippers", who have no air defence and do not strike you with an anti-tank missile and bad artillery.
For us, getting someone to a first-aid post within an hour of being wounded is extremely rare.
My best time was in Soledar. We were standing on slag heaps, and the Russians were far away. Still, it took at least 40 minutes from when I received the call to the time when I reached the first-aid post with a wounded man.
Toothbrush
Those who forget to brush their teeth in the morning are the first to fall. Get up in the morning, make your bed, brush your teeth, prepare your backpack, read a book, and make coffee. My ritual at the front is to wash the car.
We watch a lot of films with my team. Either very stupid TV series or black-and-white German films are especially good. We watched the entire body of German expressionist films. I remember when we first started watching a film, there was very heavy shelling; we hid in the basement and watched Jim Jarmusch's Only Lovers Left Alive. It was really good.
As for rituals on the home front, I try to read before going to bed. Usually poetry rather than prose. I read it out loud. I love Lysheha very much. I know he's mainstream, but I also like Serhiy Zhadan. I like Yurii Izdryk very much – he's such a great granddad, so sensual. He published a book in a bright crimson cover – it's a triumph of Eros, I'm delighted.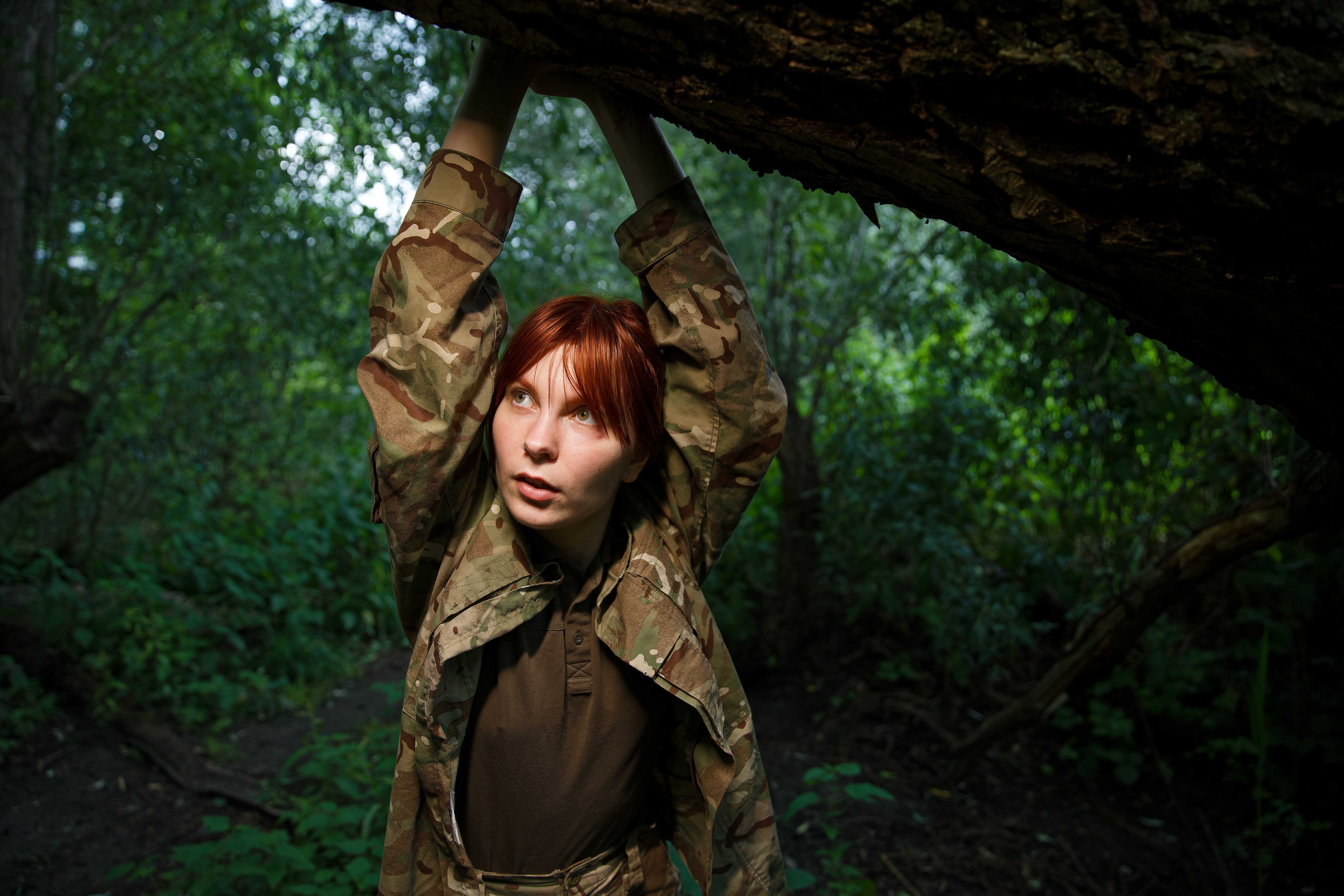 Watch
I feel uncomfortable wearing a watch on my wrist, I am upset by the need to do so. In eastern Ukraine, we don't feel the passage of time at all – it is absolutely powerless. There are no days of the week, no holidays. If you live in a basement, there is no day and night.
But I can tell you about the longest day at the front. It was on my birthday. 11 December, Bakhmut. I was woken up at 6:00. I was about to get angry – I thought someone decided to send me birthday greetings. And our anaesthetist, a guy, was scared and said: "Rina, they've all run away".
We went outside the first-aid post. The brigade that was stationed there got scared and actually packed their belongings and left. The wounded were still being brought in. Two hospital crews and one FVMH (First Volunteer Mobile Hospital) crew were left behind.
It felt like a large-scale betrayal: why didn't you tell me?
We spent the whole day transporting the wounded in those two vehicles. I remember a "wonderful" moment when we were moving a seriously wounded person. I saw a team standing near the first-aid post and loading boxes of medicine and aid into the vehicles. (Much of the aid was left behind - a huge amount!) Under the first-aid post, there were 20 bags of 200s (a military code word used in the Soviet Union and the post-Soviet states for the transportation of military fatalities.). I realised: f**k, they're not going to take them.
In the morning, we returned to the abandoned post and saw that indeed, they had not taken them.
Advertisement:
Resuscitation kit
Is there a place for miracles at the front line?
Miracles happen to those who work not with statistics but with mysticism. I am a person of mystical consciousness. Having graduated from the Faculty of Biology with a red diploma [with distinction - ed.], I say that science was invented by sorcerers to deceive people (laughs).
I have never seen a miracle, but I have seen good work.
Have I ever treated a Russian serviceman? Yes, I have. What did I feel when I did so? Not disgust, but a heightened sense of absurdity. The Wagner Group is a high-profile organisation. I'm 23 years old and I was at war for the first six months. I'm actually a civilian, and I'm holding a Russian prisoner. I'm supposed to do what I want.
In general, I do what the commander says. If he says "Don't touch!", I will not touch. If he says "Resuscitate!", I will resuscitate.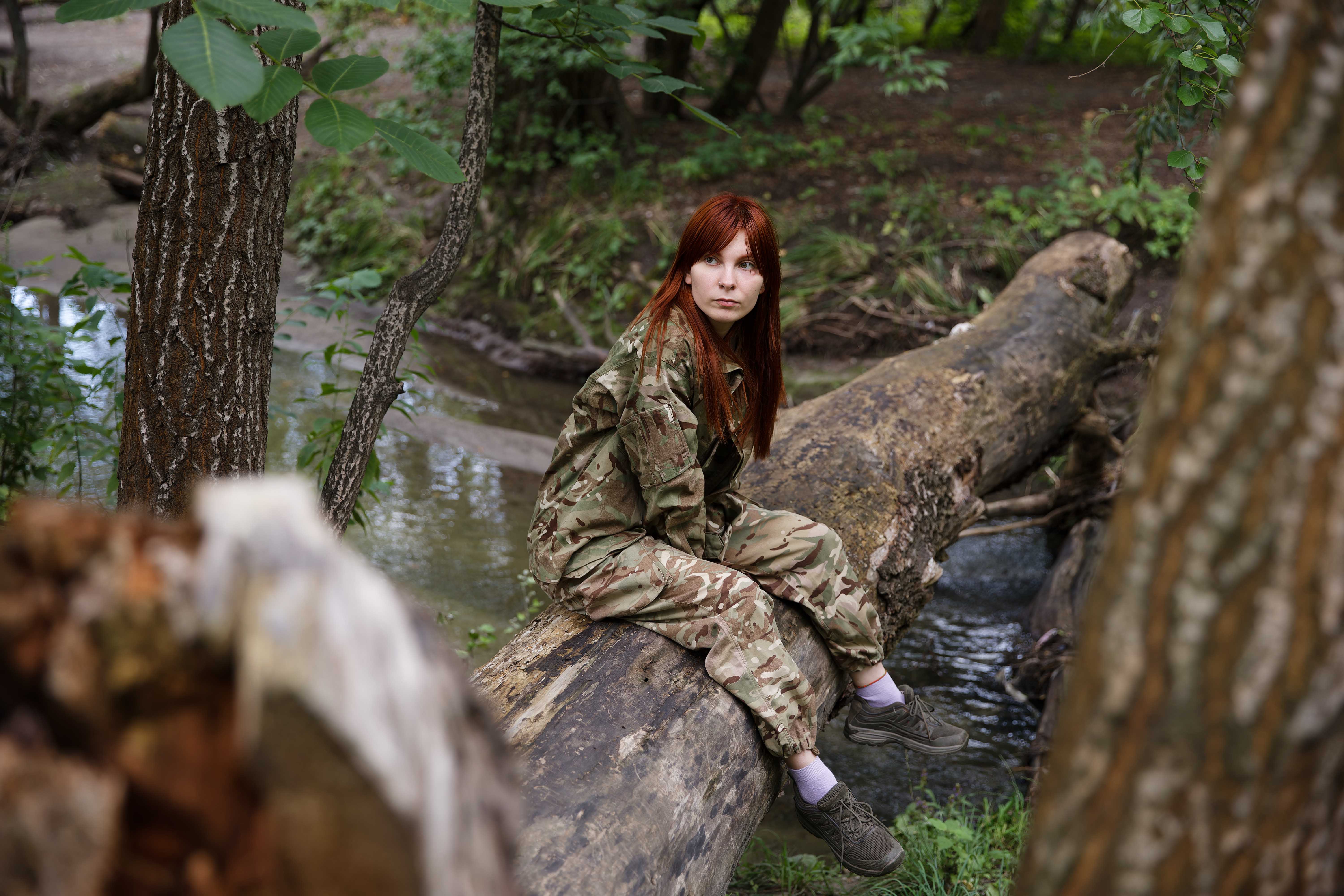 History book
What is the best period of the history of modern Ukraine? Right now.
There is national unity, and reforms are happening very fast. The elites are moving. People who are really in charge are becoming folk heroes. You can carry out some cool projects.
Lastly, a kind of national mythology is being born. There is absolute carte blanche now for any type of art: if you write a book, it will most likely be published. If you write a song, it will most likely be listened to. The window of opportunity is endless.
I've done more this year than in the five previous years of my life. When else could I have driven around with a shotgun in a pickup truck? It's utter delight. Of course, it's not worth it, but since we are here, sitting around crying and telling people that war is all about horror is very strange. It doesn't make anyone feel better.
I love the Middle Ages, I love mediaeval studies. When I talk to people online about how good it is that we are starting a new Middle Ages, people are very offended (laughs). They say that I would have died giving birth at the age of 18. Well, if I had died, to hell with me. Now, when you're dead – that's the end. And then you go to God, and everything is fine.
The Middle Ages were a very carnivalesque time. In general, all our present-day cultural constructs originated in that period. Courtly love, the notion of fairness, carnival.
I would also love to have lived after World War I, because it was possible to go to Africa on an expedition or as an anthropologist. It was a wonderful time.
Chocolate bar
A typical Ukrainian soldier at the front is a hard-working man. He is 35-40 years old, married, has two children, works in a mine or factory, or drives a taxi. He is not particularly aware of new liberal things. He likes to drink energy drinks and smoke Elf Bar (electronic cigarettes). I once tried to tell a commander jokingly that you can't say 'f*ggot'. He looked at me like I was a dumbass.
Another notable part of the army is young "right-wing" guys. They used to be hooligans, but now they are heroes. Residents of the Podil neighbourhood [of Kyiv] are hardly noticed at the front. So here I am, a resident of Podil.
I have an anthropological affinity for everything that is happening. I don't think that a hipster from Podil is more interesting than the taxi driver Gena from the city of Kostiantynivka. Gena the taxi driver often has a lot more intellectual experience and understanding than any girl with keratin bangs.
Some women join the army because it's fashionable, cool... I have great respect for them for not being afraid to join the army. But then they are disillusioned because they saw Gena, a taxi driver from Kostiantynivka. He told them about grabbing Mashka by the leg (a vulgar expression meaning that many men in the army do not ask for women's consent before having sex), and their illusions were shattered. Why not enjoy it? It's just incredible!
I remember a wonderful story. I was sitting with a sad face, as everyone at headquarters was annoying me. The battalion's chief sergeant came up to me and said: "Why are you so sad, kid?" I answered: "I'm sick of everyone fllirting with me". He remarked: "Well, you are such a beautiful young woman". I said: "And, our nurse is also a beautiful young woman, and they don't flirt with her." And then this guy puts his hand on my shoulder and says: "Girl, why do you bother with the nurse? She always agrees anyway."
I thought: what wisdom! How gorgeous! But some girls are really offended by this, can you imagine?
I can't imagine how one can live with the sense that you have a value paradigm and need to impose it on everyone. Why should I impose my liberal, teenage value paradigm on the battalion's chief sergeant?
I am a small, beautiful girl. When I arrive, everyone is happy, they talk politely, and nothing hurts anymore.
I am a person who supports gender stereotypes where it has advantages. If I am a girl and they feed me delicious chocolates, let them. I'll hide them, and then in the evening I'll eat them with the boys.
Advertisement:
Mariia Nazarova's tactical backpack
Mariia Nazarova, 26, is a combat medic, a NAEMT tactical medicine instructor and co-author of the Ukrainian Armed Forces General Staff's training programme for combat medics.
On the night of 10-11 December 2013, during the Revolution of Dignity, 17-year-old Masha took her home first-aid kit and ran to the Kyiv's government district. That was the beginning of her acquaintance with tactical medicine.
In the summer of 2014, Masha spent several months at the front. She worked at the "stabilisation points" [facilities where the wounded are stabilised before being evacuated to hospital - ed.] in Donetsk and Luhansk oblasts.
She made a desperate attempt to "escape from the submarine" at the end of 2014. Nazarova travelled to Germany to pursue her second higher education degree (her first was in philosophy), in medicine. But she quickly realised that it would be difficult for her to explain what she was doing in prosperous Saxony while her friends were dying in the war in Ukraine.
She returned to Ukraine to storm the Kafkaesque castles of our bureaucracy. Initially, she spent two years at the General Staff, promoting reform of tactical medicine. She was involved in everything from creating first-aid kits to developing a training programme for combat medics. In 2018, after leaving the General Staff, she launched the Metro Resuscitation project. It is thanks to her that today every metro station in Kyiv has defibrillators that save lives.
We asked Masha to tell us about her life based on the expectation-reality chart.
"Expectation: I will travel a lot. That I'll have some 'bad trips' but without too much stress or trying to outdo myself. I don't want to climb Everest. I just want to go to the mountain and drink Sangría in the evening, hang out with friends and live.
The reality is that I travel a lot. But with a difference. Today I am at a Romani camp, I own a lot of property, I have changed my car seven times in a year. And I am travelling with this caravan, teaching people tactical medicine, providing assistance."
Here are Mariia Nazarova's words.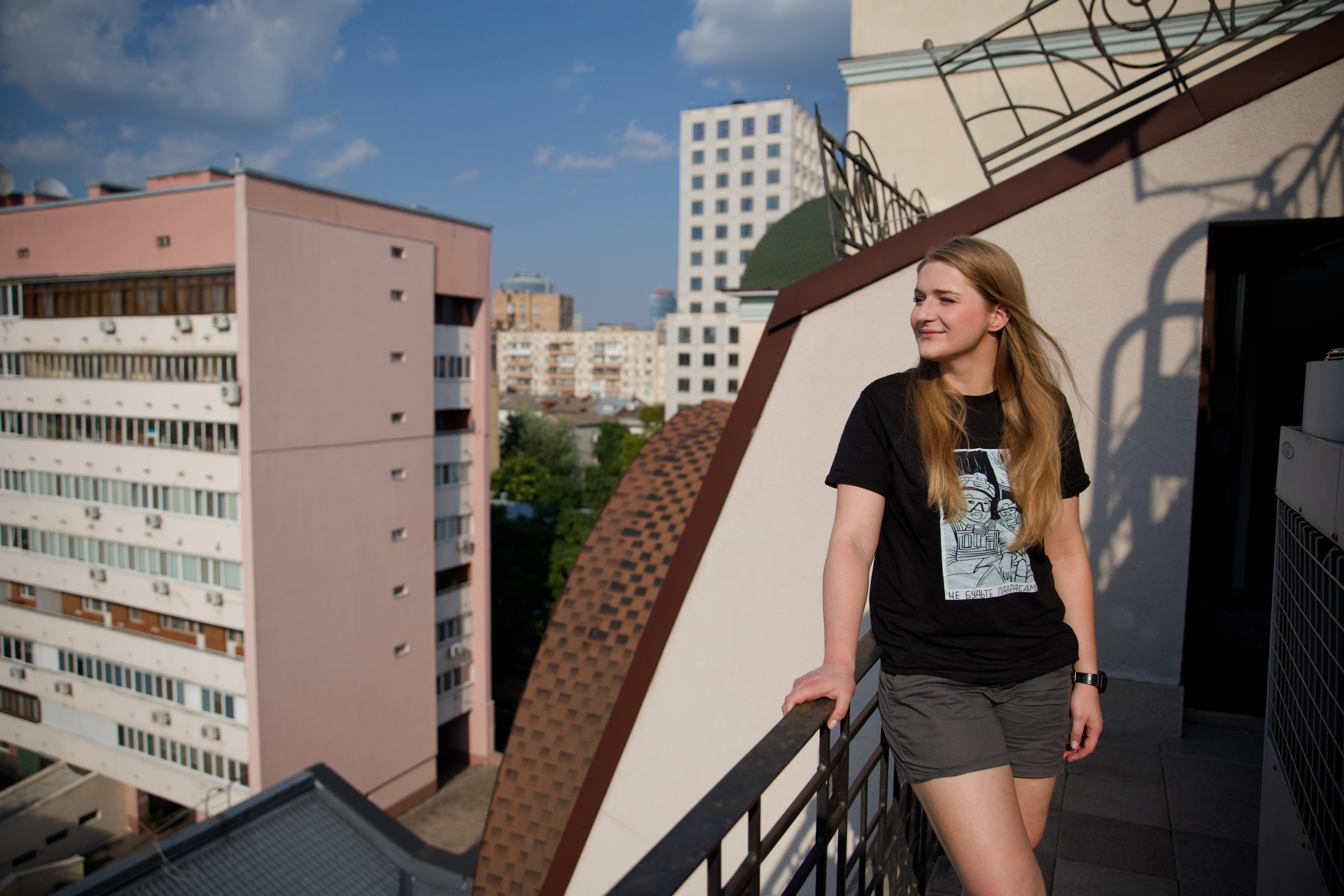 Script for an upcoming film
On 24 February 2022, I was in the United States on a business trip. And my first thought was... Oh, my God, this is going to sound terrible, but here it is. My first thought was: finally. I felt that now we are entering the stage where we will end this war. Because everything that happened before that, since 2014, was a kind of eternal grey zone, like Transnistria.
The Ukrainian diaspora gave us money, and we ordered everything we could find in the military shops of several states and on Amazon with fast delivery. In total, there were 55 suitcases.
We flew from Washington to Frankfurt. From there to Warsaw.
My boyfriend is in the Ukrainian Armed Forces, and the boyfriend of a friend who was with me in the States is in the police force. We called them from the US and told them we were flying home. They persuaded us not to come back. They were reassuring themselves: "Hey, bro, it's going to be okay, planes don't fly to Ukraine."
The one that serves in the police told my boyfriend: "I have talked with the State Border Guard Service to prevent them from driving across the border. Our women will not come, everything is okay." But for some reason, they forgot about Ukrzaliznytsia [Ukrainian national railway operator – ed.]. And when we posted a photo from Lviv, they were like: "Hey, bro, it was a giant f**k-up!".
We were travelling on an evacuation train that was returning from Przemyśl [Poland] to Lviv empty. That was the first time I burst into tears. Because in Przemyśl, people with children, dogs and backpacks holding their entire lives poured out of the train.
I arrived, with two other women and 55 suitcases, in Kyiv on 3 March. And that was it. The end of the story.
Someday we will make a movie about it. It will be a complete art-house film. Everyone will be crying.
Advertisement:
Blank slate
During tactical medicine training, it is always great to work with a blank slate – a person who says they know nothing. The most difficult thing is to work with holders of the Order of St Panteleimon [Ukrainian award to healthcare professionals - ed.] and doctors of medicine who are convinced that shock is a real condition and needs to be treated.
Of course, there is no average ward temperature, either in combat medicine or in medicine in general. There are very professional combat medics, and there are people who found themselves in that position by accident. Having a uterus meant you could be a medic.
Imagine how many women were mobilised into the Armed Forces in February-March 2022. They had to be put somewhere, and many of them with zero training were automatically assigned to serve as combat medics. Everyone is afraid that they can't shoot, but no one is afraid that they may not be able to help the wounded.
Flask with bee pollen
The Armed Forces are a cross-section of society. The way it really is, not the way we imagine it from within our bubbles. This means that the prejudices that exist in society do not disappear in the army. In particular, those relating to combat medicine.
There are many of them. First, that you have to pee on the wound – this is called "disinfection". Secondly, that you need to pee on the intestines if they are slightly visible because of an abdominal wound. Everyone knows that the intestines should be moist, so you have to pee on them to keep them from drying out (laughs).
People who do not take a first-aid kit with them so as not to bring bad luck while performing combat missions represent a separate circle of hell. Or those who believe that it is necessary to loosen a tourniquet every 20-30 minutes in order not to pinch anything and let the blood flow a little.
Supporters of traditional medicine have not disappeared, either. I have some magical bee pollen somewhere that cures literally everything. Do you need it? People say that they used it to dust wounds and the wound healed right before their eyes.
Have you seen a homoeopathic combat first-aid kit? There are 20 flasks and 20 indications for when the contents of these flasks should be used. I am not joking.
Name any number from 1 to 20. 16? Please: "crush injuries, injuries resulting from being crushed by the wreckage of buildings and equipment (when run over by a tank)".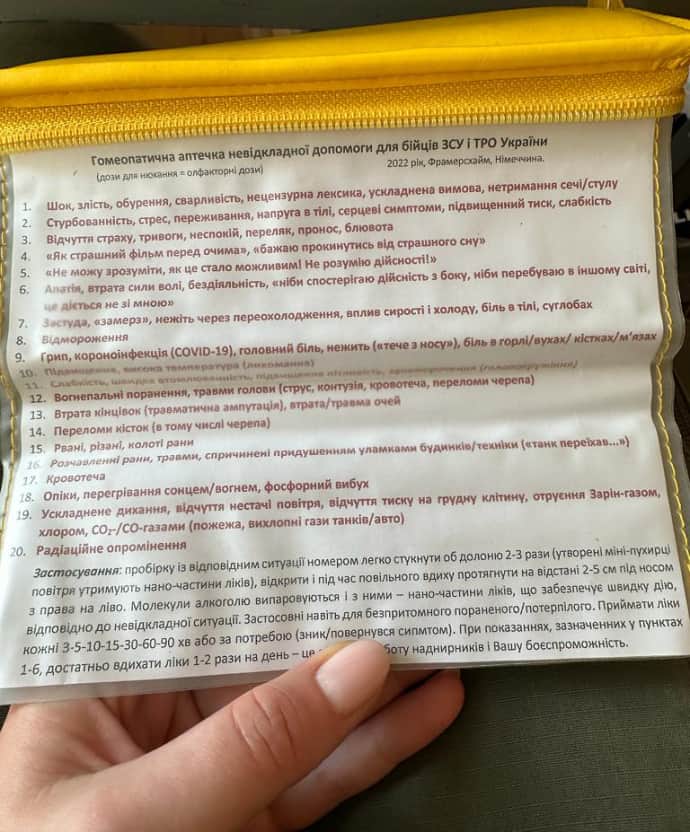 Or here, flask No. 1. Here are the indications: "Shock, anger, indignation, quarrelsomeness, foul language, difficulty speaking, urinary/stool incontinence." Nothing special, a description of my usual state every morning (laughs).
I am a bit of an OSINT investigator – I found a woman who makes these homoeopathic first-aid kits. She graduated from Bohomolets University [the largest medical university in Ukraine – ed.] in 1990. She moved to Germany and opened her homoeopathic practice there. She wanted with all her heart to help Ukraine.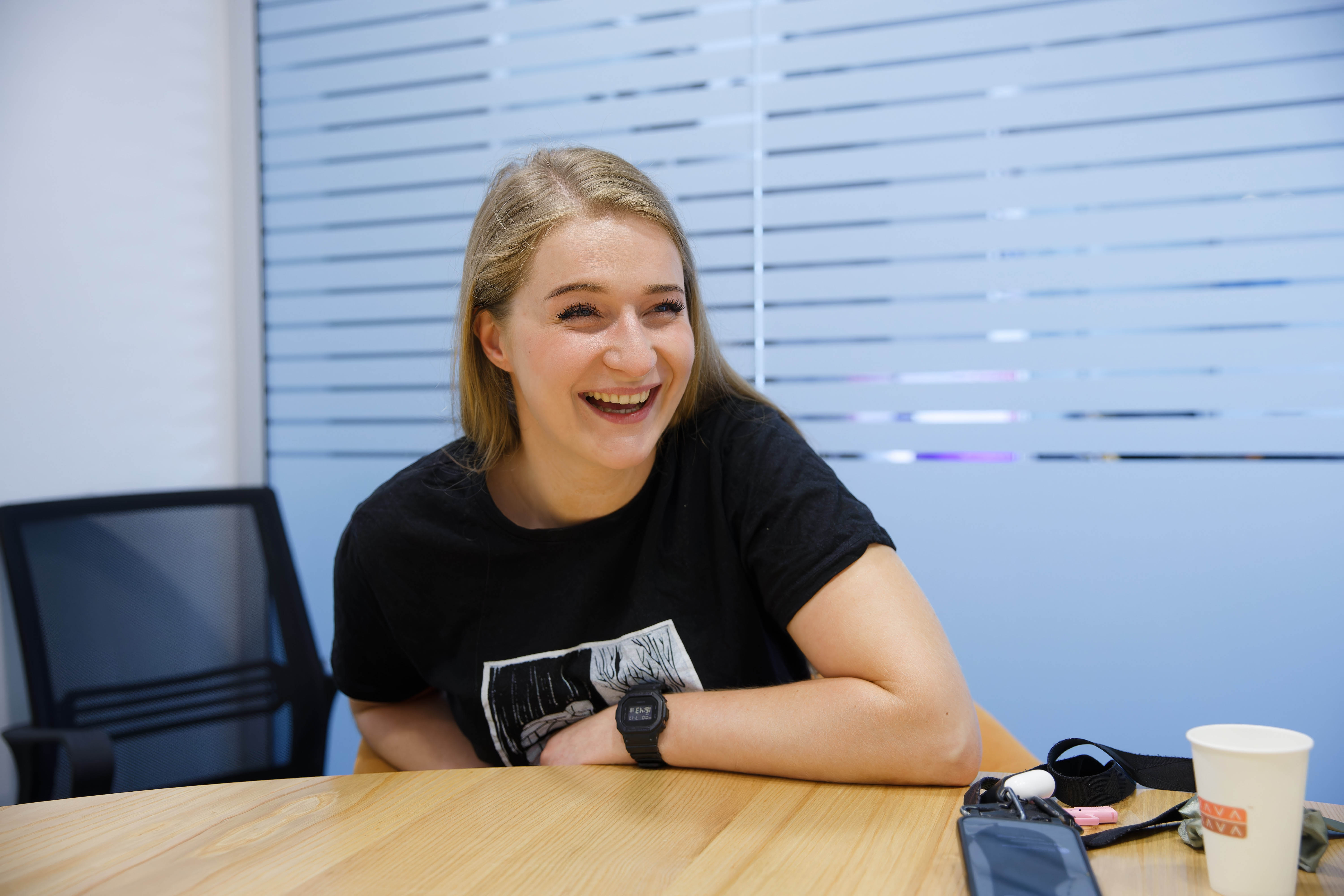 Sticker on the phone
What do the Armed Forces and sex have in common? [Mariia once wrote the phrase "The Armed Forces is sex, and sex must be protected" – ed.].
It's simple – sometimes you give some, sometimes you take some... (Laughs).
In the Armed Forces, with rare exceptions, you can organise your service and the universe in such a way that you feel satisfied with what you do, how you do it and the people around you.
Of course, there are people in the Armed Forces who experience only difficulties... If you choose to be the guy whom everyone owes, you're going to have a very bad time.
There was a high-ranking officer, I don't remember his name. While in Dnipro, he picked up the phone one day and said: "Don't call me, I'm at war". And then he hung up. I want a sticker on my phone: "Don't call me, I'm at war", and to take pictures with this phone somewhere in Lviv.
Seriously, as soon as a person dips their hands in blood and dirt, they feel a moral right to any nonsense. And, you know, it makes a bit of sense.
I have a friend, Boria, a combat medic, who has been my friend since the Maidan. At first, Boria served in fairly comfortable conditions in Kyiv, and then he went on a rotation to Kreminna. He came back and said: "I finally understood. Everyone owes me."
We laugh at this, but in fact, when you are on the Kreminna front, you sincerely feel why everyone owes you. Obviously, none of the normal people will seriously say this to others, it shouldn't be a motto for the rest of their lives. But if someone tells you right here and now that no one owes anyone anything, you turn your face to them, covered in mud and blood, and say: "No, man, you owe me a lot of sh*t, because I'm doing what I'm doing right now."
War is not a form of atonement if you did some shit before it. Later on, we will have a lot to remind this person of. But not now.
Of course, after the war, some people will do disgusting things, hiding behind the fact that they fought. The same thing happened after 2014. And when people say anything to them, they retort: "I bled while you were here..." And the only way to respond to them with dignity is for 4-5 men to go up to them in the same bus or subway carriage and say: "So what, we fought too".
That's why it's important now that as many sane people as possible go through the army.
Advertisement:
Defibrillator
A defibrillator is used when the ventricles of the heart are beating so fast that they don't have time to pump blood.
Today, my colleagues and I need a defibrillator to try and restart our normal rhythm. Because we work very hard and fast, and have no outlet. A lot of time is spent arguing with people who wear a crown on their heads.
At the moment I feel less like a battering ram that breaks through walls, and more like a beaver that sits in front of a dam that is being built and hits the water with its tail. I also feel that many good people want to make changes using other people's hands, including mine. Because everyone is small, and I am the only one who has God-given immunity – I cannot be reprimanded or insulted or threatened online, because I am not part of the official system.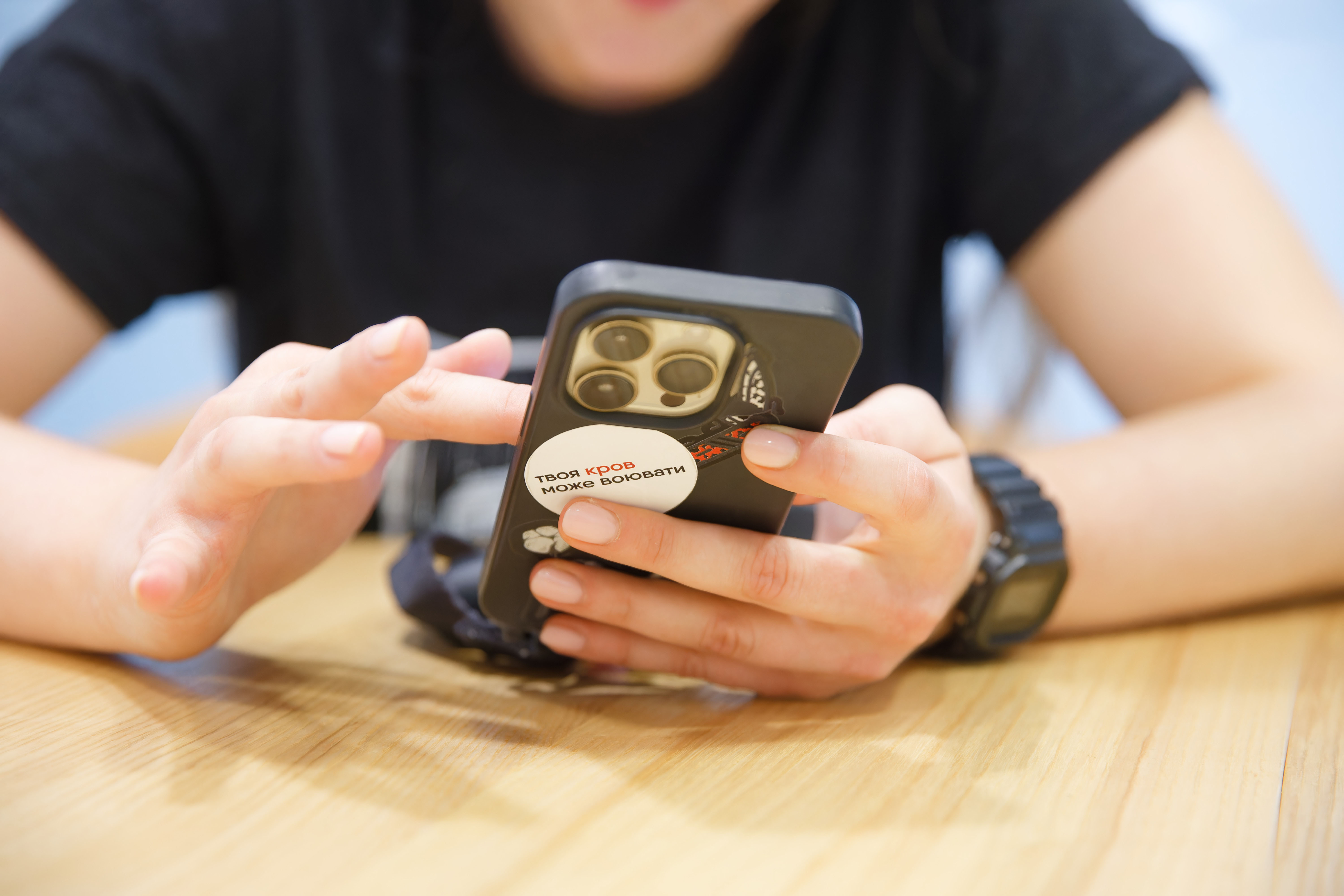 Scissors
I've been at war since 2014 and I understand very well what to do until the time of victory. Now everything is clear: you f**k Russians over, kill them, do your job. If you are engaged in the food supply of the Armed Forces in Lviv Oblast, you are also part of this system.
And after the victory, there will be long years of recovery, fighting internal enemies, collaborators, and so on. I don't know what I will do then.
Actually, I tweeted that I was planning to be a trophy wife – a woman who marries in order for her husband to show her off. I often joke like that because, of course, I'm independent, self-reliant, blah, blah, blah, and I've never tried to depend on a man. But I would like to try it.
But I don't believe that travelling or being a trophy wife is impossible. If I live, it can happen - everything is in my hands.
What do I have in my combat medic's backpack? Oh, what a question!
Let's say I am a pair of Leatherman Raptor shears. Everyone wants them, they are expensive and cool. And they really do the job. That's me.
Mykhailo Kryhel, Rustem Khalilov, Dmytro Larin (photo), Ukrainska Pravda
Translation: Myroslava Zavadska and Violetta Yurkiv
Editing: Monica Sandor