Sincerely, Nelly: The diary of a Mariupol resident who has lived through hell in a flat overlooking Azovstal
Thursday, 28 July 2022, 16:02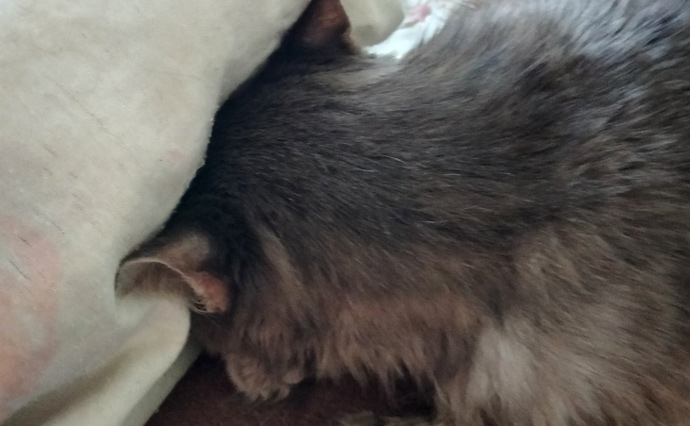 Friends and relatives mourned the likely death of this family for over three months. But they survived the hell in a flat with a view on Azovstal.
Nelly and her daughter continue to live in Mariupol, a city that has been destroyed by the Russian occupying forces.
Ukrainska Pravda has not managed to get in touch with the author of the following notes, which she shares on Twitter. The chronology of her account of living among ruins and graves in the city which had just recently teemed with life is preserved below.
Nelly used to be active on social media, but went silent in early March. Following a long break, she wrote on 27 June:
"We are alive. The cat, too. We have survived the hell in a flat with a view on Azovstal. There's no service. Let the whole world light candles to remember those peaceful Mariupol residents who burned alive in their houses and those who were killed by bombs."
In response to Nelly's post, many wrote that they have long been lighting candles for Nelly and her family to rest in peace, and that now they pray for her health.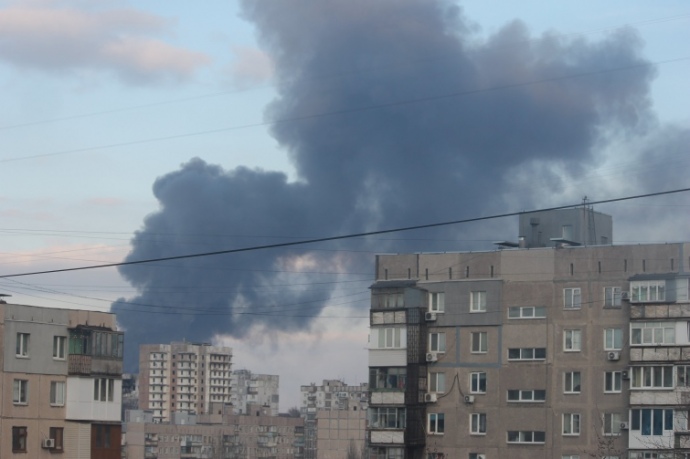 "The city is gone. It's burned down and shot dead. The only life there is is on the stretch between school no. 65 and the Taras Square. The area around Hratsia [a supermarket - ed.] on Kirov Square is gone. So many civilians have been killed. Artema Street [Arkhyp Kuindzhi St in central Mariupol was called Artema St until 2016 - ed.] is gone, all of the buildings on it have been destroyed in airstrikes. The entire Left Bank, the Komsomolskyi Boulevard there – are gone. Cheremtsi is gone."
Nelly has kept a diary since the very first day of the war. Like a superintendent, she kept track of what was going on in their building. She often wrote in complete darkness. Her apartment has had no heating or electricity since early March.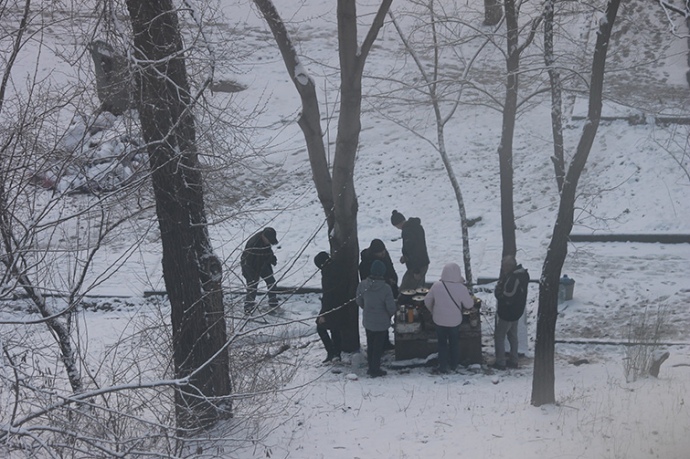 "10 March. Fighting near Azovstal. Tanks, aircraft dropping bombs at 07:30. From what I gather, the Azovstal plant is under attack. Our building is being rocked.
There's nothing left to eat.
A private residential district, three water wells were bombed. There's no drinking water left in the city."
"19 March. Hell! All buildings are on fire."
"20 March. Hell."
"21 March. Kirov Square has been shelled."
Nelly wrote those notes in her hallway, where she spent the first two months of Russia's full-scale invasion. Her apartment is right across the hall from the elevator and has no foyer. Its windows overlook the Azovstal plant.
"Those in the Drama Theatre area ate all of the pigeons. They're laying snares to catch them.
Pharmacies are closed, the only medicines are sold by people who were prescribed them by their family doctors for free. Everything costs 500 hryvnias [approximately $14 - ed.], even Phtalazol [a broad-spectrum antimicrobial drug - ed.].
A neighbour, a doctor from hospital no.5 who lived in my building, was killed during the evacuation from the Drama Theatre when [the Russians] dropped a bomb on it from a plane. My daughter's classmate was killed: he went to fetch water in Novoselivka and bled to death from a shrapnel wound."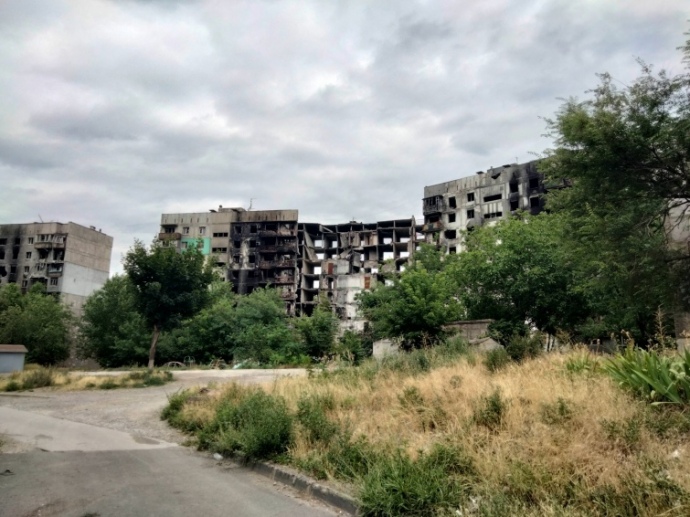 29 June:
"Sometimes a dog returns to the burned-down house. He goes up to the sixth-floor apartment where he used to live and howls and howls, for the entire neighbourhood to hear.
People go to the ATB store everyday to access internet.
I can't buy a Phenix SIM-card [Phenix is a Russian mobile phone operator which covers the Russian-controlled "Donetsk People's Republic" - ed.], in my neighbourhood they're only sold once a month, and a queue gathers from around three in the morning – there are just so few of them. I have only a few minutes when I can use the ATB internet on the street."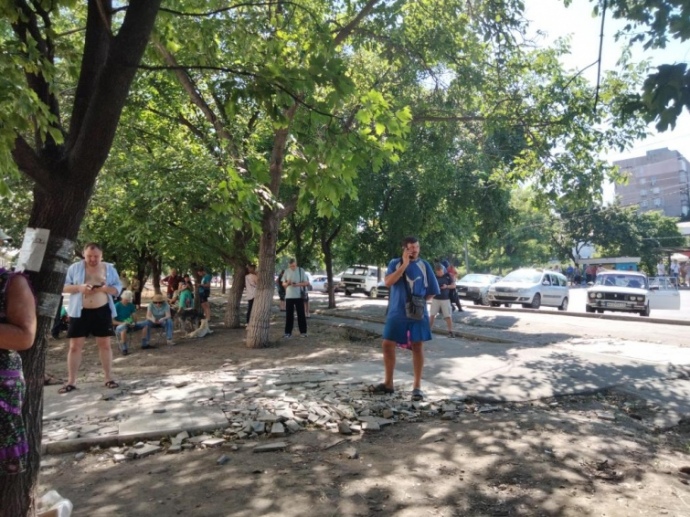 "Doctors Without Borders must come to Mariupol. People start queueing for the pharmacy on 80, Myr Avenue overnight, it's only possible to buy medicines off of someone else. There's no medical assistance available. I can't get my tooth looked at anywhere.
Household cleaning products are extremely expensive: a bottle of dish soap – say, like our Gala brand – today costs 120 hryvnias [approximately $3 - ed.], a pack of laundry detergent – 100 hryvnias [$2.70 - ed.]. International organisations managed to deliver hygiene supplies even to Syria and Afghanistan.
Water and electricity supply have been restored in my building. Nearby buildings still have no electricity. Kirova Square and the area around Hratsia are going to be demolished. Many of the five-storey [apartment] buildings in the PGT [Pryazovskyi State Technical College - ed.] district will be demolished, too."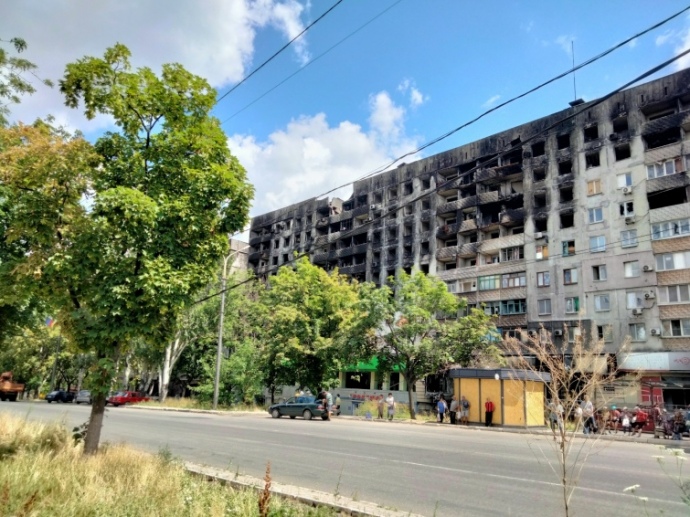 2 July:
"Yesterday, 100 bodies of dead peaceful Mariupol residents were pulled out from under the rubble during the clearing operations.
My daughter has to constantly reassure me that I haven't lost my mind. Some people have gone crazy. A man on Kirova [either Kirova Square or Kirova Street – it is unclear from Nelly's words - ed.] has lost his entire family and is now biding his time in a building that burned to the ground and refusing to leave."
Nelly takes her followers on a virtual tour, showing them photographs of destroyed buildings and buildings black from fires. She asks her followers to send her pictures of white pigeons: "We only have the black ones left, all the white ones have been eaten."
"People are fed up with the ATB. Cashiers round up people's receipts, saying that they've been ordered to do so by the manager. Customers are visibly angry, ready to tear them apart.
The closer to the Post-bridge [a system of two bridges connecting the rest of Mariupol with the Left Bank neighbourhood and the Azovstal plant - ed.], the more dreadful. Even birds don't sing there."
Nelly adds that portable washing rooms have been set up in various parts of the city; each person can spend up to 10 minutes there.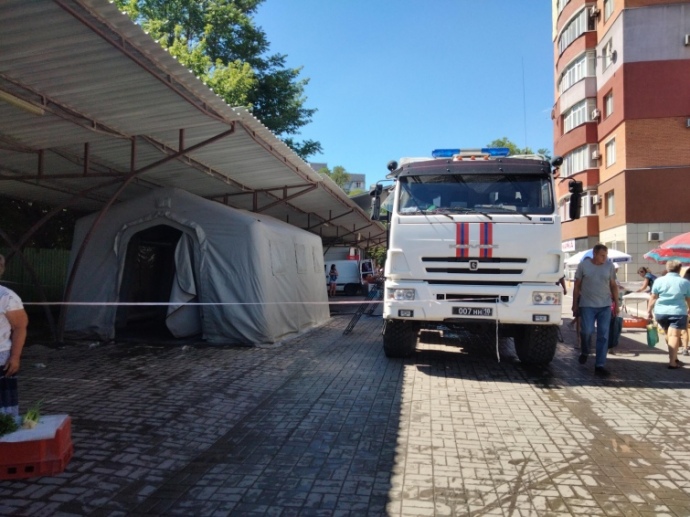 11 July:
"We used a Primus gas stove to cook, pick up propane at the gas station.
We've not been through the 'verification' process yet, the queue in Volodarsk is 60,000 people strong, people spend as long as two months there, some depart for Berdiansk.
If anything, we'll leave everything behind, take our cat and go by foot, no verification or anything."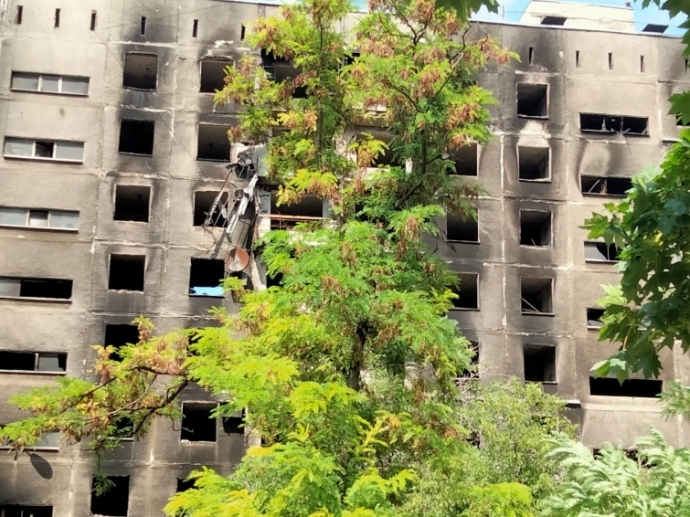 Nelly then shares another fact, a mundane one, but which in the present context seems funny: "A former clinic treating impotence is where the new DNR [the Russian-controlled 'Donetsk People's Republic' - ed.] administration is located."
12 July:
In her entry dated 12 July, Nelly describes looting among Ukrainian residents of Mariupol. She notes that when electricity was cut off, people went to loot various shops and stores – in particular, thrift shops.
"All of the first-floor apartments whose owners had left have been looted – by their neighbours. Even furniture has been taken away.
News doesn't give us much hope, the threat of hunger in Europe is beginning to tip the balance of the war over."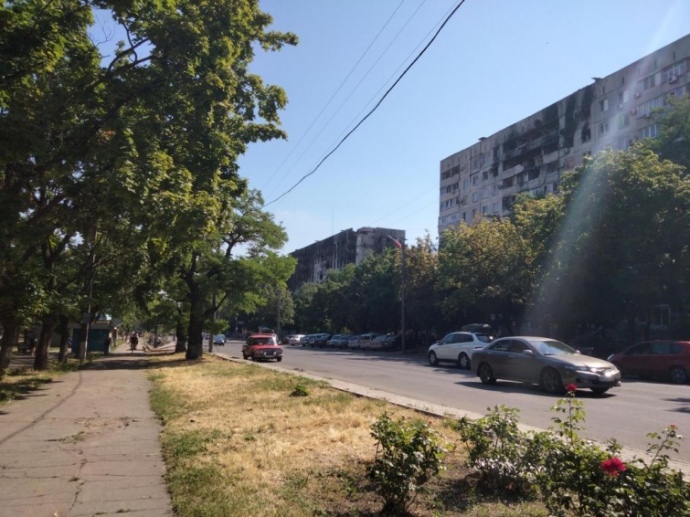 18 July:
"Sometimes there's no electricity, sometimes no water. Every morning the T-62 and T-72 [tanks] drive past on their way to the coast.
Neighbours returned to their city flats from their summer house in Urzuf, saying they kept hearing explosions there.
Those who remained living in the burned-down buildings on the Kirova [Square or Stree – unclear in the original - ed.] complain that in the evenings it reeks of corpses. People were shot by [Russian] tanks there, they died in the basements of those buildings.
The cat has a contusion, when she dreams of the war she hides her head under the pillow."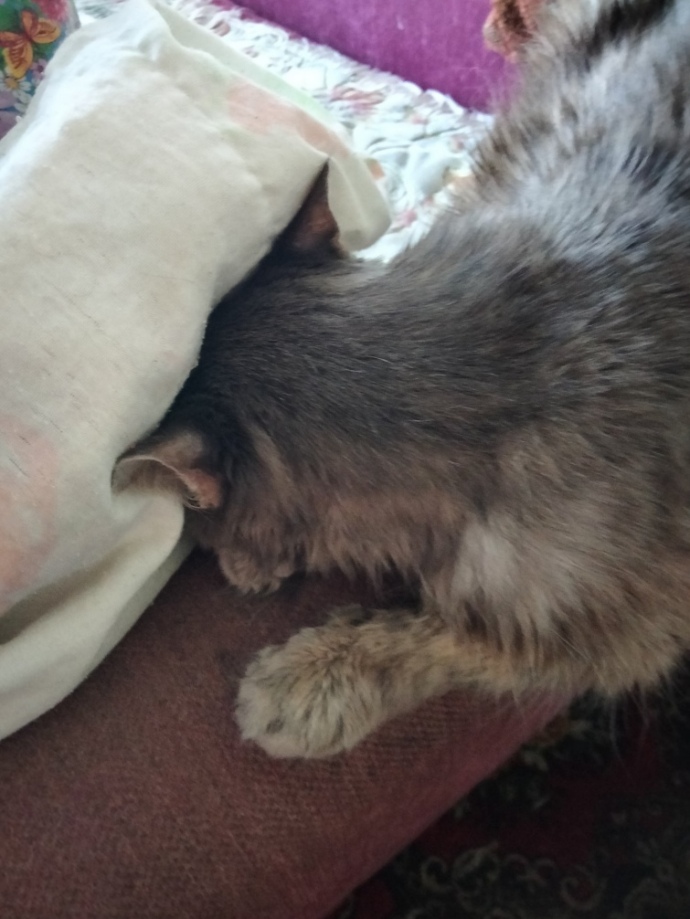 "We have not gone down to the basement at all, just sat in our hallway, on the top floor of the building, throughout the months of shelling.
There is no more smoke from Azovstal… Each day, I used to film it burning…"
On the first days of the invasion, it was the tanks that were burning. Later on, everything was shrouded in smoke.
22 July:
"To be honest, there are plenty of fruits and vegetables at the market. They're brought here from all over the Pryazovia region [the area around the coast of the Azov Sea - ed.]. There are so many tomatoes, today there were even the fat pink ones, only 20 hryvnias for a kilo [approximately $0.54/kilo - ed.], there were melons and watermelons, 15 hryvnias per kilo [approximately $0.41/kilo - ed.]. Pineapple-yellow watermelons cost as much as the regular red ones, 15 hryvnias per kilo.
Lots of food in the former ATB grocery store has been imported from Belarus. Mostly cheese, oil, condensed milk.
Residents of the nearby villages who bring their produce to the market have always spoken Ukrainian – and continue to do so. They say they're not afraid of anyone, that the Uzbeks speak Uzbek, the Roma people speak Ukrainian. This is Mariupol, that's what it's always been like. There's still lots of Roma people in the city, so far they're behaving decently."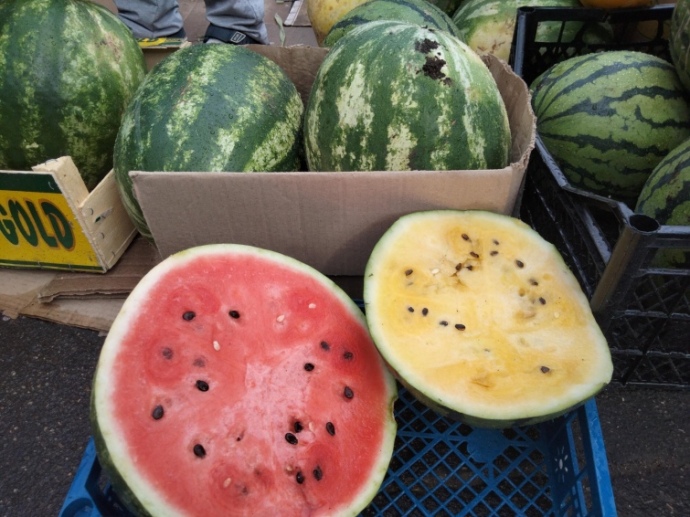 23 July:
"There was a downpour, but no rainbow. Not a single rainbow this year. People say they've been banned in our territory.
Before the war, there was a cockroach infestation in our house. I've tried so many different things to get rid of them, spent so much money! And what do you think? All of the cockroaches fled as soon as the building started vibrating from the first bombardments. None of them have returned yet. There's no mice in the basement, no rats. They all fled the war."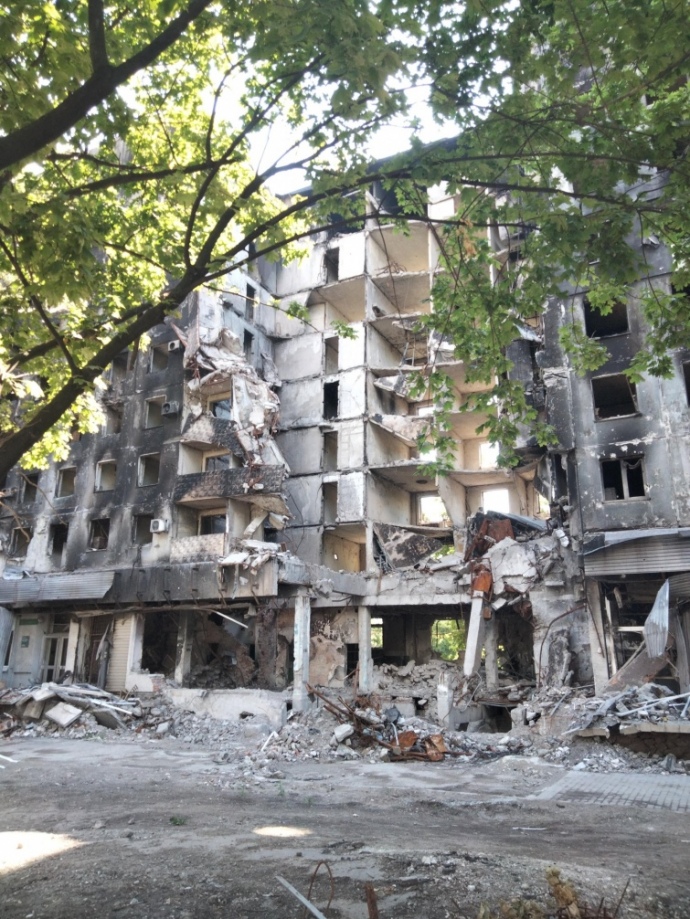 24 July:
"In March, when everything was crashing and burning all around us, the most moving thing was the appearance of volunteers. They'd suddenly appear in your courtyard and shout: 'Hishnevska, your sister in Israel is looking for you' – and everyone would think, lucky her, she'll be able to escape this hell.
The daughter of our very old neighbour has arrived from Moscow, she had to take a train to Taganrog and then a taxi all the way through the burning Donbas, and all the old lady had to say was: 'What have you come for, spending all this money? I'm not going to go anywhere. They give me food here.' And she's refused to go."
A few days before this post, Nelly noted that 34 out of the 50 apartments in her part of the building are still occupied.
"People are returning to Mariupol! People have returned to the flats on the ninth, eighth and seventh floors of my building!"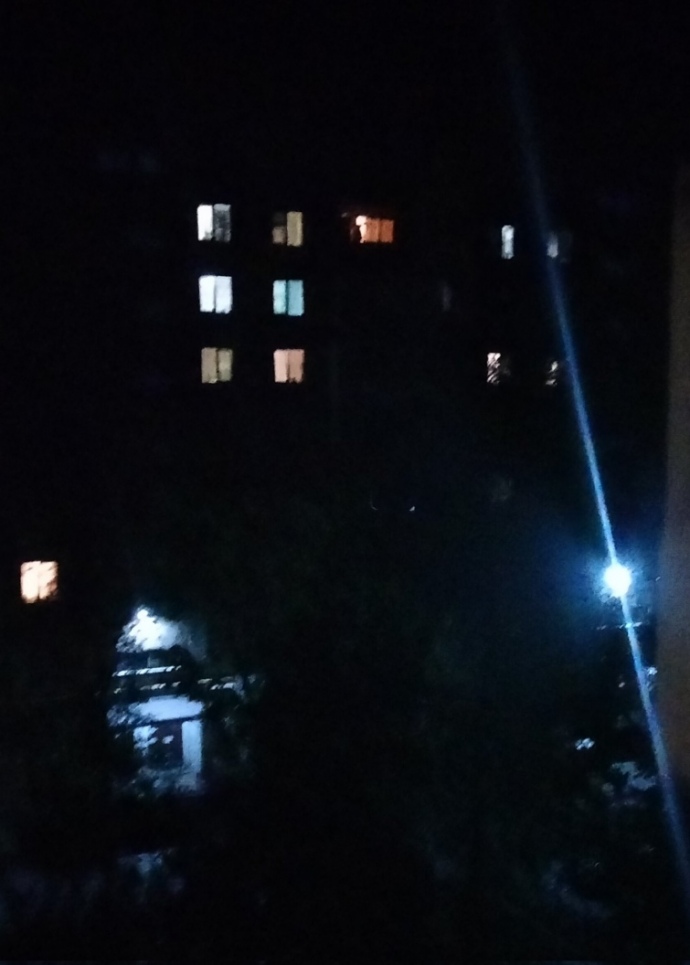 Nelly writes that the Russians' portable "TV" has broken down – in place of the "zombie machine," there is now a man on the street who is shouting out propaganda messages all day long.
25 July:
"In March, when we had nothing to eat, we'd always talk about the huge bag of rusks that the granny kept on the balcony and that I got rid of [before the full-scale invasion]. Then in April two girls from Hranitne started bringing bread to our courtyard, but there'd be over 300 people queueing for it.
No one in Mariupol remained ideologically pure. Everyone wants to make a buck. At the market, you can easily buy a can of stewed meat, or a tin of buckwheat with meat, inscribed with 'DNR, not for reselling'. That's probably what it's like the world over: money and the desire to make a profit overwhelm all ideology."
Nelly urges her readers to refrain from calling Mariupol a city that no longer exists – despite the low-flying planes, despite the burned-down buildings and despite the unimaginable death toll among its residents.