The miser pays thrice. Western companies clinging to Russia are losing markets, business and reputation
Monday, 26 June 2023, 09:46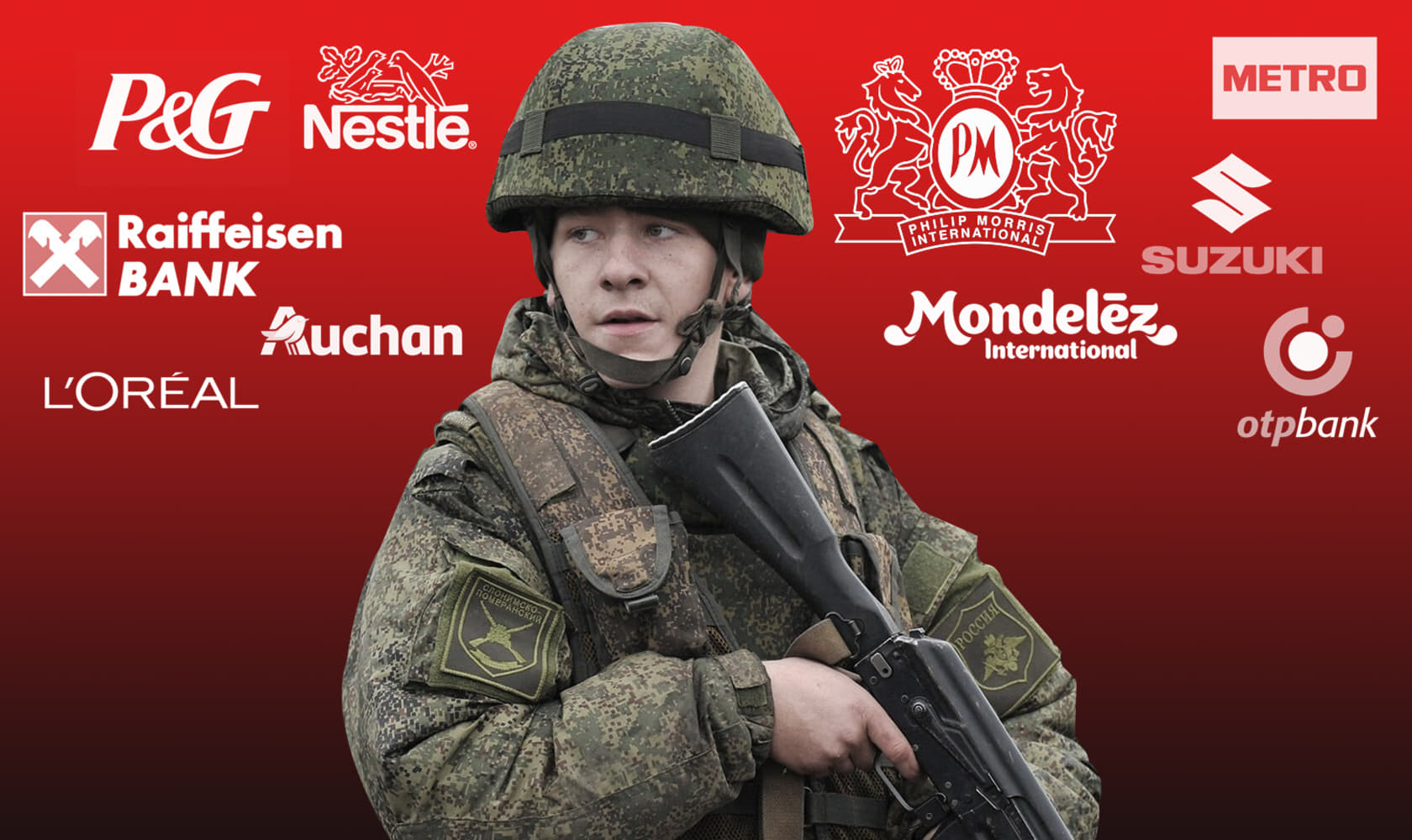 A shift in attitudes towards Western firms operating in Russia is gradually becoming a trend. As it turns out, the companies that were the first to leave may benefit most. How so?
Putin's army has been waging a war of terror against Ukrainians for sixteen months now. It no longer makes sense for global brands to hide the fact that they are still doing business in Russia. The list of Western companies that have chosen to work for a state sponsor of terrorism is public knowledge. Many of them have made it clear that they are not going to leave the Russian market.
A year ago, it might have seemed that doing business in Russia would go unpunished for global companies. Many companies that did leave did not rule out coming back to the Russian market.
Advertisement:
However, the war rages on, and the number of victims grows daily. Civil society and some of Ukraine's allies have been doing everything in their power to discourage these companies from operating in Russia and to make them toxic to investors and government clients worldwide.
And it's paying off. One of the world's largest food producers, Mondelez, faced a boycott of its products in Western countries after being included on the Ukrainian list of international sponsors of war.
The shift in attitudes towards Western firms operating in Russia is gradually becoming a trend. Meanwhile, ethical companies that left Russia in the first months of the invasion may be rewarded for their choice when Russian assets are seized and during Ukraine's recovery.
Assisting Russia beyond just taxes
Early in the Russian invasion of Ukraine, most Western companies sought ways to sit out the war without leaving Russia. They referred to their alleged responsibility for their Russian employees, contracts, food security, etc.
The Kremlin also claimed to leave business separate from politics, but this turned out to be a lie. Russia is now spending an increasing proportion of its taxes on the army and a decreasing one on humanitarian needs.
The Russian economy moved to a war footing, and Western companies in Russia turned into accomplices to the aggression.
Public spending on the Russian army and security forces increased by 60% in 2022. This means that at least one in three rubles paid by Western companies into the Russian federal treasury is now used to kill Ukrainians and support the Putin regime.
Over 1,000 companies have left Russia, though many have not stopped conducting business
Estimating the amount of funding from Western companies that goes to Russia is not too challenging. The Austrian Raiffeisen Bank alone paid €560 million into Russian coffers last year. At least a third of this amount may have been used to purchase missiles or pay the salaries of Russian military personnel.
"As Russia loses customers on global markets, the war is increasingly financed by domestic reserves, including taxes from Western firms.
We have estimated that the taxes paid by international companies that remain in Russia, which is US$18 billion a year, are enough to fully fund two months of the war in Ukraine," Natalia Popovych, co-founder of the B4Ukraine coalition, a global civil society initiative established to block access to the economic resources funding Russian aggression, told Economichna Pravda.
The militarisation of the Russian economy has forced many companies to leave the Russian Federation, even those that initially had humanitarian goals as their excuse for remaining.
By way of illustration, the German oil and gas giant Wintershall Dea initially refused to leave Russia, since its presence was allegedly crucial for Europe's energy security.
However, in January 2023, the company announced its withdrawal as "Russia's war of aggression is not compatible with the company's values".
Yet, some corporations accept the Kremlin's rules of the game and assist the occupiers with their activities. And not only filling the Russian treasury with their taxes.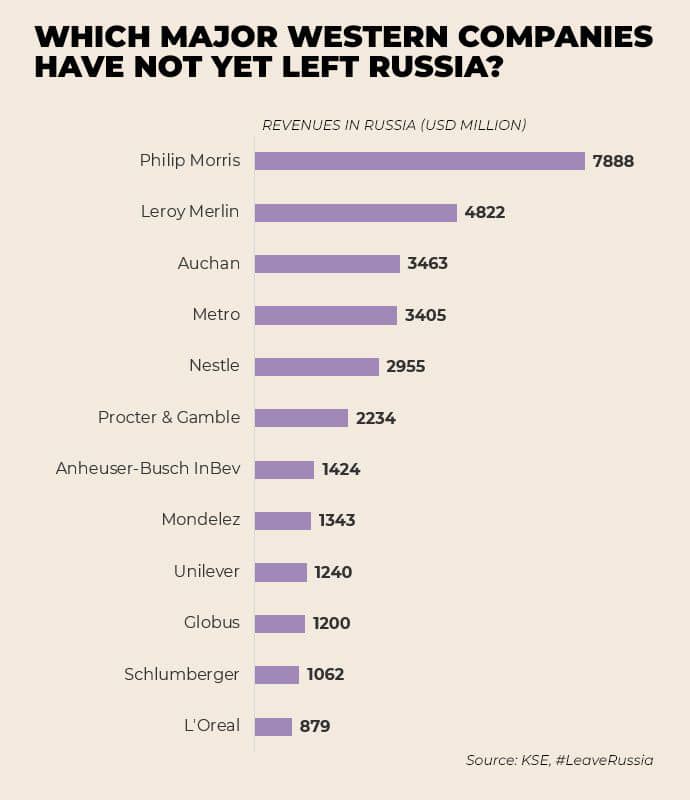 The Hungarian OTP and the Austrian Raiffeisen banks provide soft loans to the military and offer loan repayment holidays to encourage people to go to war. The French supermarket network Auchan has supplied food to the Russian military at the front.
The American Schlumberger company services Russian oil and gas fields. This is a valuable form of assistance to Russia, as the country had not learned to drill complex wells on its own until 2022.
The result is that almost all Western companies that have remained in Russia, even for humanitarian reasons, are participating in conscription, issuing military draft notices to their employees and holding their jobs for them.
Hundreds of Western firms took a wait-and-see attitude and promised to leave Russia in the future or to significantly reduce their operations: Philip Morris, Raiffeisen Bank, Mondi, Mondelez, Unilever, etc.
However, their work in Russia has gone unpunished, and so these companies were in no hurry to fulfil their promises. Furthermore, the Kremlin is deliberately making it difficult to withdraw capital from Russia, giving these firms an argument for continuing to work in its market.
Russia's military-industrial complex is gaining momentum. Where does the money come from, and who helps Russia produce missiles?
At some point, the senior executives of a number of Western corporations seemed to have decided it was not really necessary to leave. Some companies have offset their reputational loss by significantly increasing their profits in the Russian market. Room for sales growth in Russia emerged after competitors withdrew and imports declined.
The Kyiv School of Economics (KSE) estimated that in 2022, Ritter Sport increased its revenue by 91%, Mondelez by 38%, Japan Tobacco by 26%, Mars by 20%, and Mondi by 15%.
Raiffeisen Bank benefited the most, quadrupling its profits in Russia since the beginning of the war.
Wave of boycotts
The scale of Russian crimes increases with each passing month. The desire of companies to keep earning money in Russia is starting to cause real problems for their businesses, first and foremost in those countries that support Ukraine the most.
A striking example is the Danish company Rockwool, which supplied soundproofing to the Russian Ministry of Defence (MoD). A scandal erupted in Denmark last winter because the company was still operating in Russia.
In May, the Copenhagen City Council voted to exclude companies active in Russia, including Rockwool, from municipal tenders. The insulation manufacturer has actually lost an order from one of the largest developers in its home country because of its attempt to retain the Russian market.
"We have hosted over 3,000 Ukrainians and have become a twin city to Kyiv, which has made our ties closer. As a municipality, we are obliged not to do business with companies that do business in Russia," said the Copenhagen Mayor for Employment and Integration, Kristian Lütken.
The impact might be greater if other major cities, such as Paris, Berlin, London, New York, etc., that support Ukraine joined the boycott.
The Danish footwear manufacturer Ecco is also experiencing the consequences of its decision to stay in Russia. The Copenhagen Post newspaper reports that the company's headquarters were raided on the anniversary of the Russian invasion of Ukraine.
To ensure that the companies sponsoring the Putin regime become known worldwide, the National Agency on Corruption Prevention (NACP) has created a list of international sponsors of the war. It includes all corporations that provide substantial direct or indirect support to Russia.
Putting companies on the list will not lead to inspections, searches or confiscation of their property, but it may prompt a boycott by the public and Western politicians friendly to Ukraine.
That is precisely what happened to the American Mondelez company, which owns such brands as Oreo, Jacobs, Milka and many others. The company is one of the world's largest food producers.
The company not only stayed in Russia but also stepped up its activities, so it was naturally included in the NACP's list of war sponsors. After that, it faced a boycott of its products in Sweden and Norway.
The largest amusement parks, football associations, railway, shipping and aviation companies, retailers, the municipality of Gothenburg and furniture giant IKEA have refused to do business with the sweets manufacturer.
Conscious of the risks, the companies that have not left Russia are trying to avoid being placed on the Ukrainian blacklist.
Economichna Pravda's sources within the Ukrainian authorities say that the HQs of several Western companies, after being included in the list of war sponsors, contacted the NACP with a proposal that they be removed in exchange for "good deeds", such as donations to the Ukrainian Armed Forces and government funds.
One of the retail chains, trying to compensate for the negative impact of being included on the list, met with large Ukrainian food suppliers and offered them "the best shelves in European supermarkets on favourable terms". However, Ukrainian producers turned down the offer.
Only two food retailers are on the NACP list: Auchan and Metro.
The attitude towards companies that are sponsors of the war has changed not only among consumers and contractors but also among investors. They see risks in working on the Russian market and take this into account in their financial planning.
"Nowadays, a company's activity on the Russian market is a vulnerability. The unpredictability of Russia's policy is growing every month, and this is a risk for Western companies that are still there and may lose business at any time.
Everyone expected that the value of shares in the companies that left Russia would fall due to losses. However, it turned out that precisely the opposite is the case. The share value of ethical companies has become steadier as they withdrew from Russia. And the securities of those companies that remained in Russia became riskier," explains Ahiia Zahrebelska, Deputy Head of the NACP's Office for Sanctions Policy.
The attitude towards certain companies that have sponsored the war is getting worse in the West, but it is no longer possible to leave Russia with little loss. Starting in December last year, if you want to sell your business in Russia, you need a special permit from the Russian Ministry of Finance, discount your assets by 50% and pay an additional tax.
It appears that Western companies that immediately condemned Russia as an aggressor and left Russia in the first months of the war have not faced such problems. And those that took an intermediate position are doomed to humiliate themselves before the Russian bureaucracy and suffer reputational blows in the West.
Leaving Russia is advantageous
Russia gave Western companies a choice last year: either become an accomplice to crimes against Ukraine or leave the market and suffer losses. The KSE reported that about 1,500 international companies chose the latter option. They left strategic markets, were forced to sell their factories for a song, or simply lost profits.
The companies effectively sustained damage because of their social position and state racketeering by the Kremlin.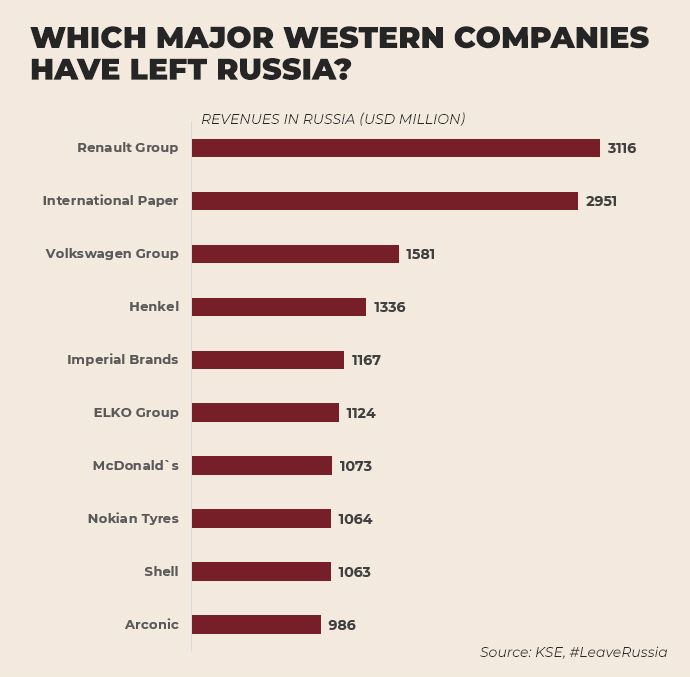 "Russia is causing not only a military and humanitarian disaster but also an economic one – both for Ukraine and for companies that have left Russia. And it is through [Russia] that all the losses can be compensated," said Roman Waschuk, Former Canadian Ambassador to Ukraine and Ukraine's Business Ombudsman [an official in Ukraine who protects the interests of both Ukrainian and foreign companies doing business in Ukraine].
"The aggressor country must pay not only for the losses but also the lost profits. Western companies that have suffered from the aggressive actions of the Russian authorities have the right to claim compensation for these losses. Their lawyers can help governments develop solutions to seize Russian funds," said Yaroslav Sydorovych, co-founder of the ANTS Network for the Protection of National Interests.
Investing hundreds of billions of dollars in building houses and infrastructure could bring considerable profits to Western firms. The New York Times calls Ukraine "the world's largest construction site", for which thousands of companies are gearing up to compete.
Gillette. The best Russian missiles can get. Why Procter & Gamble is fuelling the war
However, only some companies may be allowed to tender for large orders. The absence of business in Russia may become one of the critical criteria for access to recovery projects. We can hardly imagine that, for example, the Italian cement manufacturer Buzzi Unicem, which works with the Russian MoD, would be admitted to contracts for rebuilding residential areas in the completely destroyed city of Mariupol.
Companies cannot profit from both assisting in the aggression against Ukraine and its recovery, so Western firms need to make a choice now.
"We urge companies leaving Russia to do business with Ukrainians now and prioritise Ukraine as an investment destination among their groups of companies. Investing in a free, democratic, and prosperous Ukraine after victory is rewarding and profitable," said Andy Hunder, President of the American Chamber of Commerce in Ukraine.
However, expectations of a "gold rush" may be fulfilled if the frozen Russian funds are not seized in favour of Ukraine. The assets of the Russian Central Bank remain protected by sovereign immunity, and the oligarchs' yachts by property rights.
Ukraine will have a much better chance of receiving reparations if it enlists the support of other stakeholders.
"Engaging international companies that have withdrawn from the Russian Federation in the discussion on recovering Russian money for the benefit of the victims could significantly strengthen the position of the Ukrainian people and bring justice closer. Ukrainian diplomats and the NACP have been working on this," Zahrebelska said.
On the other hand, Western companies will only be willing to operate in Ukraine and make efforts on behalf of reparations if reforms are made to improve the business climate. Therefore, much of the responsibility lies with the Ukrainian authorities.
"Ukraine could create symbolic and practical incentives for those who leave the Russian Federation, ranging from future tax relief to involvement in promising investment projects related to repairing our infrastructure and strengthening human capital. Reforms that our country was working on before the invasion, such as concessions and public-private partnerships, could pave the way for this," Natalia Popovych.
This article was written within the framework of the ANTS project titled Russian Assets as a Source of Recovery of the Ukrainian Economy, implemented in cooperation with the National Democratic Institute (NDI) with financial support from the National Endowment for Democracy (NED).
By Bohdan Miroshnychenko
Translation: Artem Yakymyshyn
Editing: Monica Sandor