Over 1,700 cultural objects damaged by Russians in Ukraine
Monday, 9 October 2023, 16:30
As of 29 September 2023, 1,702 objects of cultural infrastructure were damaged in Ukraine due to the Russian aggression.
Source: Ministry of Culture and Information Policy of Ukraine
"Club facilities make the largest group of objects of cultural infrastructure damaged or destroyed by the Russians, 49% from the total quantity of cultural infrastructure facilities that were damaged," the statement reads.
Advertisement:
The largest amount of damage and losses were registered in Donetsk, Kherson, Kharkiv, Kyiv, Mykolaiv, Luhansk and Zaporizhzhia Oblasts.
The following number of facilities was damaged by the Russians in Ukraine:
841 cultural centres;
601 libraries;
131 art education institutions;
99 museums and galleries;
30 theatres and philharmonics.
The Culture Ministry of Ukraine remarked that it cannot accurately count the cultural facilities in the territories that are still Russia-occupied; this is almost the entire territory of Luhansk Oblast and large territories of Kherson, Zaporizhzhia and Donetsk Oblasts.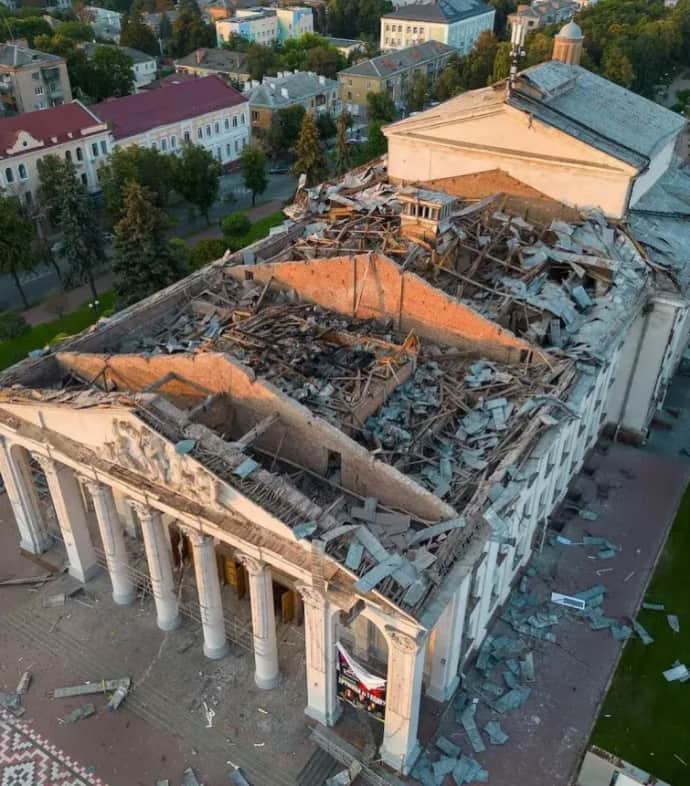 In January 2023, the Ministry of Culture and Information Policy reported that due to the full-scale Russian aggression against Ukraine, 1,189 objects of cultural infrastructure have been damaged. At the time, almost a third of them, 446 objects, were completely destroyed.
As for the cultural heritage, according to the Ministry of Culture, from 24 February 2022 to 25 July 2023, 763 such objects were damaged or destroyed.
Ukrainska Pravda is the place where you will find the most up-to-date information about everything related to the war in Ukraine. Follow us on Twitter, support us, or become our patron!