Kremlin's two plans. Who would govern Ukraine if Kyiv fell
Sunday, 5 March 2023, 17:30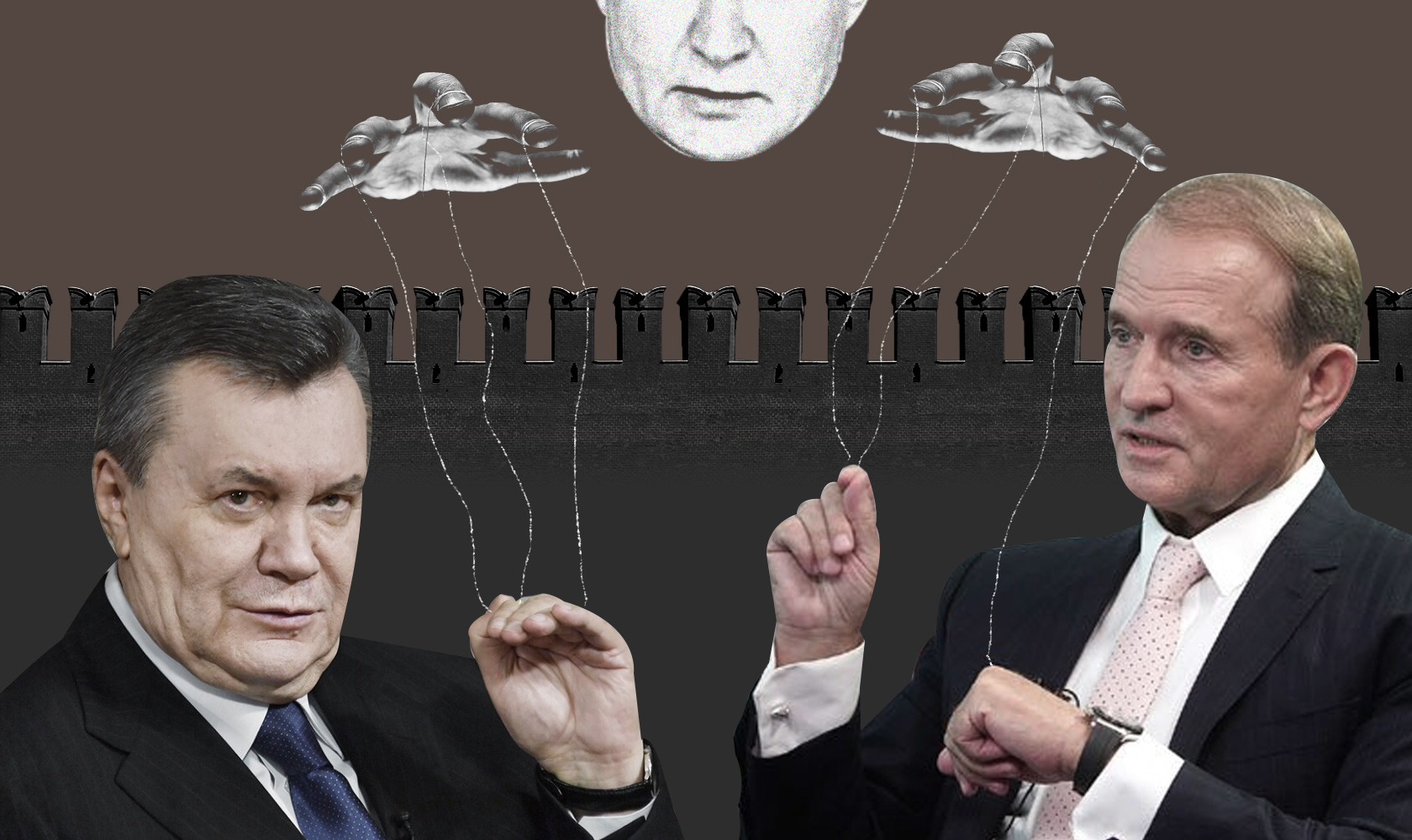 Instructed to command one of the regiments during the invasion of Ukraine, Russian Colonel Stanislav Yershov arrived with his armoured convoy to the Mozyr airfield in Belarus on the morning of 23 February 2022.
At 13:00, Yershov's regiment began its 130-kilometre march to the small Belarusian village of Chervone. The village is located in the middle of a wedge of Belarusian territory cutting between the Ukrainian towns of Slavutych and Prypiat.
Here – a spot 25 kilometres from the shore of the so-called Kyiv Sea [the Kyiv reservoir - ed.] – was exactly where Yershov's soldiers would start their invasion of Ukraine on the next day, 24 February, going through the Chornobyl zone and trying to reach Russian airborne troops at the Hostomel Airport.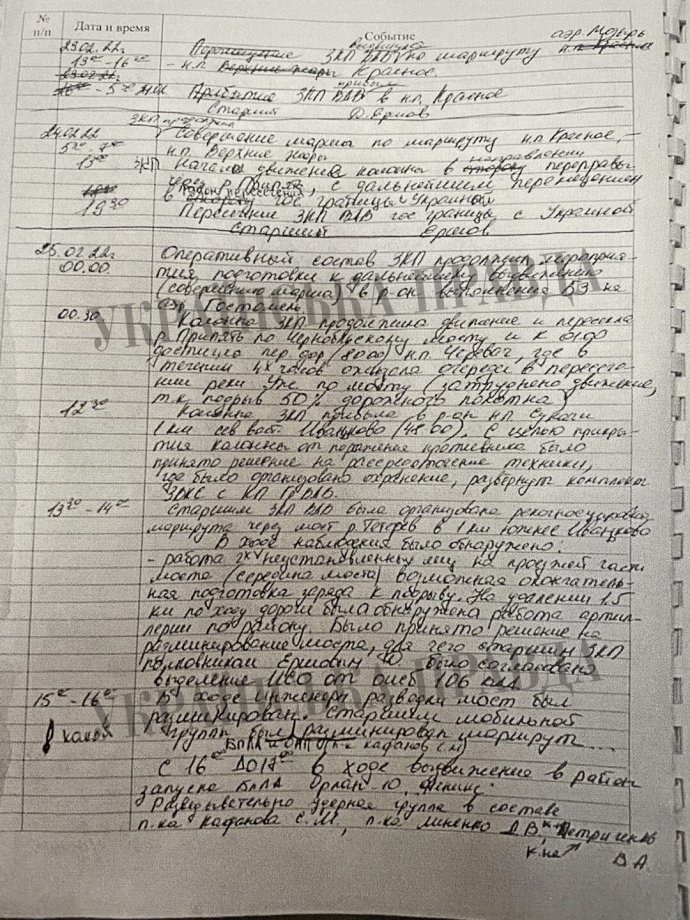 Yershov's regiment was only one of dozens of Russian units that advanced along the Chornobyl front towards Kyiv on that dark day for Ukraine.
Charts and staff maps that Ukrainska Pravda have in their possession suggest that the first of these units had cut off the Kyiv – Chop Highway near the village of Stoianka as early as 14:00 on 24 February.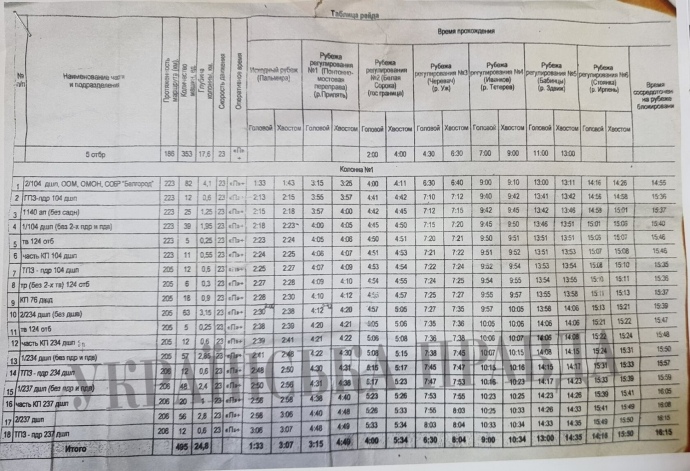 Russian troops spent another day encircling the capital from Makariv to Vasylkiv to the south, and digging trenches between Kyiv and Zhytomyr oblasts.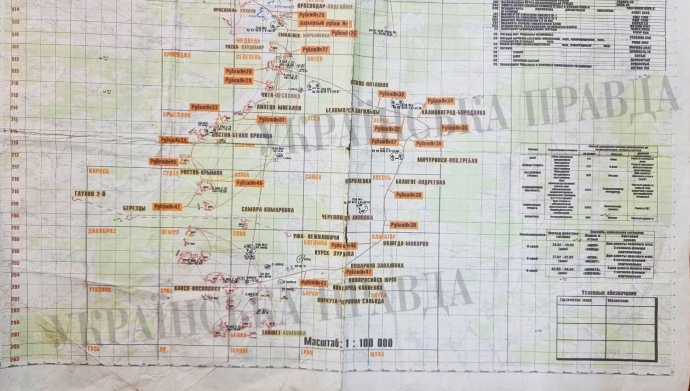 Meanwhile, Russian airborne troops landed in Hostomel by military transport aircraft were set to assault Kyiv and capture the government quarter.
The Kremlin planned to see a Russian tricolour over the Office of the President, the Verkhovna Rada and other symbols of Ukraine's statehood no later than the evening of Saturday, 26 February 2022.
But what would have happened once the initial intent of the Kremlin dictator was implemented? How would the power of the "fallen regime of Zelenskyy" be seized and who would seize it? Who all was to serve in the "transition government" and rule over "Putin's Ukraine"?
Ukrainska Pravda has found out what scenarios Russian "strategists" had in mind for the captured Kyiv and the Ukrainians who they thought could be turned to collaboration.
"Vitia bakes loaves": Plan A – Viktor Medvedchuk
"If you think that the Russians had a solid plan of who would come here and rule, then you are wrong. The main thing was for our capital to fall. On the third day, as per their plan. On the tenth day, they would have control over the entire country. Surnames of those who would be the new 'government' were not that much of importance for them," a high-ranking official in the Defence Intelligence of Ukraine told Ukrainska Pravda.
Dozens of conversations between Ukrainska Pravda and politicians from various political sides as well as Security Service officials, it seems that Russian leadership was hardly concerned with the specifics of who would be in "charge" of a captured Ukraine when the full-scale invasion began.
What was obvious was this: if Kyiv fell, Moscow would run the show.
"Medvedchuk saw himself in the first role. Sivkovych could have played a large part as well [Volodymyr Sivkovych – Deputy Secretary of the National Security and Defence Council of Ukraine from the times of Yanukovych who is currently hiding in the Russian Federation – ed.]. He has worked in line with the FSB for a long time, and was preparing to manage the sham government, hiring people for different positions and so on," the source from intelligence said.
"But there was no exact layout of who would take which position," they added.
A former powerful colleague of Sivkovych from the Party of Regions stated that the government of Yanukovych had no particular respect or reverence to the former KGB employee before 2014. After the Revolution of Dignity, however, they changed their mind.
"You know, he was one of many former 'office' ones who were in the party. He had no significant influence. But when Sivkovych orchestrated the 'evacuation' of Yanukovych from Crimea to Russia, everyone saw his capabilities in a new way," a top official from the Yanukovych era and Ukrainska Pravda source recollects.
Nevertheless, it is worth-mentioning that other Ukrainska Pravda sources among the Security Service of Ukraine and political circles have not provided any information regarding a possible role for Sivkovych after the planned occupation. The same applies to Yevhen Muraiev's possible participation in a collaborationist government – even before the invasion Western media outlets called Muraiev a potential Prime Minister of a captured Ukraine.
The Kremlin had in place at least two plans regarding the governance of a captured Ukraine.
The first plan, predictably, involved the closest person to Putin in Ukraine – Viktor Medvedchuk, to whose daughter Putin is godfather.
During the presidency of Petro Poroshenko, Medvedchuk served as Ukraine's main negotiator with the Kremlin and handled prisoner swaps.
However, during the presidency of Zelenskyy, Andrii Yermak, Head of the President's Office, took over negotiations with Russia while Medvedchuk ended up under the investigation of Ukrainian law enforcement officers.
At the beginning of 2022, Medvedchuk, then an MP from the Opposition Platform – For Life (OPFL) party, was in Kyiv under house arrest for suspected state treason.
During his last years in Ukraine, Medvedchuk's problems had only become more severe – his TV channels were cut off from broadcasting, the National Security and Defence Council imposed individual sanctions on him and his wife, Oksana Marchenko, and he was notified of a series of suspicions for possible cooperation with the occupiers and the implementation of illegal coal exportation schemes.
From 2019, Medvedchuk hoped to be a 'big player' again. Thanks to direct influence from Moscow, during the fifth year of the Russian invasion Medvedchuk found a place in the OPFL party, where he was even able to create his own group.
After sanctions and several investigations in 2021, Medvedchuk's hopes for a big comeback evaporated. He was effectively barred from both business and politics in Ukraine.
"Vitia [short for Viktor - ed.] is losing his mind little by little. He is constantly home, these restrictions bring him down psychologically, because he has nothing to do," one of the OPFL members described Medvedchuk's state to Ukrainska Pravda in January 2022.
The last resort for Putin's friend to get back to the top of Ukrainian politics was to enlist "help" from Russia. Medvedchuk, according to sources in his party, was one of the few in Ukraine who at the very least knew of the Russian invasion, if he was not involved in its preparation.
As far as a month before the Russian invasion, one influential member of the OPFL seemed to joke that Medvedchuk was "just waiting for Putin."
"I have no doubt that Putin will fight. And not least because I see how Vitia is already 'baking loaves and gathering salt' [offering bread and salt is a gesture of welcome in Ukraine - ed.] to meet his godfather in Kyiv," the OPFL party member who had quietly left the country two weeks before the invasion told Ukrainska Pravda on 25 January 2022.
According to people in Medvedchuk's social circle, he was behaving quite unusually by the end of February 2022.
A few weeks before the invasion, MPs from his group in the Verkhovna Rada asked him several times whether Russia really was preparing for a major attack on Ukraine.
"We had to know this at least to get our families out. But Vitia, on the contrary, reassured us. He said: 'No, no, this is just a rattle of weapons to raise the stakes. Stay in your seats," one of the current MPs who was close to Medvedchuk recalls in an interview with Ukrainska Pravda.
Closer to 16 February, one of the probable invasion dates as warned by US intelligence services, tensions within the OPFL faction grew, despite Medvedchuk's reassurances.
On 10 February, the former head of Yanukovych's presidential administration, Serhii Lovochkin, left Ukraine on a charter flight.
On 12 February, Vadym Stoliar, a Kyiv developer and Medvedchuk's associate, left Kyiv on a private jet.
Stoliar's partner, former MP Ihor Abramovych, ordered a 50-passenger plane to take his relatives, friends, and acquaintances to Vienna. MPs jokingly called this plane "Noah's Ark."
However, Oksana Marchenko, Medvedchuk's wife, did not leave the country on 10, 12, or even 16 February. This reassured MPs from Medvedchuk's entourage to some extent.
Marchenko herself arrived at the Belarusian border with the intention of leaving Ukraine on 18 February.
"We asked Nestor Shufrych to get information about what was going on, because his wife is close friends with Marchenko. Then Oksana told Nestor's wife that she was not running away, but was going to record an interview with Baskov [a Russian pro-kremlin singer - ed.] in Moscow," the MP from Medvedchuk's entourage said in the interview.
On 23 February, the day before the invasion, Viktor Medvedchuk's behaviour changed.
He unexpectedly postponed meetings with his associates, claiming that he was busy. For a man under around-the-clock house arrest this looked strange. Before that day, Medvedchuk almost never refused to meet with his people.
"23 February is the day of the Soviet army, and Vitia had always celebrated it. We wrote to him, proposing that we come in the evening and have a drink. And he said: 'No, let's do it on the weekend.' We were still wondering what kind of business he had and what there was to celebrate on the weekend," one of Medvedchuk's closest former associates recalled in an interview with Ukrainska Pravda.
The weekend to which Medvedchuk postponed the celebration was to be the third day after the start of the war.
On the morning of 24 February, Medvedchuk stopped communicating.
He appeared in the OPFL party chat only once: on the third day of the invasion, 26 February.
On that day, the members of Medvedchuk's faction who had remained in Kyiv were going to expel Illia Kyva from their ranks because of his public support for Russian aggression.
Despite the war, Medvedchuk tried to convince them that this should not be done. He was successful in managing to postpone Kyva's expulsion thanks to his influence on the MPs he personally included in the OPFL party list. This lasted only until 3 March.
A year after the start of the full-scale war, both Medvedchuk's associates and members of Zelenskyy's team have become increasingly convinced that bringing Putin's personal friend to power was the Kremlin's "Plan A".
Ukrainian intelligence services claim that Ruslan Stefanchuk, the chairman of the surrounded Verkhovna Rada, was to be deposed on 27 February, the day the occupation of Crimea began.
Viktor Medvedchuk would have become Chairman in the place of Stefanchuk and, accordingly, acting president.
"But this is an idiotic plan. It is clear that they would never have gathered 226 MPs, because how would you physically find them? Who would even agree to such an adventure? Even at gunpoint, it was unrealistic," admits one of the well-known former MPs of the OPFL.
However, as was exhibited by the "voting" of the Crimean Verkhovna Rada during the occupation, a tight ring of Russian soldiers can cover up any violations of regulations.
Putin's personal friend was never destined to become Ukraine's puppet president. In the turmoil of the first days of the defence, Medvedchuk escaped from house arrest. A country-wide search commenced, but it later turned out that he had been hiding in Kyiv, in a luxurious three-story house near Protasiv Yar (Solomianskyi district).
For the first time after 24 February, Ukrainians saw him in photographs taken by Ukraine's Security Service (SSU) on 12 April 2022.
Instead of flashing his white dentures from the praesidium of the Verkhovna Rada, Medvedchuk was handcuffed, exhausted, and wearing a military uniform instead of a Brioni suit.
After having been in hiding for 48 days he made an attempt to escape, disguised in camouflage, and was caught by the SSU.
Medevedchuk was kept in an SSU detention centre until 21 September, and on 22 September, was taken to Ankara accompanied by Ukraine's Defence Intelligence escort. On the same day, Ukraine exchanged Putin's personal friend for 200 Azovstal defenders.
Now Medvedchuk lives with his family in Moscow. The most he can do is try to position himself in the Kremlin as the main "expert" on Ukraine.
"Vitia is still a legitimate candidate": Plan B – Viktor Yanukovych
Encircling the Verkhovna Rada required first getting close to it, and this was a task Russian forces were clearly not up to. They were not able to do it on the third, fifth, or even seventh day of the invasion.
A round of Ukrainian-Russian peace talks was set to take place in Minsk in early March. On 2 March, a delegation from Kyiv was on its way to Belarus. That was the day that Viktor Yanukovych, a long-forgotten but somehow still "legitimate" political persona in some circles, re-entered the fray of our history.
Unpacking this story line requires travelling back in time.
On 30 December 2021, on the eve of the New Year, Ukrainian media reported a news story: "Yanukovych wants to reclaim his presidential status."
At first glance, the scenario appeared entirely inconceivable, even as far as New Year's fairytales are concerned. But Yanukovych himself has stuck to the mantra of his own "legitimacy" since fleeing Ukraine in 2014.
The fugitive filed a lawsuit with the infamous Kyiv District Administrative Court (KDAC), demanding that the Verkhovna Rada recognise that it lacked the authority to remove Yanukovych from the post of president of Ukraine.
A little later, Yanukovych filed another lawsuit, this one alleging that the Rada had no right to strip him of his presidential title other than through an impeachment procedure, while it did so through a simple resolution.
The fugitive's efforts appeared entirely in vain, as the Rada's decisions can only be appealed in the Supreme Court. But that was only the first impression, and a wrong one at that.
"Yanukovych's lawyers turned out to be surprisingly smart. They didn't turn to the KDAC to challenge the Rada's decisions, but rather the procedures by which those decisions were adopted. It was a legal loophole. If the KDAC confirmed that procedural violations had indeed taken place, the parliament's decision would have been deemed null and void," a lawyer from Zelenskyy's team, who played a crucial role in the case, explained.
"Smyrnov [Andrii Smyrnov, deputy head of the Office of the President of Ukraine - ed.] would call Head of the KDAC Pavlo Vovk and ask him: 'What are these lawsuits, why do you register them at all, when deadlines to register procedural violations have long expired?' And Pasha [Pavlo Vovk - ed.] would reassure him: 'We registered them in accordance with our procedures, don't worry about it, nothing will come of it," our source in the government said.
At the time of the full-scale Russian invasion of Ukraine, Yanukovych's lawsuits were indeed still pending in the KDAC.
On 2 March 2022, however, when a plane with Yanukovych on board turned up in Minsk, his lawsuits acquired a new significance.
"After Medvedchuk's 'disappearance', the Russians really did consider the possibility of reinstating Yanukovych in Ukraine. He was supposed to announce that he was a legitimate president, and all that nonsense," sources in Ukraine's Security Service told Ukrainska Pravda.
Russia's "special operation" dragged on, and its "heroic" assault of Kyiv never materialised. Colonel Yershov's regiment, mentioned earlier, was stuck in Hostomel, where it was being pounded by Ukrainian artillery.
Ukraine retained full control over the government quarter in Kyiv. Medvedchuk was gone, without a trace.
That was the moment when Yanukovych became Russia's "Plan B".
"Trust me, the Russians bet on the 'non-critical import' – the return to Ukraine of all those who fled the country after 2014. There are enough deserters to staff several governments. If they came back, it would have been enough to appoint several of them to key positions, and then the wheels of the system would start turning and lower-rank positions would get filled," the top official from the time of Yanukovych's presidency claimed.
That very same day, 2 March, the State Judicial Administration blocked the KDAC from accessing the register of court decisions in order to prevent its judges from delivering a verdict.
The situation was dangerous enough that the Office of the President of Ukraine asked Ukraine's Security Service to oversee the blocking of the KDAC.
"We involved the fifth service, the one responsible for courts. They broke into the building, seized every data storage unit to prevent the KDAC from being able to work altogether, and confiscated their servers. The court did not resume its work until April," our sources on Bankova Street [where the government quarter is located - ed.] told us.
Putin continued to mull over the plan to "reinstate Yanukovych" for the next few days. The situation on the front was developing quickly, and in ways Moscow had not anticipated. It became very clear that the plan with this "legitimate" candidate was not meant to work out.
Yanukovych's plane was spotted in Minsk on 7 March 2022. Negotiations have since shifted to Istanbul, and Yanukovych himself vanished from the public's eye as abruptly as he made an appearance.
***
It is now difficult to consider these plans as anything other than second-rate sci-fi. In early February 2022, however, real efforts were made in preparation to implement both.
The fact that Ukraine's western partners took Putin's nefarious plans quite seriously confirms this.
Before the full-scale invasion, representatives of the US intelligence services privately advised the Ukrainian government to prepare its own plan B in order to preserve the government's legitimacy.
"Our partners used different channels to warn us that 'Guys, you might have to move to Poland, think about it, just in case.''Warsaw was named as an option, so that we could easily hold international meetings, make ourselves seen, and effortlessly travel the world to remind everyone that we are the only legitimate government. Similar to what Tsikhanouskaya is doing now," a member of Zelenskyy's team recalled off-record. [Sviatlana Tsikhanouskaya, a Belarusian opposition leader, is currently exiled from Belarus - ed.]
"Obviously, we didn't want to even think about it. Even if one of us started a conversation about it, our boss would have been furious, and that would be it," the source added.
However, our sources in Zelenskyy's diplomacy team told us that before the invasion Ukraine's representatives were quietly considering a possible relocation to Warsaw or even London.
But when columns of Putin's troops invaded Ukraine and Zelenskyy was offered evacuation, he told Joe Biden: "I need ammunition, not a ride," a phrase that has since gone viral.
The time for imposing scenarios on Ukraine had ended. It was time for us to write our own history.
Roman Kravets, Roman Romaniuk, Ukrainska Pravda
Translated by Myroslava Zavadska, Anton Strii and Olya Loza
Edited by Sam Harvey