Kramatorsk: the foreign volunteers who survived the Ria Pizza missile strike
Thursday, 3 August 2023, 12:15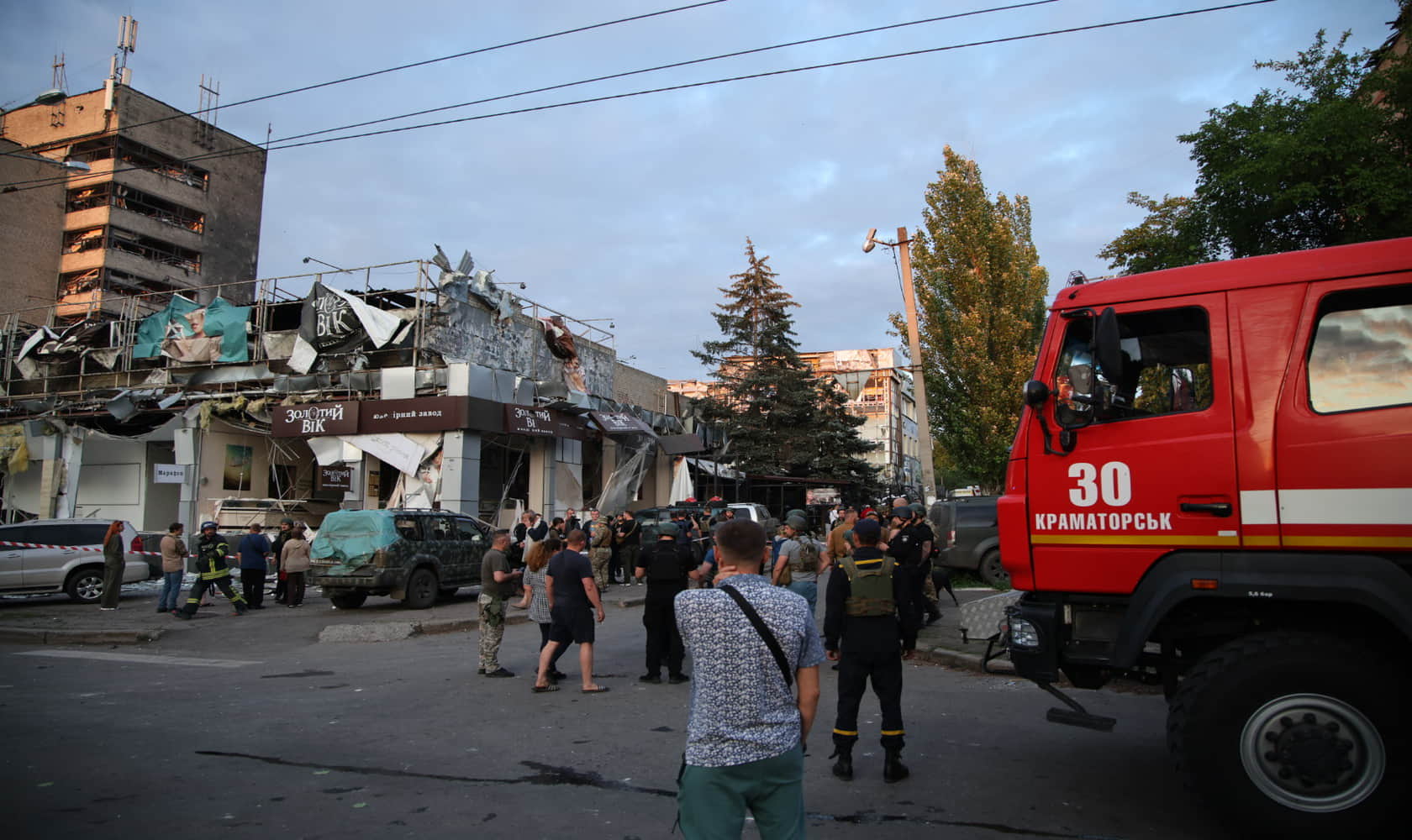 Photo: Dmytro Larin, Ukrainska Pravda
It was a busy Tuesday night at Ria Pizza, a popular restaurant in Kramatorsk. As well as being a favourite among foreign volunteers and journalists, families often chose it to mark special occasions. On 27 June, a group of teenagers were there celebrating a birthday, and a number of local families were eating dinner with their young children.
Also in the restaurant were Mo, Nick and Seema, all volunteers for Safe Passage 4 Ukraine, a Ukraine-based NGO. They had spent their day evacuating a man from Avdiivka, with the goal of reuniting him with his mother, who was recovering in Pokrovsk after being injured by shrapnel. They were late arriving at Ria Pizza, missing the agreed meeting time with their second medical team, and were in a hurry to order.
Thirty minutes later, the food started arriving at their table on the restaurant terrace. Seema remembers taking a few bites of her salad before, seconds later, the Iskander missile struck. She saw the windows smash first, quickly followed by the roar of an explosion.
Advertisement:
After more than a year of operating in frontline villages, they were well versed in what to do, dropping to the floor and covering their heads with their hands. They remained there for 15 seconds, waiting while the building collapsed around them, and the remaining debris settled.
Believing that everyone in their team was already out of the building, Seema and her friend Artem ran to the next building, where a basement door had been left open. Artem had blood running down his face and was in a state of heightened anxiety. Unlike the others, it was only his second day in Kramatorsk - he'd come as a favour to Seema while on holiday. In an attempt to calm him, Seema ran back to the debris, succeeding in pulling out his passport and documents.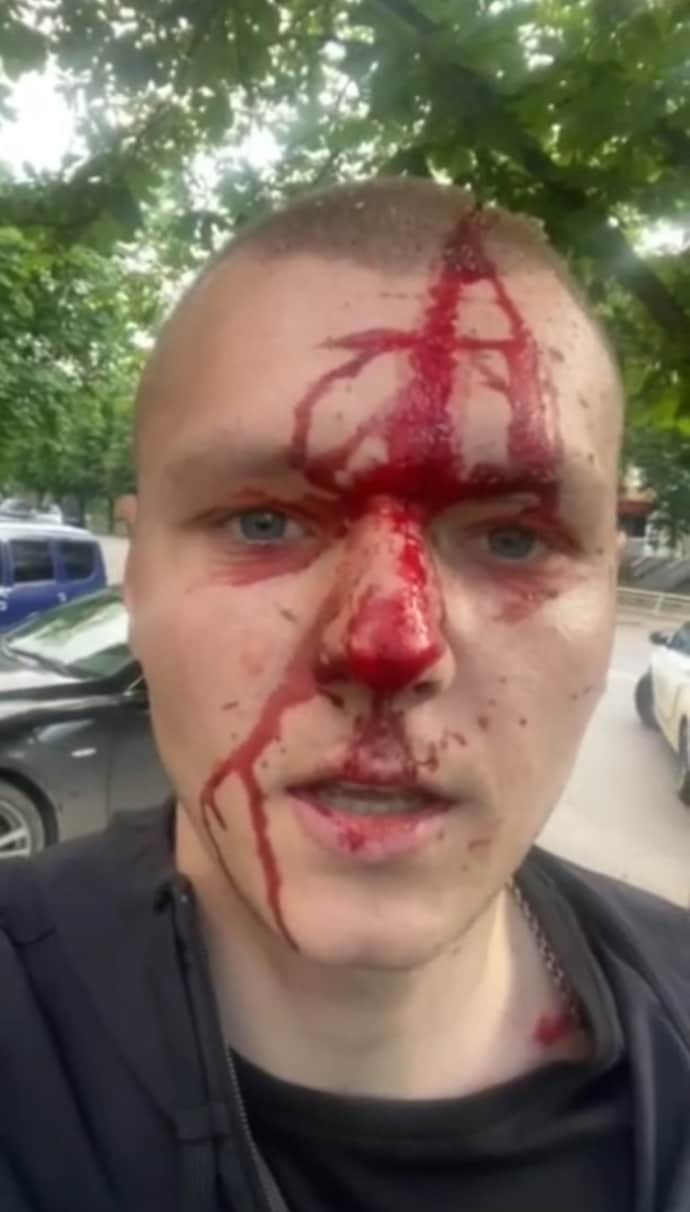 Meanwhile, Mo and fellow volunteer Stephen had initially remained under their table. Stephen had sustained a fractured skull from a falling beam that had also hit Mo, but left her with a less severe head injury.
The original entrance to the restaurant was blocked by debris, but they were able to escape by climbing over the bar. Stephen secured a lift to hospital while Mo went back into the building to try and free people who were trapped.
After checking his team was safe, Nick, a trained medic, focussed on helping those trapped under the rubble. He assessed 14-year-old twins Anna and Yuliia Aksenchenko, who sadly later died due to their injuries, and another group of volunteers, one of whom was already dead, but was pinned next to them.
Read more: "Their mother is looking for wedding dresses to bury her daughters in": 14-year-old twins killed in Russian missile strike on Kramatorsk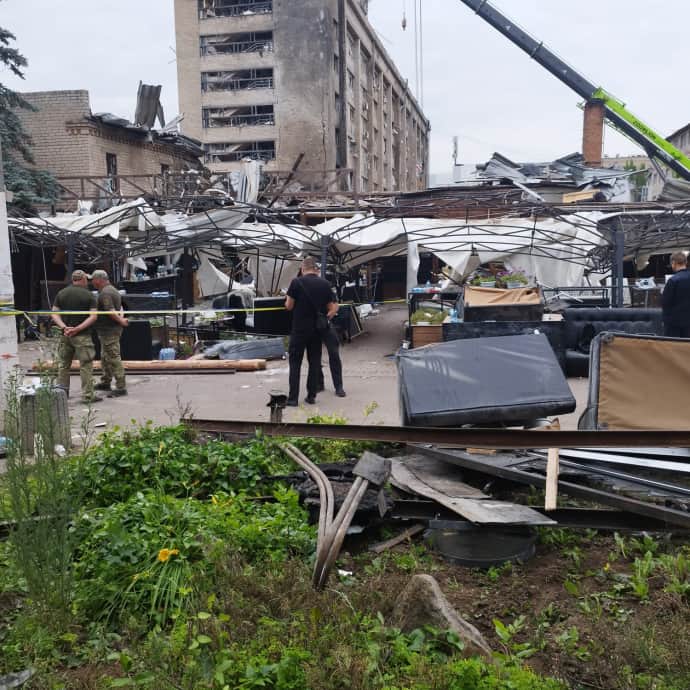 The relief efforts were further complicated when people began screaming that a second missile was coming.
Following an initial attack with a second missile is a common tactic used by the Russian occupying forces, allowing the impact site to fill with rescue workers before striking again.
Even so, the volunteers and rescue workers remained calm, continuing to work at freeing those trapped under the rubble.
Despite the circumstances, Nick was told off for smoking in the restaurant, now a pile of debris, and Mo received a stern look from a Ukrainian man who saw her take a Coke from the smashed cooler.
They remained on the scene for the next few hours with their medical supplies, waiting to see who needed help, but by this point all the rescue workers in Kramatorsk were on the scene. The Safe Passage 4 Ukraine team were later reunited at one of Kramatorsk's hospitals, where volunteer Stephen was undergoing emergency surgery. Seema found Stephen again by accident, having been asked to interpret for an unnamed American, who turned out to be him.
When asked how they were able to remain so calm, Seema pointed to the feeling of solidarity and support among the relief workers and the international community. Every volunteer in Kramatorsk had come to the impact site to see if they could help, and seeing familiar faces helped her to focus on what needed to be done. Nick views the Ria Pizza strike in the context of more than a year of close calls: watching dogfights above cities, seeing artillery fly over them and driving through minefields.
Advertisement:
Two moments were particularly difficult for Mo, Nick and Seema: watching a stroller being pulled from the rubble and hearing that Viktoria Amelina, a Ukrainian journalist and war crimes researcher, had died in hospital.
Luckily, the 8-month-old baby who had been in the stroller survived, but Viktoria's injuries were too severe. Nick had helped pull her out from the rubble and arrange an ambulance to take her to the ICU in Kramatorsk, and Seema later found out that she and Viktoria had a mutual friend from childhood. Viktoria left behind a son and a husband, as well as the legacy of her work researching and documenting war crimes.
"The attack felt both frustrating and violating. It was a restaurant full of normal people doing normal things, no different to what you'd find in any other small city in Europe. It seemed the only goal was to create an atmosphere of fear, and it felt like a targeted attack on volunteers and journalists.", Mo said.
"These people should have been given an opportunity to leave beforehand. We need more sponsors, more safe places for them to go abroad."
In a strange twist, Russian media used photos of Nick at the impact site to claim that he was a mercenary, not a humanitarian aid worker.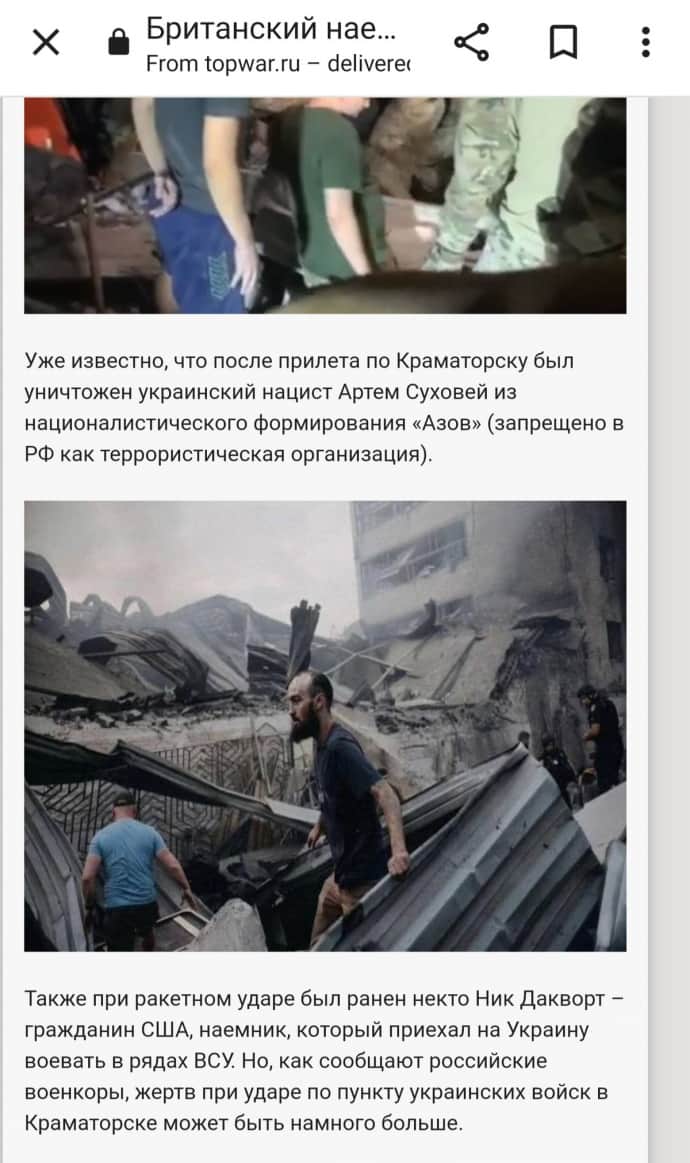 Mo
Mo first came to Ukraine in March 2022, with a background working with vulnerable people and arranging supportive housing. She had concerns about the UK government's Homes for Ukraine scheme, which put a lot of emphasis on individual sponsors and expected them to navigate the administrative and legal hurdles themselves.
There were also problems matching Ukrainians to sponsors, as many potential sponsors were keen to help yet had trouble finding a family. In March 2022 Mo arrived in Przemyśl, a small Polish city on the Ukrainian border, which overnight became the centre of the refugee crisis. Originally intending on staying for two weeks, Mo claims the structured support that people expected large NGOs to provide never came.
Advertisement:
The humanitarian aid available in Przemyśl was maintained by independent volunteers, people with no prior experience in the humanitarian sector who had simply shown up and were doing what they could to help. Despite having no prior connection to Ukraine, Mo was motivated to use her experience, including working for homeless charities in the UK, to give people a level of safety and security.
"This aid could change the whole trajectory of people's lives; it could give them the opportunity to have a life, full stop. People are dying in air strikes every week. If we can reach them today, we can buy them more time, so it's hard to think about doing anything else."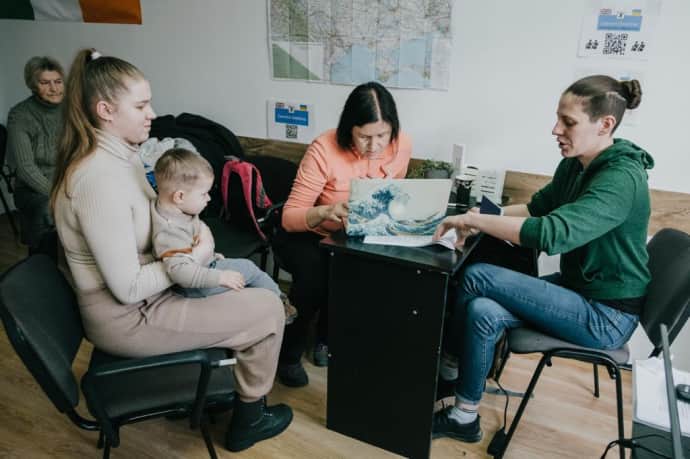 Like many foreign volunteers in Ukraine, Mo has already spent the majority of her life savings on funding aid work.
"When you know the impact of your funds, it's hard not to spend your money here."
While recognising the work of large NGOs, she is keen to emphasise that smaller organisations offer a much higher level of efficiency. Having previously worked for large organisations, seeing the huge disparity in efficiency in Ukraine was shocking, and required a shift in mentality. As Safe Passage 4 Ukraine is entirely staffed by volunteers, all donations go directly to the people they're trying to help.
"Sometimes we have a store of medical supplies worth £500 in a warehouse, but can't afford to pay for fuel to get it to the people who need it. As little as £50 can make that transportation possible."
Nick
Nick, originally from California, came to Ukraine with previous connections – friends who were living in Kharkiv and Mariupol. A qualified EMT, he went to Bucha and Irpin after they were liberated at the end of March last year, and has continued to volunteer close to the front, where his medical experience is most needed. He had a successful business selling Pokémon and Magic: The Gathering cards, which he sold off in parts both before and after he arrived in Ukraine. When he is no longer needed in Ukraine, Nick plans to continue operating as a frontline medic, wherever the next conflict is.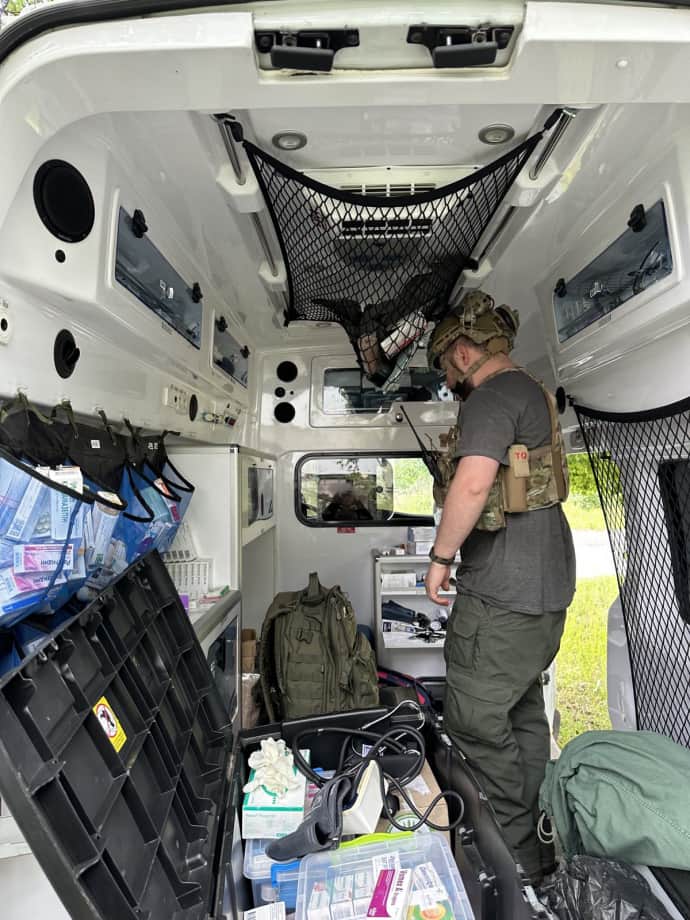 Seema
Seema is Ukrainian, but had been away studying for an undergraduate degree in Biomedical Physiology at the Simon Fraser University in British Columbia. She wanted to return to Ukraine and do what she could to help.
"Russia has been trying to invade Ukraine for nine years, but this follows centuries of attempts to exterminate Ukrainians. I hope this will be their last try, and I think it is possible if everyone does what they can to help."
Seema's first task after returning from Canada was to find accommodation for her mother and grandmother, who had fled Kyiv for Poland in the first week of the full-scale invasion. Finding housing in Poland was difficult due to the huge influx of refugees, but she eventually found a flat through an old friend, leaving her free to return to Ukraine. She has been volunteering with Safe Passage 4 Ukraine for the last four months, acting as an interpreter for their mobile clinic team. Working primarily with foreign volunteers, she is firmly supportive of their role in Ukraine.
"People left everything behind to come here and help us. I am beyond grateful, and it is a huge privilege to work alongside them. The support of Mo, Nick and the countries they represent make me feel like we aren't alone in this fight."
Advertisement:
She also stresses the connection between humanitarian aid and the Ukrainian Armed Forces:
"They fight for us every day, non-stop. They are the reason we get to wake up in our own beds, go to our favourite cafés and drink coffee. We all have to do our bit – donating, fundraising and spreading awareness in the international community – we owe them that."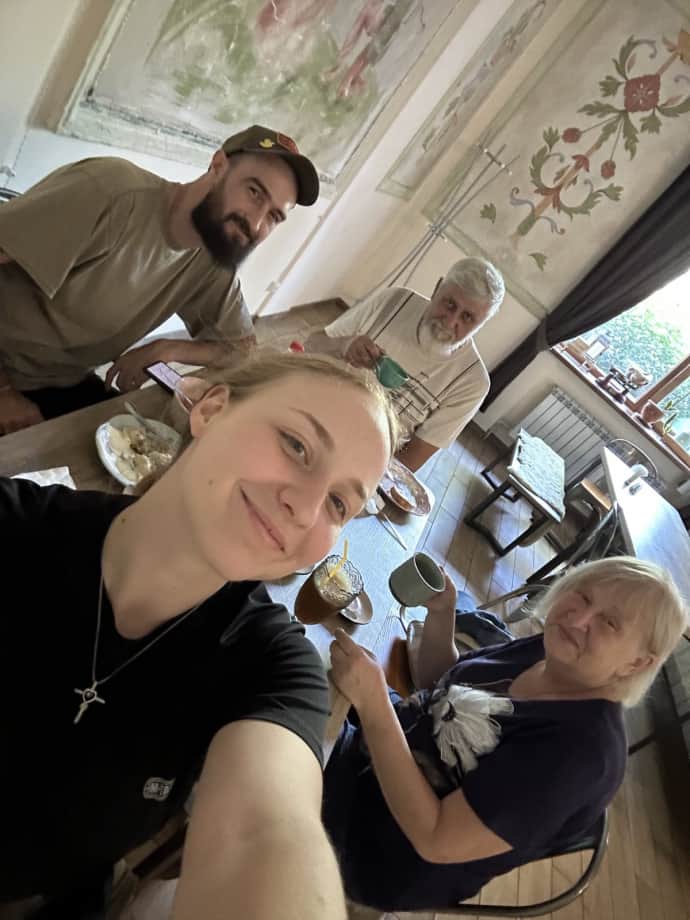 Seema's favourite story from her volunteer work is about the evacuation of 84-year-old Zoya Mykolaivna, who had been living in frontline Siversk without electricity or clean drinking water, enduring regular shelling and airstrikes. The first two houses that Zoya Mykolaivna had lived in were already destroyed. Unable to get in touch with her daughter, she had been living in a third house, before that too was destroyed by shelling. Seema and Mo evacuated her, bringing her first to Kramatorsk, then Lviv and finally Poland, where she was reunited with her family.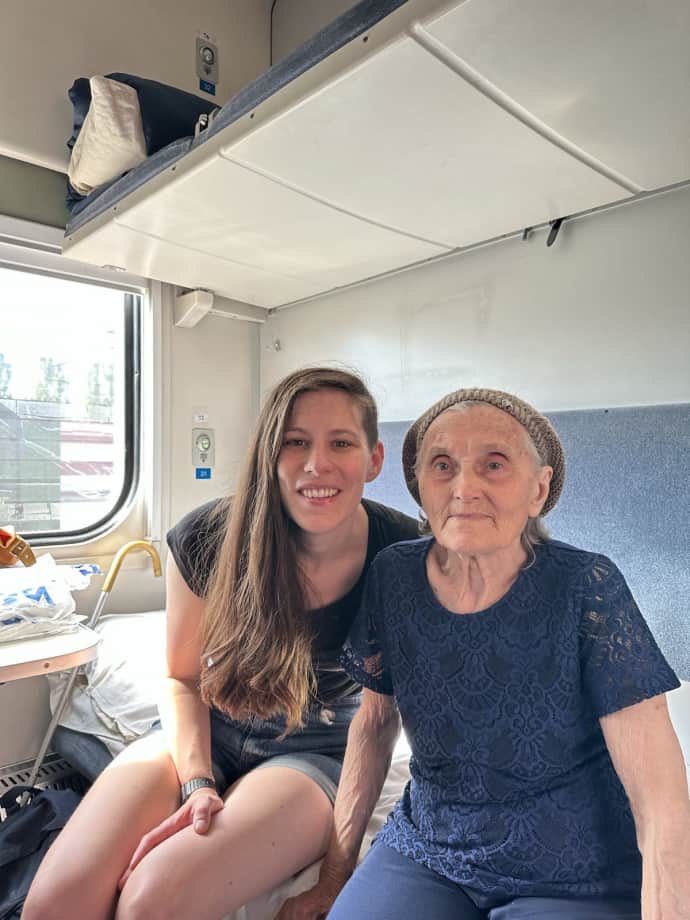 Safe Passage 4 Ukraine
Mo points out that many organisations think that there's no point offering support to people in frontline locations, considering it a lost cause. They're old and stubborn and have already decided that they won't leave. But this is an over-simplistic approach.
Many people's refusal to leave their homes is actually pragmatic – without a support system in place, families have agreed to be evacuated, only to return to their homes a few weeks later having found themselves sleeping in sports halls with no prospect of a permanent home or a job. For others, particularly the older generation, leaving can feel too traumatic; how can they leave when their husband is buried in the garden of their home, or their sons are fighting mere kilometres away?
It is essential to build a foundation of trust between people living in frontline villages, and volunteers. They need reassurance that there is a plan in place for them, and that they can always choose to come back. Safe Passage 4 Ukraine's mobile clinic regularly recommends specialist medical treatment, normally requiring a trip to Kramatorsk. Sometimes the best result they can achieve is a promise that the patient will think about going, but after a few weeks of building trust, residents often agree to make the trip.
Safe Passage 4 Ukraine is now the only organisation that provides in-country support to Ukrainians who are aiming to go to the UK or Canada, including support with visas and transportation. They focus on those with the most urgent need: people who've fled Ukraine's occupied territories, people whose homes have been destroyed and people living under constant shelling in villages near the combat zone. They also provide travel assistance and counselling services to foreign volunteer soldiers, and help to Ukrainian soldiers who need to travel abroad to obtain prosthetics.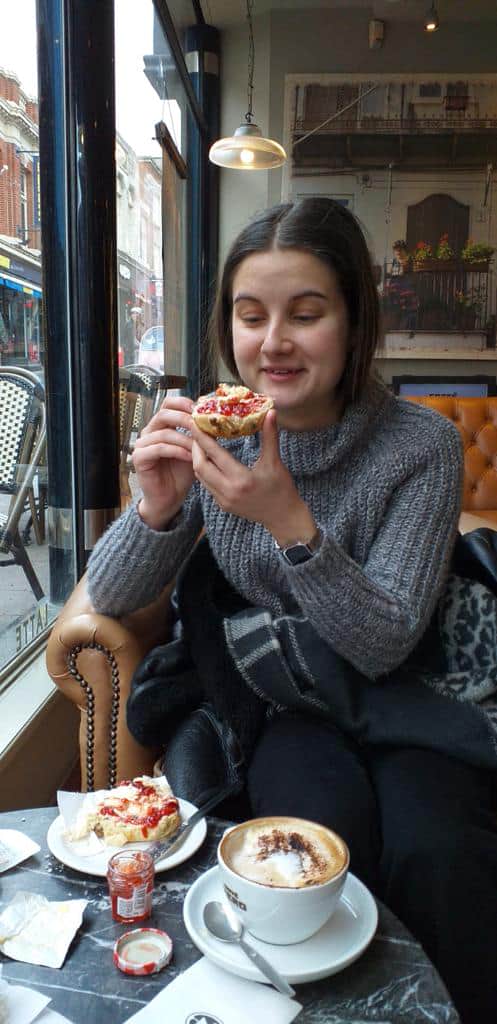 Safe Passage 4 Ukraine is always keen to receive financial donations, but you can also donate air miles and hotel points. Many families have already found a sponsor abroad, but can't afford the travel costs, particularly those going to the US or Canada. A backlog of applicants for sponsors remains, and they are also always looking for sponsors who are able to host or support refugees, from any safe country. If you are interested in volunteering, anyone with a medical background, other relevant experience or who speaks both Ukrainian and English is encouraged to get in touch. You can contact Safe Passage 4 Ukraine via their website or by email at info@sp4ukraine.org.
Bea Barnes