Authorities Ban 'Cross Procession' from Kyiv
Tuesday, 26 July 2016, 12:04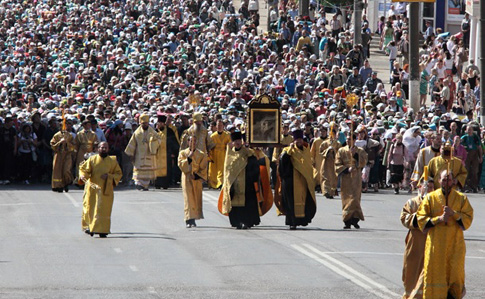 The Ministry of Internal Affairs banned the 'Cross Procession' from Kyiv, Minister Arsen Avakov announced on Facebook.
"National Police and National Guard officers blocked the way so that the Cross Procession could not walk through the streets of Kyiv. The safety of our citizens is more important than religious rituals," the Minister said.
He explained why the Ministry had to intervene in the previously announced agenda: "Dummy bombs and the real traps with combat grenades did not leave room for doubt that the threat is real and provocations might take place."
Advertisement:
Earlier today MP Anton Herashchenko reported that two dummy bombs and traps with F-1 combat grenades were found on the side of the road on the route of the Cross Procession and would have posed a serious threat to its participants if they exploded. The bomb squad worked to remove them with the help of a deminer robot.
According to the information of the Ukrainian Defense Intelligence, Russian special services planned to use the cross procession to organize provocations. The Ukrainian Orthodox Church of the Moscow Patriarchate expected 20,000 pilgrims to come to the capital.
Source: Ukrayinska Pravda