Russia starts dismantling ice breakers for spare parts
Wednesday, 21 September 2022, 12:43
WEDNESDAY, 21 SEPTEMBER 2022, 12:30 — OLEKSII PAVLYSH
The Russian state company Rosmorport, which manages a fleet of approximately 300 vessels, is being forced to break up some of its vessels to provide spare parts for other ships.
Source: [Russian news agency] RBC, citing Vasily Strugov, the Deputy Director General of Rosmorport
Advertisement:
It is noted that one icebreaker, the Yermak, is to be dismantled for spare parts to repair another icebreaker, the Krasin.
Quote: "Both icebreakers were built at a Finnish shipyard, having been ordered by Sudoimport [a Russia-based enterprise - ed.]. Now one of them will be broken up to provide spare parts for the other. Two companies from St. Petersburg will dismantle the ship. They will remove more than 700 pieces of equipment from the Yermak," the statement reads.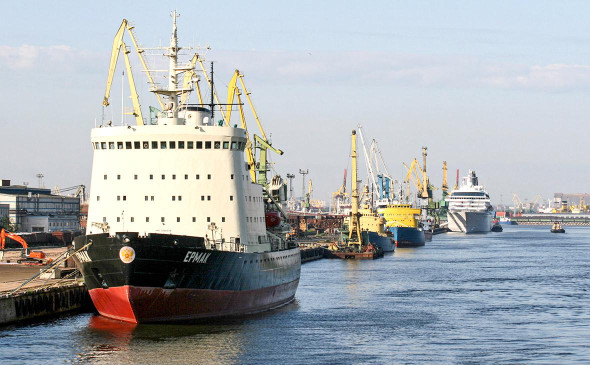 Details: According to Strugov, Rosmorport is forced to dismantle some of its fleet for spare parts.
He added that the decommissioning of the non-nuclear Yermak will make it possible to maintain the Krasin's technical readiness.
In total, Rosmorport's fleet includes just under 300 ships, with 268 in use. They serve 65 ports in 24 regions.
"In the short term, these vessels that are not in operation (22 ships) have helped us not to go out of business. They are being stripped for spare parts, and we make no secret of that," Strugov admitted.
He claimed that Rosmorport had already been planning to write off these vessels; after "the February push, they accelerated the process".
"Thanks to the decommissioning of the Yermak icebreaker, we have the chance of a short summer navigation to ensure that Krasin is ready for winter navigation. It is obvious that in this short period, the vessels that we use for spare parts will run out sooner or later. In fact, the range of spare parts and units that are available on such vessels is insufficient: manufacturers have left the market," the representative of the state-owned company admitted.
According to Strugov, in order to solve the problem of the supply of spare parts, there is talk of modernising some Finnish-made icebreakers to extend their service life by 15 years.
The six icebreakers in question are the Kapitan Dranitsyn, Kapitan Khlebnikov, Kapitan Chechkin, Kapitan Bukaev, Kapitan Chadaev, and Kapitan Zarubin.
Ekonomichna Pravda
Journalists fight on their own frontline. Become our patron, support our work!