Blogger and priest of Russian Orthodox Church urges Russian military to kill Ukrainians
Friday, 7 April 2023, 16:58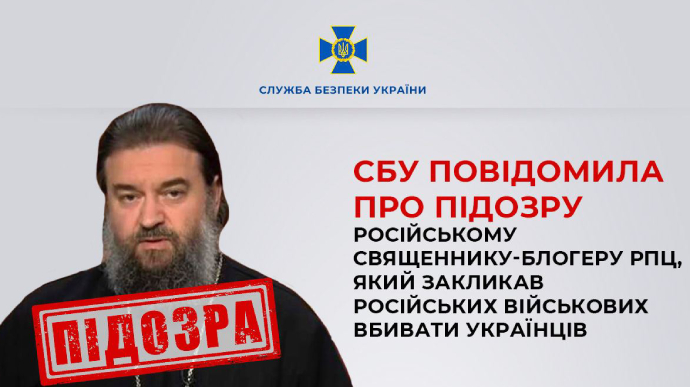 Law enforcement officers have served a priest of the Russian Orthodox Church with a notice of suspicion of war propaganda and glorification of the Russian army; the procedure was conducted in absentia.
Source: Security Service of Ukraine; Kyiv City Prosecutor's Office
Details: According to the SSU, the suspect, Archpriest Andrii Tkachov of the Russian Orthodox Church, is a graduate of the Faculty of Special Propaganda of the Military Institute of the USSR Ministry of Defence in Moscow
Advertisement:
Tkachov is a native of the city of Lviv. He had served in this city's Ukrainian Orthodox Church of Moscow Patriarchate (UOC-MP) Cathedral. He has lived in Kyiv since 2005, and in 2013, he was appointed head of the missionary department of the Kyiv diocese of the UOC-MP and started working as a presenter on the Kyivska Rus TV channel.
Then, he actively started spreading pro-Kremlin narratives through the media, where he questioned the very existence of Ukrainian statehood.
The priest fled to Moscow in 2014 and publicly supported the Russian occupiers in the beginning of the full-scale invasion in 2022.
For that purpose, he created his channels on the Telegram messenger and YouTube video hosting service, gathering almost 1.3 million followers.
There, he published his 'sermons', urging the invaders to kill civilians in Ukraine. The man expressed gratitude to the Russian military for doing their "dirty bloody work" in Ukraine.
A Moscow cleric has been documented to have suggested that Russian troops put religious inscriptions on Russian projectiles used by the aggressor to launch missile attacks on Ukrainian cities.
In addition, Tkachov is a frequent "guest" on air of Kremlin-aligned TV channels, where he actively justifies the Kremlin's war crimes.
Law enforcement officers point out that the forensic examination fully confirmed the facts of the suspect's criminal activity.
Journalists fight on their own frontline. Support Ukrainska Pravda or become our patron!