South African President's bodyguards bring 12 containers of weapons to Poland
Sunday, 18 June 2023, 11:28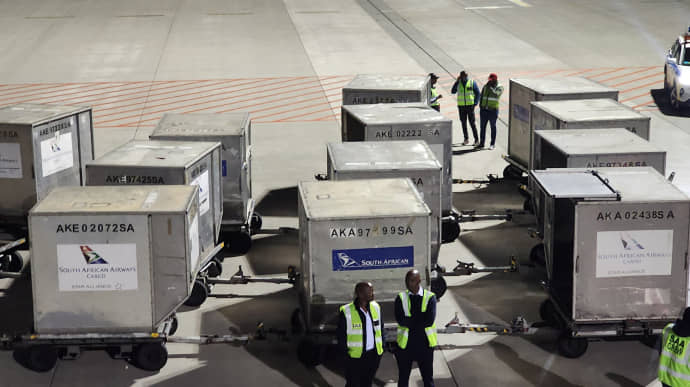 The security team of South African President Cyril Ramaphosa has tried to unload 12 containers of weapons in Poland, Polish media report.
Source: Polish news agency Rzeczpospolita, as reported by European Pravda
Details: The media outlet notes that Ramaphosa arrived in Warsaw before travelling to Kyiv by train. He flew in a separate plane, and another plane carried 120 people, including journalists and presidential guards. This plane also carried military personnel with special forces.
Advertisement:
The Polish customs officers did not allow them to leave the plane and collect their luggage on the evening of Thursday, 15 June.
The head of the President's guard accused the Polish government of "deliberately sabotaging" the peace mission of the South African president.
He added that the behaviour of the Polish authorities was "shocking and racist".
However, as the media agency notes, he did not mention that the guards under his command tried to unload twelve containers of weapons from the plane – a fact that was reported by journalist Amanda Khoza, who was on the plane.
The journalist said that, possibly because of these containers with weapons, Italy did not want to let the plane enter its airspace.
"They withdrew the permission [to fly over – ed.], and we had to make six laps over the Mediterranean before we arrived in Warsaw," said Khoza.
As reported, the plane carrying the security detail of the President of the Republic of South Africa and his press pool was stuck at Warsaw airport due to a lack of permits, although the South African side believed it had all the necessary documents.
Eventually, the guards got stuck in Warsaw, and President Ramaphosa, who is a member of a delegation of African leaders visiting Ukraine to propose a "peace plan", went to Kyiv without them.
The Polish Foreign Ministry explained that the situation occurred due to the guests' failure to comply with standard procedures for entering Poland, including the lack of permits for "dangerous substances".
Journalists fight on their own frontline. Support Ukrainska Pravda or become our patron!