Kyiv City Military Administration reports over 250 targets shot down over city in May
Monday, 5 June 2023, 16:04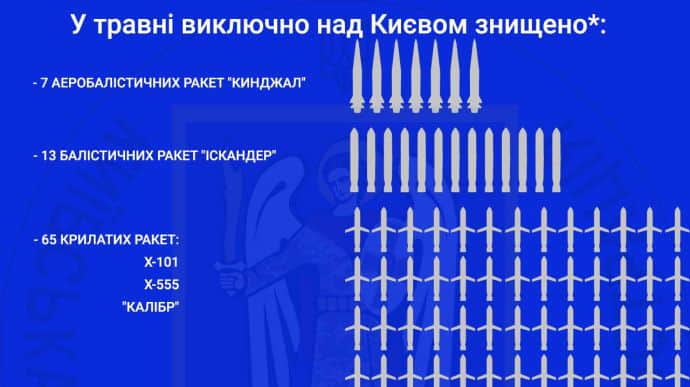 Ukrainian air defence forces shot down over 60 cruise missiles and about 170 drones over Kyiv in May.
Source: Kyiv City Military Administration on Telegram
Quote: "At no time in the history of our planet... No city and no country... have ever been subjected to such severe air attacks with numerous hypersonic air-launched, ballistic, cruise missiles and modern military UAVs. As much as Kyiv in May. Kyiv withstood it".
Advertisement:
Details: The posted report indicates that Ukrainian air defence forces destroyed seven Kinzhal hypersonic missiles, 13 Iskander ballistic missiles, 65 cruise missiles (Kh-101, Kh-555, Kalibr), and 169 UAVs in May.
At the same time, the authority clarified that these are estimates.
Background: On the night of 2 June, Ukrainian defenders destroyed all 15 cruise missiles and 21 attack drones used by the Russians to attack Kyiv Oblast.
Journalists fight on their own frontline. Support Ukrainska Pravda or become our patron!