Zelenskyy imposed sanctions against Russians and Georgian airline flying to Russia
Saturday, 1 July 2023, 12:12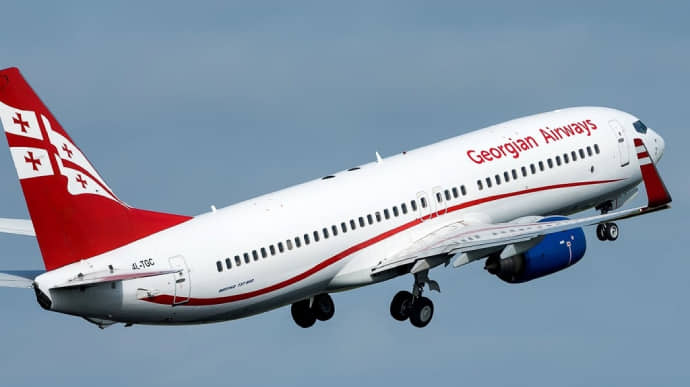 President Volodymyr Zelenskyy has imposed sanctions on more than 190 individuals and 290 companies linked to Russia and the war against Ukraine.
Source: Zelenskyy's decrees
Details: The sanctions include 189 Russians, two Belarusians and Tamaz Gaiashvili, the founder of Georgian Airways.
Advertisement:
Another list contains almost 300 companies, mostly Russian. In addition to them, sanctions were imposed against the Belarusian Rogachev-based Diaproyektor plant [optical engineering plant - ed.]; Zenit-BelOMO [optical and mechanical factory - ed.]; Optiñ plant [Belarusian manufacturer of optical products and components - ed.]; Zeiss BelOMO, a joint Belarusian-German company; the Research and Production Centre for Multifunctional Unmanned Systems of the National Academy of Sciences of Belarus; as well as Georgian Airways LLC.
Background:
In May, Russia cancelled its unilateral ban on air traffic with Georgia, and on 20 May, Georgian Airways made its first direct flight to Russia in four years.
Before that, Georgian Airways' harsh response to protests by outraged citizens outside its office caused a stir in Georgia.
The ruling party and the Georgian government reacted favourably to resuming air traffic with Russia, while President Salome Zourabichvili called for a boycott of Georgian Airways. For its part, the company declared her an undesirable passenger on its flights.
Pawel Herczynski, European Union Ambassador to Georgia, gave a demarch about Georgia to Levan Davitashvili, Georgian Deputy Prime Minister and Head of the Ministry of Economy, regarding the resumption of direct flights between Tbilisi and Moscow.
Journalists fight on their own frontline. Support Ukrainska Pravda or become our patron!