Explosion occurs near Russian military airfield used to launch Shahed drones
Sunday, 2 July 2023, 17:38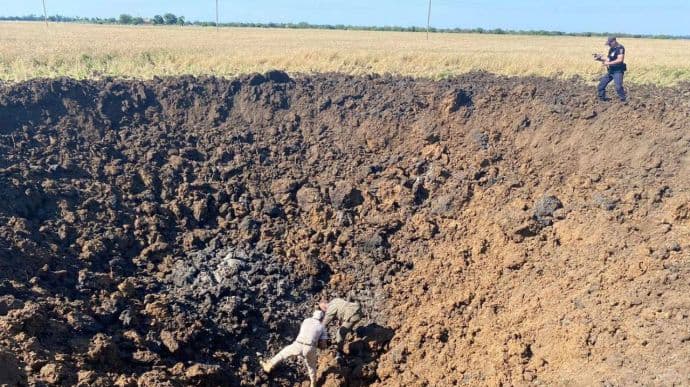 An explosion has occurred near a military airfield in Primorsko-Akhtarsk, Krasnodar Krai, in the Russian Federation; an explosion crater has formed at the site.
Source: Medusa, citing a number of Russian media and Telegram channels; the governor of the oblast, Veniamin Kondratiev, on Telegram
Details: Portal 93.ru notes that around 16:00, residents of Primorsko-Akhtarsk reported hearing a loud explosion, after which a column of black smoke rose into the sky. According to the portal, the explosion occurred in the area of the military airfield.
Advertisement:
Telegram channel Baza posted a photo of the crater formed, allegedly as a result of the explosion. According to Baza, the size of the craters is about 10 metres in diameter and about 4 metres in depth.
The Mash Telegram channel claims that air defence systems of Primorsko-Akhtarsk shot down a missile that allegedly targeted a fuel and lubricant warehouse on the territory of a military airfield. Other sources have not yet confirmed this.
The governor of the oblast, Veniamin Kondratiev, said that there were no casualties or fatalities.
"There are no casualties or fatalities. According to preliminary information, residential buildings and infrastructure were not damaged. Now the reasons for what happened are being established," he wrote, without specifying what exactly happened.
Background: Earlier, the Air Force of Ukraine reported that Iranian-made Shahed kamikaze drones were launched from the Primorsko-Akhtarsk airfield in Russia. In particular, this was reported on 29 and 30 June.
Journalists fight on their own frontline. Support Ukrainska Pravda or become our patron!