Russians move three landing ships from Black Sea to Sea of Azov – Ukrainian Navy spokesman
Saturday, 16 September 2023, 17:34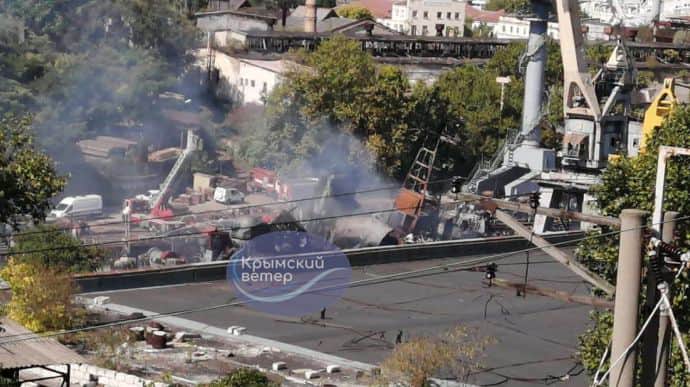 Following successful Ukrainian attacks on a large landing ship and a submarine in occupied Sevastopol, the Russians have moved three large landing ships from the Black Sea to the Sea of Azov.
Source: Dmytro Pletenchuk, spokesman for the Naval Forces of the Armed Forces of Ukraine, on the national 24/7 newscast
Quote: "These processes concerning the liberation of our territory will continue in the future. By the way, it is telling that today the Russian invaders have for some reason moved three large landing ships from the Black Sea to the Sea of Azov."
Advertisement:
Details: Pletenchuk noted that the large landing ship struck in Sevastopol is beyond repair both because of the specific damage it sustained and because of its "rather venerable age".
He said this large landing ship had taken part in the so-called "Syrian Express", supplying weapons and personnel and solving logistical problems for the Russian forces in Syria.
Pletenchuk also stressed that the destruction of the submarine was "the first such casualty suffered by the Russian Federation when they lost a submarine as a result of hostilities".
Background:
The occupation authorities in Sevastopol claimed that a missile attack caused a fire to break out at a shipyard near Kilen-balka on the night of 12-13 September, and the Russian Ministry of Defence reported an attack by missiles and uncrewed surface vessels (USVs), which damaged two ships.
OSINT researchers reported that a Ropucha-class large landing ship and a Kilo-class submarine had been damaged at a shipyard in occupied Sevastopol. The Russian Telegram channel Baza wrote that the Minsk large landing ship and the Rostov-on-Don diesel-electric submarine were damaged as a result of the attack.
A photograph of the Minsk, a large Russian landing ship, emerged on social media, and experts who have studied it have concluded that it is beyond repair.
Ukrainska Pravda is the place where you will find the most up-to-date information about everything related to the war in Ukraine. Follow us on Twitter, support us, or become our patron!