Ukraine's Armed Forces explain significance of Klishchiivka's liberation: springboard for further action
Sunday, 17 September 2023, 23:22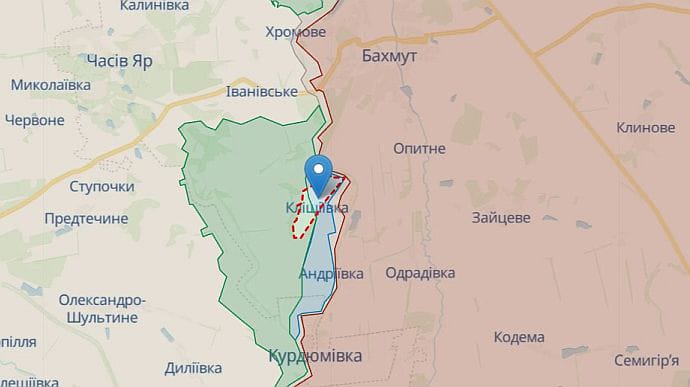 By liberating the settlement of Klishchiivka in Donetsk Oblast, the Armed Forces of Ukraine have created a springboard that would allow the development of upcoming offensive operations.
Source: Illia Yevlash, press service chief for Operational Command Skhid (East), during the national 24/7 newscast
Quote: "Now we have gained a springboard for ourselves, which in the future will allow us to continue to develop offensive operations and liberate our land from the invaders."
Advertisement:
Details: Yevlash explained that, above all, this means controlling the logistics routes through which the Russians supply their forces in Bakhmut.
"In addition, this exposure of the flanks, in particular the southern flank, will allow us to further move more conveniently into the depths of the enemy's positions and deliver more accurate and deeper strikes using various artillery systems, FPV drones and other available weapons," Yevlash asserted.
He reported that battles are now ongoing near the railway track.
"The railway is very important for the Russians, because the range of the supply routes they have is somewhere around 50-60 kilometres. Everything that is further away is very difficult to provide with the logistics of the occupation army... Now there are intense fierce battles on this front, we are fighting for every metre of our land. When it is possible to finally inform the public on who controls the railway, we will definitely do so," he said.
Earlier: On Sunday, the Liut (Rage) combined Assault Brigade of the National Police of Ukraine confirmed the liberation of the village of Klishchiivka in Donetsk Oblast.
Ukrainska Pravda is the place where you will find the most up-to-date information about everything related to the war in Ukraine. Follow us on Twitter, support us, or become our patron!