Russians impose military censorship and curfew in occupied part of Donetsk Oblast
Sunday, 24 September 2023, 14:16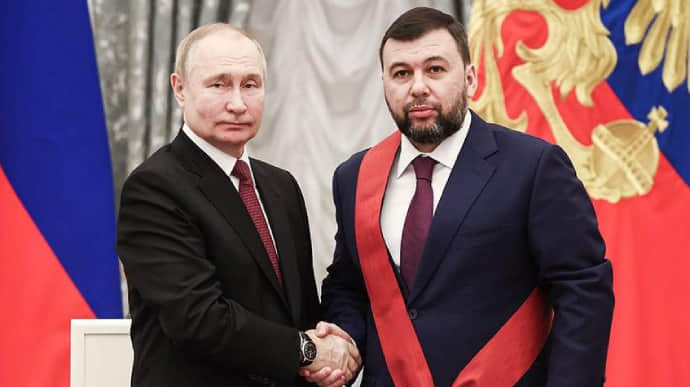 Denis Pushilin, Russian-appointed "head" of the self-proclaimed "Donetsk People's Republic" (DPR), has issued a sham "decree" introducing a range of bans in the Russian-occupied part of Donetsk Oblast, including military censorship and a ban on gathering.
Source: Pushilin's sham "decree"
Quote: "[I issue the order to] introduce military censorship of mail and messages transmitted via telecommunications systems, as well as control over telephone conversations.
Advertisement:
A ban is introduced on meetings, rallies and demonstrations, marches and pickets, and other mass events...
...as well as a ban on strikes and other means of stopping or terminating the activities of organisations."
Details: Furthermore, a curfew was introduced from Monday to Friday from 23:00 to 04:00.
The Russian puppet "officials" and "state employees" were banned from travelling anywhere other than Russia without permission.
Background: On 8-10 September, Russia held sham local council "elections" in the occupied territories of Ukraine, along with local elections across Russia.
The EU declared that it did not recognise Russia's "elections" in the occupied territories of Ukraine and stressed that Russia's leadership would face the consequences of these illegal actions.
The Council of Europe had previously stated that the sham "elections" recently held by Russia in the occupied territories of Ukraine are null and void under international law.
US Secretary of State Antony Blinken said Washington would never recognise the results of these sham elections.
Ukrainska Pravda is the place where you will find the most up-to-date information about everything related to the war in Ukraine. Follow us on Twitter, support us, or become our patron!