Moscow criticises Armenian PM for "turning his back" on Russia
Monday, 25 September 2023, 17:47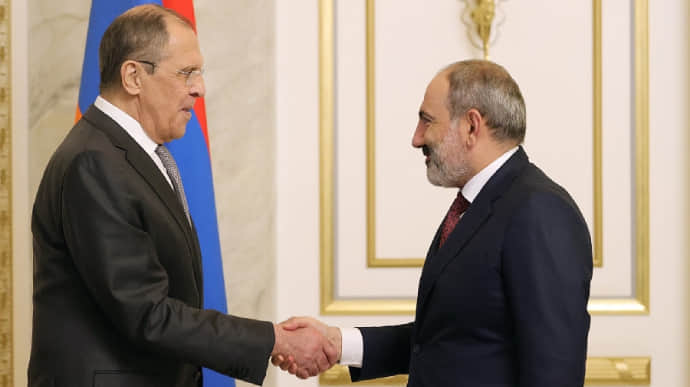 In a lengthy statement, Sergei Lavrov, the Minister of Foreign Affairs of Russia, has criticised recent remarks made by Nikol Pashinyan, Prime Minister of Armenia, who described the defence structures his country has been relying on lately as "ineffective".
Source: European Pravda
"The message about independence from Nikol Pashinyan, Prime Minister of Armenia, dated 24 September 2023, contains unacceptable accusations against Russia, and the only possible response can be to reject it. There is an obvious attempt to absolve itself of responsibility for domestic and foreign policy failures by shifting blame onto Russia," the Russian Foreign Ministry stated.
Advertisement:
The ministry added that anti-Russian tendencies are systemic in Armenia.
"The head of the government has essentially admitted that the republic has been preparing to turn its back on Russia all this time. Armenia is unconvincing in its attempts to justify its steps towards the new – Western – vector of its development by mistakes that were supposedly made by the Russian Federation and the Collective Security Treaty Organisation (CSTO)," the ministry stated.
It stressed that it was mainly due to the "inconsistent position of the Armenian leadership, which has chosen to shy away and cling to the West instead of working in rhythm with Russia and Azerbaijan", that the implementation of trilateral agreements concerning Nagorno-Karabakh had stalled.
"This irresponsible approach from Mr Pashinyan's team has caused understandable discontent in part of Armenian society, which has been expressed through protests. Claims that these were instigated by Russia are, of course, completely false," the Russian Foreign Ministry claimed, adding that prompted by the government, the Armenian media has gone on a "real anti-Russia spree".
"We are convinced that the Yerevan leadership is making a huge mistake in deliberately trying to destroy the multifaceted and centuries-old relationship between Armenia and Russia and turning their country into a hostage of the geopolitical games of the West," the statement reads.
Background:
Pashinyan said on 24 September that the security system and allies on which his country has relied for years has "demonstrated our vulnerability".
Armenia is a member of the Collective Security Treaty Organisation (CSTO), which is de facto controlled by Russia. Lately relations between Armenia and the CSTO have cooled considerably. After the Nagorno-Karabakh war in 2020, the CSTO did not provide Yerevan with any practical assistance.
Pashinyan had previously spoken out about the "failures" of Russian peacemakers in unrecognised Nagorno-Karabakh, which is what led to the latest escalation.
Last week he also said that Armenia would no longer rely on Russia as a guarantor of its safety.
Ukrainska Pravda is the place where you will find the most up-to-date information about everything related to the war in Ukraine. Follow us on Twitter, support us, or become our patron!