European Bank for Reconstruction and Development to increase financial support for Ukrainian businesses in 2023 and 2024
Thursday, 28 September 2023, 12:01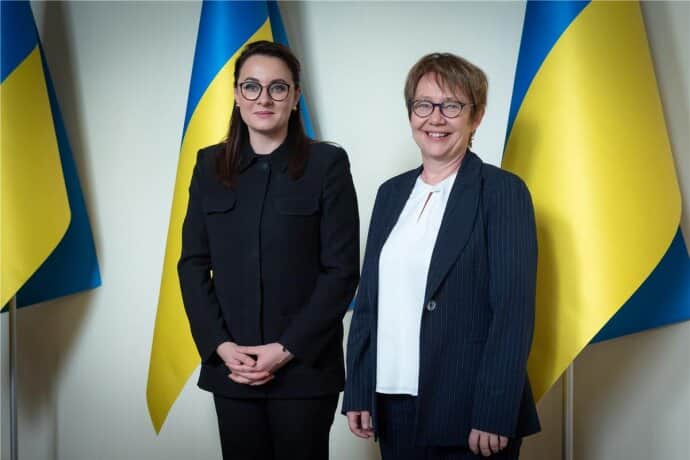 The European Bank for Reconstruction and Development (EBRD) will expand funding for projects in Ukraine in 2024. The main areas of cooperation will concern financing equipment manufacturers for mine clearance of agricultural land, a project to ensure military risks, and lending to the economy's real sector.
Source: Ministry of Economy following a meeting between First Deputy Prime Minister of Ukraine and Economy Minister Yuliia Svyrydenko and EBRD President Odile Renaud-Basso.
"We discussed the current areas of cooperation for this and next year with our colleagues from the EBRD. We need to increase the volume of humanitarian demining of Ukrainian agricultural lands because we should not wait 700 years to restore life in the territory where military battles took place a few months ago.
Advertisement:
We know that the process of mine clearance of Ukrainian territories is extremely complex and financially costly. But restoration work and economic development in the de-occupied territories are impossible without this. The EBRD is ready to join the financing of mine clearance of agricultural land and develop a particular financial product in cooperation with banks and the Ministry of Labour capital financing for manufacturers of special equipment for mine clearance.
This can give an impetus to the development of technologies and mechanical engineering in Ukraine," Svyrydenko said.
The meeting also discussed further cooperation between the EBRD and Development Finance Institutions (DFI) to coordinate investment efforts in Ukraine, especially in the economy's private sector.
In addition, they discussed increasing direct lending to Ukrainian private businesses, as well as supporting the liquidity of state-owned companies.
One of the topics for discussion was insurance of military risks.
"The money to support the private sector has a significantly more significant cumulative effect on the economy than direct budget support. But for investors to come to Ukraine, we must provide them full protection.
That is why I am pleased to announce that the EBRD is preparing the legal structuring and management of the relevant project, as well as preparing a product for insuring goods in transit and warehouses against military risks together with Ukrainian insurance companies. At the next stages, the project may also include insurance of investment risks," Svyrydenko added.
To date, the EBRD has participated in 547 projects in Ukraine. The total investment of the European Bank for reconstruction and development in Ukraine reached €18,384 billion.
Ukrainska Pravda is the place where you will find the most up-to-date information about everything related to the war in Ukraine. Follow us on Twitter, support us, or become our patron!