Israel attack Palestinians during evacuation from Gaza Strip – The Washington Post
Saturday, 14 October 2023, 07:00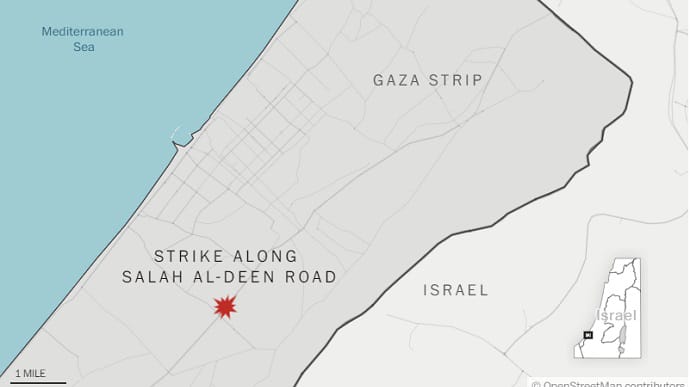 An Israeli attack has killed dozens and wounded over 200 people fleeing the northern Gaza Strip, the Palestinian Ministry of Health in the Gaza Strip has said. Video, verified by The Washington Post, has shown the aftermath of this deadly strike along the Gaza Strip's main road on Friday, 13 October.
Source: The Washington Post
Details: A video taken along Salah al-Din Road shows bodies, including several small children, lying along the road. Black smoke rises from burning cars. There is a bicycle among personal belongings on car trailers.
Advertisement:
The video was geolocated by Open-Source Intelligence (OSINT) experts Chris Osik and Gabòr Friesen and verified by The Washington Post.
The UN reported that late on Thursday, 12 October, Israel ordered the evacuation of 1.1 million residents from northern Gaza within 24 hours. On Friday, the Israel Defence Forces dropped leaflets over the city of Gaza urging residents to "evacuate your homes immediately and head to the south".
Ukrainska Pravda is the place where you will find the most up-to-date information about everything related to the war in Ukraine. Follow us on Twitter, support us, or become our patron!