Hyundai to become Ukrainian Ukrenergo's partner in modernising power transmission system
Wednesday, 15 November 2023, 09:33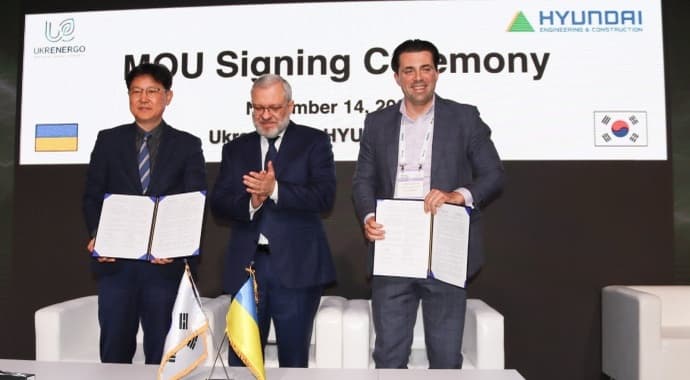 Ukrenergo, Ukraine's national energy company, and South Korean Hyundai Engineering & Construction have signed a memorandum on jointly exploring the possibilities of developing the Ukrainian power transmission system.
Source: Ukrenergo's press service
Details: The message states that the agreement was signed by Volodymyr Kudrytskyi, CEO of Ukrenergo, and Hyung-Hwan Park, Regional Director for Europe and North Africa of Hyundai Engineering & Construction (E&C), during the international conference Rebuild Ukraine in Warsaw.
Advertisement:
The agreement covers a joint study of future cooperation areas and potential opportunities for Hyundai E&C to participate in Ukrenergo projects.
Kudrytskyi said global businesses are looking for opportunities to invest in Ukraine, and the Ukrainian energy sector should become a key industry for successful investments.
Ukrenergo, as a transmission system operator, stands ready to assist both Hyundai E&C and other companies in effectively researching the investment attractiveness of energy projects.
Background:
On 2 November, Ukrenergo held daily joint auctions for selling access to the capacity of interstate power transmission lines in the Ukraine-Romania and Romania-Ukraine routes.
Support UP or become our patron!