Russian troops target Avdiivka with artillery and prepare for new wave of attacks – ISW
Thursday, 2 November 2023, 03:24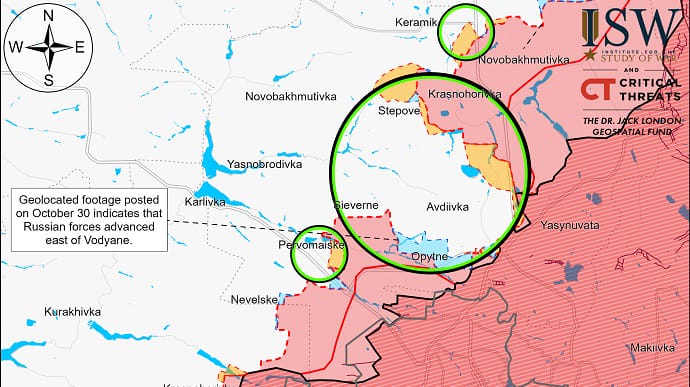 Russian forces are likely preparing for another wave of extremely gruelling infantry ground attacks on Ukrainian positions near Avdiivka.
Source: Institute for the Study of War (ISW)
Details: A Kremlin-linked Russian military blogger claimed that Russian forces near Avdiivka had slowed significantly the pace of ground attacks from north and south of Avdiivka in favour of powerful strikes on Ukrainian forward positions and near their rear areas. Russian forces may be waging a campaign to block the Ukrainian forces in the vicinity of Avdiivka, but this heavy fire is most likely to be air and artillery preparation of the battlefield before a new wave of Russian attacks.
Advertisement:
Other Russian military bloggers also described these actions as "preparatory support," presumably for further attacks.
Perhaps Russian troops are preparing to move to frontline attacks led by infantry after heavy artillery bombardments to compensate for significant equipment losses in Avdiivka during October.
GeoConfirmed's geolocation project has used available satellite images to confirm that Russian forces have lost or damaged 197 vehicles since 9 October.
They lost 99 vehicles during the first wave of the assault between 9 and 13 October, and 94 during the second wave between 14 and 23 October.
In addition, there are four confirmed and 18 potentially lost vehicles between 24 and 31 October.
GeoConfirmed described the Russian actions near Avdiivka as the most costly during its war with Ukraine.
ISW analysts stressed that the current situation near Avdiivka is an example of the inability of the Russian General Staff to learn and apply the lessons learned by Russian troops during previous unsuccessful offensives in Ukraine.
Support UP or become our patron!