Russia puts 5 submarines to sea from Sevastopol – media reports
Thursday, 30 June 2022, 11:04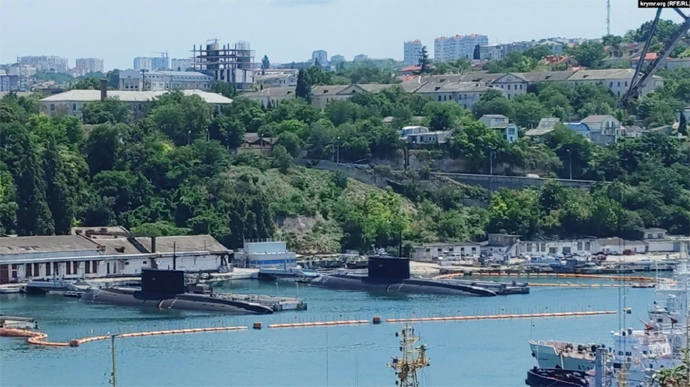 THURSDAY, 30 JUNE 2022, 11:04
Five submarines out of seven in the Black Sea Fleet of Russia have put to sea from Sevastopol.
Source: Krym.Realii [online portal focusing on the Crimea, part of Radio Svoboda's Ukrainian service]
Advertisement:
Details: According to the publication's correspondent, two Project 636.3 Varshavyanka submarines from the 4th Separate Submarine Brigade are in the Southern Bay of Sevastopol. The submarines are berthed on the eastern shore of the Bay.
The Russian Black Sea Fleet reportedly has 6 Varshavyanka Project submarines: B-261 Novorossiysk, B-237 Rostov-on-Don, B-262 Stary Oskol, B-265 Krasnodar, B-268 Veliky Novgorod and B-271 Kolpino. It also has one Project 877B Paltus submarine, the Alrosa.
According to Krym.Realii, the Alrosa left for sea trials on 28 June after an 8-year overhaul at the 13th ship repair plant of the Russian Black Sea Fleet. The submarine moved away from the shipyard's berth in Kilen Bay and, after passing through the boom gate, entered Sevastopol's outer anchorage.
Currently, 5 out of 7 of the Russian Black Sea Fleet's submarines are in the Black Sea, 4 of them are in a state of readiness for combat operations and 1 is undergoing sea trials.
For reference: Varshavyanka project submarines carry Kalibr cruise missiles. The Alrosa can also carry this type of missile after modernisation.