Kyiv region: over 200 people killed by the occupiers have yet to be identified
Saturday, 4 June 2022, 16:17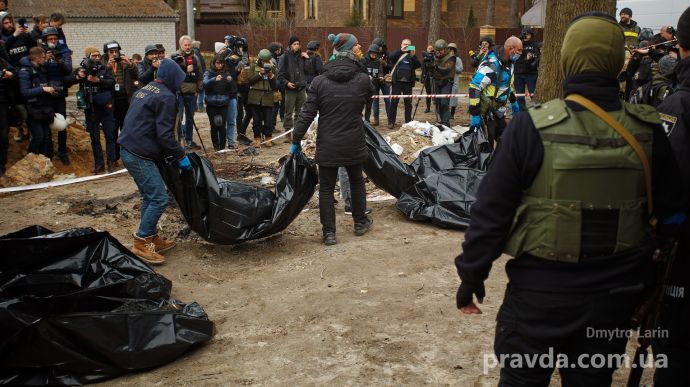 KATERYNA TYSHCHENKO — SATURDAY, 4 JUNE 2022, 16:17
Investigators have yet to identify more than 200 civilians killed by the Russians in the Kyiv region.
Source: Ministry of Internal Affairs
Quote: "Ukrainians who were shot and tortured by the Russians are still being found in Kyiv Oblast.
As of today, over 1,300 bodies of civilians have been exhumed. After investigations at the burial site had been completed, the bodies were sent to the morgue, where they underwent forensic examinations.
However, more than two hundred people have yet to be identified."
Background:
The Defence Forces of Ukraine liberated the Kyiv region from the Russian occupiers in early April. At the same time, the facts about numerous atrocities committed by the Russians began to come out.
Anatolii Fedoruk, the Mayor of Bucha, said at that time that there were mass graves in the city where nearly 300 people had been buried, and dozens of corpses were lying in the streets, some with their hands tied.
The bodies of civilians tortured by the Russians have been found in every settlement in the Kyiv region that was temporarily occupied by the invaders.
As of 3 June, the bodies of 1,314 locals killed by the Russian occupiers had been found in the Kyiv region.
Read more:
The Devil Wears a Russian Soldier's Uniform. How they tortured people in the Kyiv region
"We're basically peacekeepers. But you are all f*cked…" 35 days of the Russian occupation of Obukhovychi village - from tragedy to farce