Russian Federation "hands over" 108 orphaned Ukrainian children from Donbas to Russian families
Tuesday, 19 July 2022, 11:44
Olena Barsukova, staff reporter, UP.Zhyttia
19 July 2022
The Russians have removed 108 Ukrainian children who were deprived of parental care from Donetsk Oblast to the territory of the aggressor country.
Advertisement:
The children, aged 5 to 16, who had previously acquired Russian citizenship, have been "placed" with foster families.
On 14 July, for example, 32 children were handed over to families in the city of Moscow, the oblasts of Moscow, Voronezh, Kaluga and Tula, and the Yamalo-Nenets Autonomous District.
Maria Lvova-Belova, the Children's Ombudsman of the Russian Federation under the Putin administration, announced this on social media.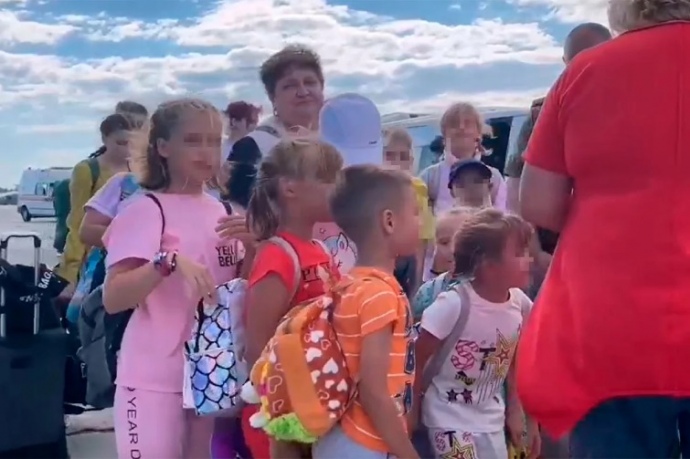 13 children were taken to Russia from Donetsk, Shakhtarsk and Makiivka with Lvova-Belova's involvement. Another 19 children had previously been deported to Russia – the Russians call this evacuation.
The children were first brought to Moscow to meet their "foster parents" before being taken to 6 different regions.
"In total, by the end of the week, 108 orphaned children of Donbas who have acquired Russian citizenship will have parents," Lvova-Belova wrote on the Russian social media platform Vkontakte.
Elena Zaytseva, head of the Juvenile Custody Department of the Moscow Department of Labour and Social Protection, responded to the post.
"They're ours now," she wrote.
The Ukrainian orphans had previously been "fast-tracked" for Russian citizenship according to a decree issued by the president of the aggressor country.
The document, signed by Putin, enables various people to apply for Russian citizenship on behalf of orphaned Ukrainian children from the temporarily occupied territories.
Reminder: Iryna Vereshchuk has explained how Ukrainians deported by Russia can return home.