About 700,000 people have left Russia in two weeks of mobilisation
Tuesday, 4 October 2022, 16:21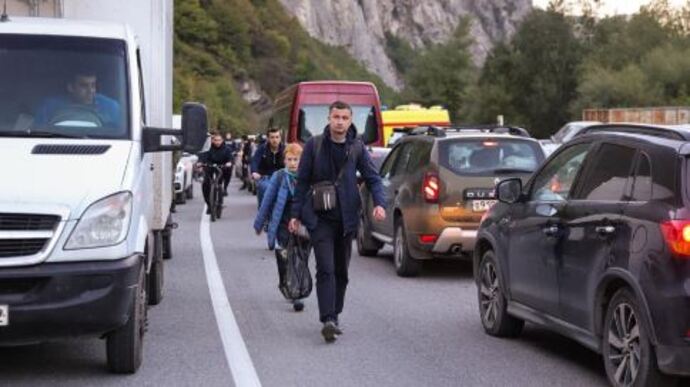 UKRAINSKA PRAVDA — TUESDAY, 4 OCTOBER 2022, 16:21
In less than two weeks after the partial mobilisation was announced, about 700,000 people left Russia.
Source: Forbes, citing multiple sources
Advertisement:
Details: According to one source, almost 1 million people have left Russia since the beginning of the mobilisation. The second source, in the administration of the President of the Russian Federation, reports that between 600,000 and 700,000 Russians have left the country. The magazine's source emphasised that it is not yet clear what percentage of people left the country as tourists.
According to Forbes, the media previously cited the figure of 194,000 Russians who left for Georgia, Kazakhstan and Finland in the week after the announcement of mobilisation. At the beginning of September, even before the announcement of partial mobilisation, the Federal State Statistics Service (Russia) stated that 419,000 people had left the Russian Federation in the first half of 2022 – twice as many as in the same period the previous year. There was a net migration outflow (- 96,000) in the first six months of 2022, as compared to a net inflow of 114,000 during the same period in 2021.
Background:
Marat Akhmetzhanov, the Minister of Internal Affairs of the Republic of Kazakhstan, reported on 4 October that since 21 September, 200,000 Russians have entered his country, and 147,000 Russians have left it during this period.
The Ministry of Internal Affairs of Georgia reported that 53,000 Russians came to the country in a week, and 10,000 people cross the border every day, which is 40-45% more than before 21 September. At the end of September, the flow of Russians on the border with Georgia decreased.
In one week, 66,000 Russians entered the EU, which is 30% more than a week earlier, according to the EU border agency Frontex.
Journalists fight on their own frontline. Support Ukrainska Pravda or become our patron!