"Keep your hypocrisy to yourself": Ukraine's President's Office responds to "Putin's truce"
Thursday, 5 January 2023, 17:23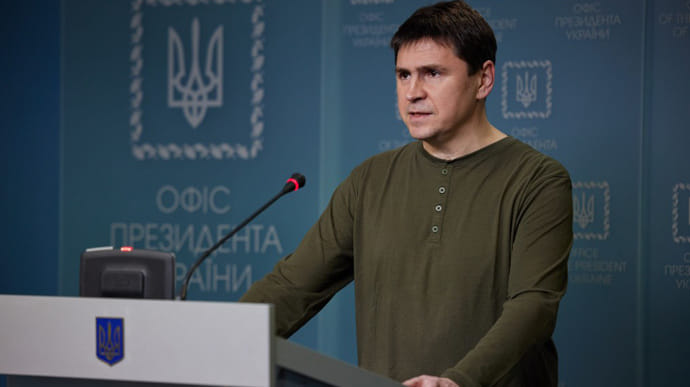 Mykhailo Podoliak, Advisor to the Head of the President's Office, has stressed that a "temporary truce" can only begin when the Russian aggressor leaves the territory of Ukraine.
Source: Mykhailo Podoliak, Advisor to the Head of the President's Office, on Twitter and in a comment to Ukrainska Pravda
Quote: "The Russian Federation must leave the occupied territories; only then will it begin a 'temporary truce'. Keep your hypocrisy to yourself."
Advertisement:
Details: Podoliak also included a reminder that Ukraine is not attacking foreign territory or killing civilians, as Russia is doing, and only kills members of the occupation army on its territory.
Updated: Quote: "Of course this is just a propaganda gesture. Nothing more. Russia is trying in every possible way to reduce the intensity of the fighting and the intensity of attacks on its logistics centres, at least for a while, in order to buy time for additional mobilisation, the construction of large-scale fortifications in the occupied territories, and the regrouping of the army. That could not be done by any military means, so standard information ploys have been used."
More details: Podoliak believes that Russia wants to demonstrate supposedly "humane approaches in the war" and try to convince Europeans to put pressure on Ukraine. In this way, Russia is attempting to achieve "immediate negotiations, acceptance of the Russian ultimatum, and a new line of demarcation".
Podoliak also noted that Russia has been attacking civilian targets, including places of religious worship, and has done so specifically during the Christmas season. "So, once again, we should not respond to the deliberately manipulative initiatives of the Russian leadership."
Background:
On 5 January, Russian President Vladimir Putin ordered Defence Minister Sergei Shoigu to implement a ceasefire for Christmas.
Journalists fight on their own frontline. Support Ukrainska Pravda or become our patron!