Russian passports found on Metropolitan Onufrii and over 20 other priests of Moscow-linked church
Friday, 7 April 2023, 17:34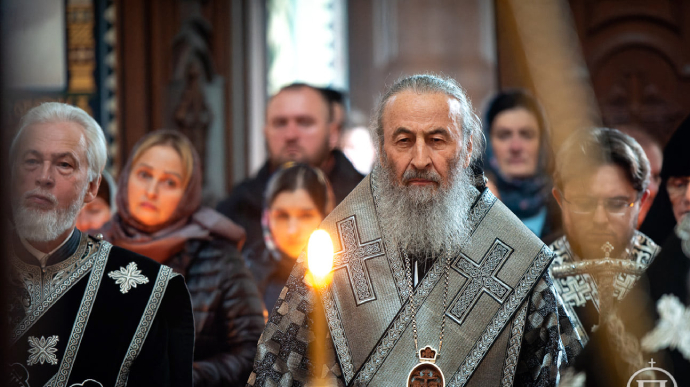 Metropolitan Onufrii (née Orest Berezovskyi) of the Ukrainian Orthodox Church of Moscow Patriarchate (UOC-MP) and over 20 other clergymen have Russian citizenship.
Source: Investigation by Ukrainska Pravda
Details: According to an extract from the Rospasport [Russian Passport] system, Onufrii obtained a Russian passport in Moscow on 20 March 2002. A year later, on 23 June 2003, he also received a foreign passport as a Russian citizen. This was not the first passport the churchman received. He also obtained one in Moscow in 1998. This means that Onufrii had Russian citizenship much earlier than in 2002.
Advertisement:
The bishop of the UOC-MP and abbot of the tithe monastery Hedeon (née Yurii Kharon) also has Russian citizenship. He received a Russian passport in 2019 in Moscow. And in 2020, he obtained two foreign passports as a Russian citizen.
Ukrainska Pravda also discovered that in January 2023, almost a year since the beginning of the Russian army's full-scale invasion of Ukraine, Hedeon conducted a clerical service in Kazan, Russia. His prayer included words in support of Russian troops and the Russian attack on Ukraine.
In December 2022, former Metropolitan Yelysiei (Oleh Ivanov) of Izium and Kupiansk also received a Russian passport. After the occupation of Izium, Yelysiei continued to pray for Russian Patriarch Kirill and began working for the occupation authorities. In particular, he hosted representatives of the occupation administration of Kharkiv Oblast in his church.
Ivanov fled to the Russian city of Belgorod after the liberation of Izium, where he obtained a Russian passport.
Currently, the editorial office of Ukrainska Pravda has confirmed information about the clergy of the UOC-MP possessing more than 20 Russian passports. Shortly, Ukrainska Pravda will publish this information on its website.
At present, the editorial board cites only some of the names of priests of the UOC-MP who have Russian citizenship:
Metropolitan Ionofan (Anatolii Yeletskykh) of Tulchyn and Bratslav;
Bishop Serhii (Serhii Anitsoi) of Ladyzhyn, Vicar of the Tulchyn Eparchy;
Archbishop Panteleimon (Viktor Bashchuk), Vicar of the Kyiv Eparchy;
Metropolitan Meletii (Valentyn Yehorenko), head of the Chernivtsi-Bukovyna Eparchy;
Metropolitan Mark (Mykola Petrovtsii), Bishop of Khust Eparchy;
Metropolitan Irynei (Ivan Serednii), Bishop of the Diocese of Dnipro.
ijçíàéñÿ á³ëüøå "Ãðàæäàí³í" Îíóôð³é. Óêðà¿íñüêà ïðàâäà ïóáë³êóº ðîñ³éñüê³ ïàñïîðòè ñâÿùåííîñëóæèòåë³â ÓÏÖ
Journalists fight on their own frontline. Support Ukrainska Pravda or become our patron!