IRIS-T anti-aircraft missile systems shot down over 60 targets in 7 months
Wednesday, 3 May 2023, 11:12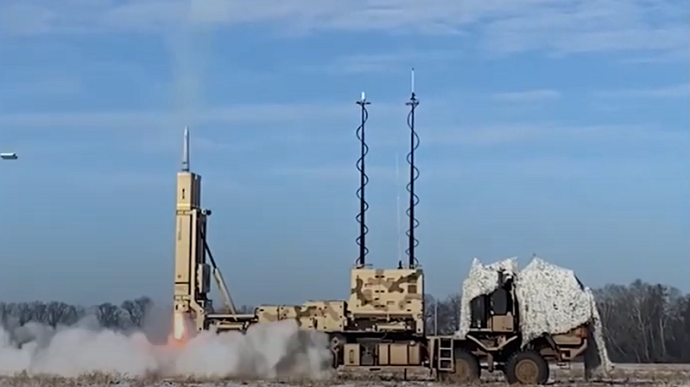 A division of German IRIS-T anti-aircraft missile systems has shot down over 60 Russian targets since October 2022.
Source: Lieutenant General Mykola Oleshchuk, Commander of the Air Force of Ukraine, on Telegram
Quote from Oleshchuk: "German-made IRIS-T anti-aircraft missile systems have been protecting Ukraine's skies from Russian terrorism since October 2022. Over the course of that time, the IRIS-T anti-aircraft missile systems division has shot down over 60 enemy targets."
Advertisement:
Details: Oleshchuk added that another IRIS-T division, the second one, entered combat duty in Ukraine in late April 2023.
"On the day of the first use of the system, everyone was shocked, because all the targets were shot down," said the deputy commander of the anti-aircraft missile unit under the pseudonym Jeweller.
Background:
On 12 October, Defence Minister Oleksii Reznikov announced that Ukraine had received the first IRIS-T air defence system from Germany.
On 14 October, Yurii Ihnat, spokesman for the Air Force of the Ukrainian Armed Forces, said that the Armed Forces of Ukraine are already using the IRIS-T complex in the south of the country.
Journalists fight on their own frontline. Support Ukrainska Pravda or become our patron!