Canadian Prime Minister Trudeau arrives in Kyiv on unannounced visit
Saturday, 10 June 2023, 12:59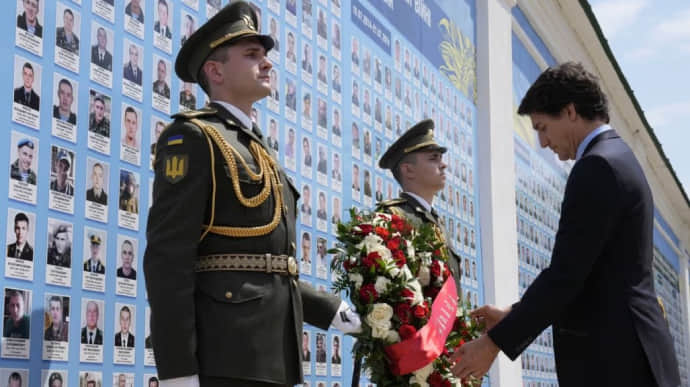 Canadian Prime Minister Justin Trudeau paid an unexpected visit to Kyiv on Saturday.
Source: European Pravda
Details: Photos of the Canadian Prime Minister in Kyiv appeared on social networks and in the Canadian mass media.
Advertisement:
The Canadian prime minister is in Ukraine with Deputy Prime Minister Chrystia Freeland, who is of Ukrainian descent.
Trudeau's visit was not announced, like most visits by Western government officials, for security reasons.
In Kyiv, Trudeau started his visit by attending a wreath-laying ceremony at the Wall of Remembrance, dedicated to those who died in the Russian-Ukrainian war.
This is Trudeau's second visit to Ukraine since the start of Russia's large-scale invasion of Ukraine in February 2022. Trudeau last visited Ukraine in May 2022.
In May 2023, President Zelenskyy had a telephone conversation with Canadian Prime Minister Trudeau, in which he discussed the programme of long-term defence cooperation and also noted the beginning of the confiscation of Russian assets in Canada.
At the end of April, the Canadian government announced the provision of new military aid to Ukraine in the amount of 39 million Canadian dollars (US$28.9 million).
Journalists fight on their own frontline. Support Ukrainska Pravda or become our patron!