Four cruise missiles shot down over Ukraine overnight
Sunday, 27 August 2023, 08:50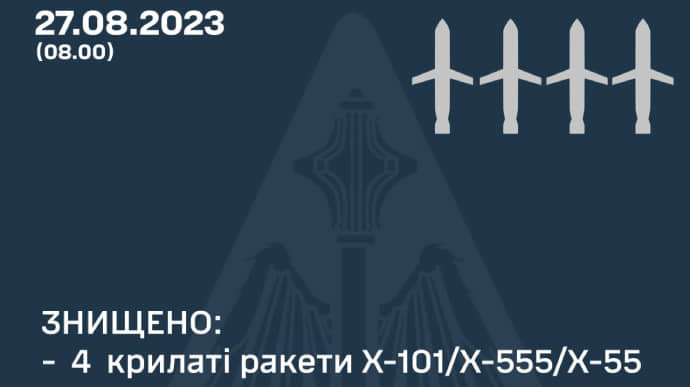 The Russian forces launched an attack with Kh-101/Kh-55/Kh-555 air-to-surface cruise missiles on the night of 26-27 August, four of which were shot down by Ukrainian air defence.
Source: Ukrainian Air Force (UAF)
Details: Cruise missiles were fired from 5 strategic aircraft from Russian airspace near the city of Engels, in Russia's Saratov Oblast.
A total of up to 8 air targets were recorded over Ukraine.
Quote: "The Air Force destroyed four Kh-101/Kh-55/Kh-555 cruise missiles in the central and northern oblasts.
The rest of the air targets were likely decoys, and no hits were reported."
Ukrainska Pravda is the place where you will find the most up-to-date information about everything related to the war in Ukraine. Follow us on Twitter, support us, or become our patron!