Unmanned surface vessel rams Russian tanker in Kerch Strait
Saturday, 5 August 2023, 01:58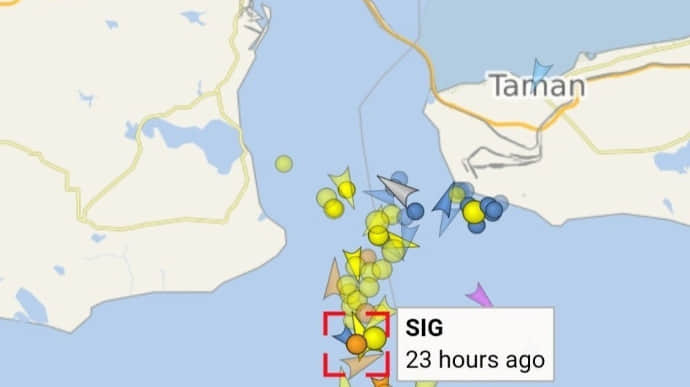 A Russian chemical tanker SIG has been damaged in the Kerch Strait due to an unmanned surface vessel (USV) attack on the evening of 4 August, with emergency workers from Novorossiysk, Russia, being sent to help the tanker.
Source: Russian newspaper The Moscow Times on Telegram; Kremlin-aligned news agency TASS on Telegram
Details: The Moscow Times says a Russian chemical tanker SIG, sailing from Türkiye, may have been damaged in a USV attack in the Kerch Strait.
The newspaper also posted an audio recording from a Russian Telegram channel Ostorozhno, Novosti (Warning, News), allegedly a recording of communications between the sailors of the Russian tanker damaged by a Ukrainian drone.
In the recording, the crew says that the ship is afloat but cannot move on its own.
The Russian chemical tanker SIG used to deliver aircraft fuel from Crimea to Syria, which led to the US putting it on the sanctions list in 2019.
Subsequently, the Kremlin-aligned media outlet TASS, citing the Taman Sea Rescue Subcentre of Russia, reported that a group of emergency rescue workers left the city of Novorossiysk for the Kerch Strait, where the USV attack on a tanker had taken place, as reported by some Telegram channels.
The media outlet added that the Novorossiysk Maritime Rescue and Coordination Centre confirmed that a group of emergency workers went to the strait.
Later, TASS, citing the maritime rescue centre, also claimed that the Russian tanker was damaged during an attack by the Ukrainian Armed Forces, and the crew was safe.
"Two tugboats arrived at the scene of the accident with the tanker in the Kerch Strait, and the issue of towing the vessel is being addressed," the media outlet added.
The Russian Telegram channel Baza posted photos from inside the damaged tanker.
Preliminary reports from the channel indicate that the vessel was about 30 miles from the coast, and the drone struck the engine room and pump room.
"There are 11 people on the tanker. Most of them have abrasions from broken glass," the channel reported.
Ukrainska Pravda is the place where you will find the most up-to-date information about everything related to the war in Ukraine. Follow us on Twitter, support us, or become our patron!
photo, updated