Talks on North Korea giving weapons to Russia are developing – US Department of State
Thursday, 28 September 2023, 00:34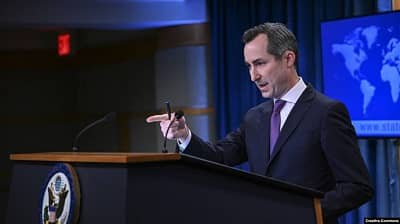 The Washington officials believe that the negotiations on arms supply to Russia, which began during North Korean leader Kimg Jon Un's visit to Russia, are progressing.
Source: Ukrinform, citing Matthew Miller, spokesman for the US Department of State, during a press conference
Details: Miller stressed that the talks could concern both North Korea potentially supplying weapons to Russia, and Russia giving [nuclear] technology to North Korea. He added that this would undermine the global nuclear nonproliferation regime and violate the relevant UN Security Council resolutions, which Russia itself voted for.
Advertisement:
Quote from Miller: "We have spoken on this a number of times and warned that an arms discussion between Russia and the DPRK almost certainly continued during Kim Jong Un's trip to Russia and we believe that they continue in the aftermath of that trip and converging the military relationship between Russia and the DPRK. [...]
And so we would urge the DPRK to abide by what it has said publicly and refrain from supplying arms to Russia."
Background:
Ukrainska Pravda is the place where you will find the most up-to-date information about everything related to the war in Ukraine. Follow us on Twitter, support us, or become our patron!