Wife of Armenian PM to visit Kyiv and deliver aid
Wednesday, 6 September 2023, 12:32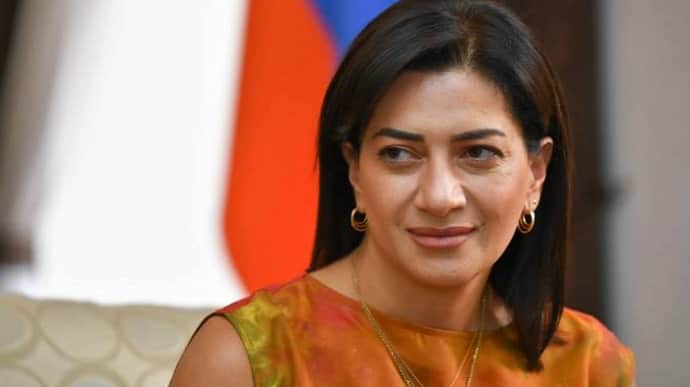 Anna Hakobyan, the wife of Armenian Prime Minister Nikol Pashinyan, will participate in the Summit of First Ladies and Gentlemen in Kyiv on 6 September.
Source: Radio Liberty Armenia, citing the summit's website
Details: The media reports that it is likely that Hakobyan will deliver humanitarian aid to Ukraine. Armenian Prime Minister Nikol Pashinyan previously stated that Yerevan is not an ally of Moscow in the conflict between Russia and Ukraine.
Advertisement:
The summit is also attended by the wives of the leaders of the United Kingdom, Japan, Türkiye, Spain, the Czech Republic, Denmark, Israel and several other countries, as well as officials of the European Union, journalists and actors. This year's event is dedicated to mental health.
Background:
Hakobyan's visit to Kyiv is taking place amid tense relations between Armenia and Russia.
Previously, Pashinyan publicly stated that Russia failed its peacekeeping mission in Nagorno-Karabakh. He also said that "in the field of security, depending or being tied to only one place is in itself a strategic mistake".
Recently, the government of Armenia sent for ratification the Rome Statute of the International Criminal Court to the National Assembly, which issued an arrest warrant for the President of Russia in February this year.
The representative of Moscow reported that they had asked Yerevan for an explanation of this decision.
On 6 September, the Ministry of Defence of Armenia announced joint military exercises with the Americans.
Ukrainska Pravda is the place where you will find the most up-to-date information about everything related to the war in Ukraine. Follow us on Twitter, support us, or become our patron!