Israel destroys underground tunnels in Gaza Strip and kills Hamas engineer who developed weapons
Saturday, 21 October 2023, 01:49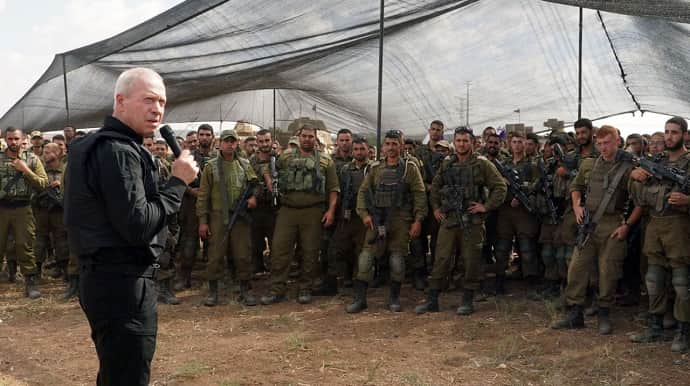 The Israel Defence Forces (IDF) says it has killed a senior engineer from the Palestinian terrorist group Hamas who was developing weapons, including drones.
Source: The Times of Israel
Details: Palestinian terrorists in the Gaza Strip continued to fire missiles into southern Israel, and the Israeli Air Force attacked Hamas targets on Friday evening.
Advertisement:
The Israel Defence Forces said it attacked numerous Hamas command centres and underground infrastructure during the day, and killed Mahmoud Sabih, a senior Hamas engineer. He led a unit that developed weapons for Hamas, drones, and "exchanged knowledge with other terror groups throughout the Middle East."
Israeli Defence Minister Yoav Gallant paid an evening visit to an area where the IDF was gathered near the Gaza border and "closely monitored the readiness of the forces for the expansion of the campaign," his office said.
Tens of thousands of military personnel are gathered near the border with the Gaza Strip and are waiting for an Israeli ground offensive on the Gaza Strip.
At the same time, missiles launched from the Gaza Strip on the southern coastal city of Ashkelon caused damage, local authorities said. One missile hit a house directly, and another hit several cars. There were no casualties.
The terrorists also shelled Sderot, Ashdod and several nearby towns. The municipality of Sderot said a missile that fell in the southern city damaged a street and a bus stop, but no one was injured.
The missile attack occurred when Hamas released two hostages captured during the 7 October invasion and mass killings in Israeli communities. American citizens Judith and Natalie Raanan returned to Israel and were supposed to be reunited with their relatives at a military base.
Background: The US and European governments have asked Israel to postpone the start of a ground operation in the Gaza Strip and give time for secret negotiations mediated by Qatar to release hostages held by Hamas.
Support UP or become our patron!