Zelenskyy: We are preparing for Russian strikes on energy facilities. We will strike back
Wednesday, 25 October 2023, 12:30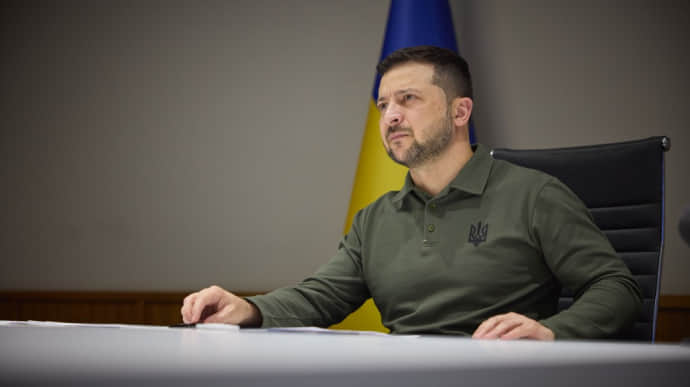 President Volodymyr Zelenskyy has received reports on the daily conference call on the arrival of equipment, and heard information from the frontline and on the aftermath of Russia's recent attack on Ukraine.
Source: Zelenskyy on social media
Details: The president noted that he had received reports on the receipt of equipment, ammunition, new contracts and a new supply geography.
Advertisement:
The president also heard a combat situation report regarding the contact zone, in particular Kupiansk and Avdiivka, where heavy fighting continues, but Ukrainian soldiers are holding their positions.
Quote: "The enemy is trying to indiscriminately destroy everything they can reach. Beryslav, Borova... We are eliminating the consequences of attacks and helping people [there].
We are preparing for terrorist attacks on energy infrastructure. This year, we will not only defend ourselves but also respond.
The enemy knows this well. First, they removed the fleet from Crimea, and now they are moving their aircraft further away from our borders."
Background:
Russian forces launched 11 Shahed kamikaze drones over Ukraine on the night of 24-25 October, and Ukrainian air defence forces managed to down all the Russian targets. Russian terrorist attacks have resulted in deaths and injuries among the civilian population.
Drones hit the cities of Slavuta and Netishyn in Khmelnytskyi Oblast on the night of 24-25 October.
A Russian strike on territory near Khmelnytskyi NPP has resulted in broken windows in two of its buildings.
Support UP or become our patron!