General Staff: Russia transfers troops from Belgorod Region to Izyum
Saturday, 30 April 2022, 06:50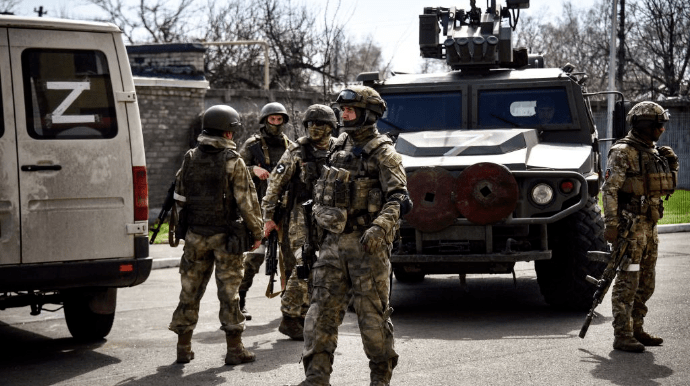 Anastasia Kalatur – Saturday, 30 April 2022, 06:50
Units of Russian troops are being transferred from the Belgorod region of Russia to near Izyum, Kharkiv Region.
Source: General Staff of the Armed Forces of Ukraine on Facebook, information as of 06:00 on Saturday, 30 April
Advertisement:
Details: The units being transferred to Izyum belong to Russia's Eastern Military District.
On the Slobozhanskyi front, the efforts of Russian troops are focused on holding their established positions and inflicting damage on the Armed Forces of Ukraine.
Russia is carrying out air and missile strikes and artillery shelling on the positions of our troops along the line of contact, along Ukraine's border, and on more central districts. Russian troops continue to regroup and reinforce their units.
Russian troops were not active on the Volyn and Polissia fronts; there were no changes there.
On the Siverskyi front, Russian troops fired on the positions of Ukrainian troops near the villages of Kindrativka, Katerynivka, Svarkove, and Bilokopytove.
Units of Russian troops attempted to advance on Sulyhivka and Dovhenke, but did not succeed. Russia is deploying air defence forces and equipment to cover groups of its troops on the Kharkiv and Izyum fronts.
In the Eastern Operational Zone, Russian troops continue to advance on the Lyman (near Yampil, Ozerne, and Lyman), Sievierodonetsk (where they want to bring Rubizhne under their complete control), Popasna (near Kalynove and Popasna), and Kurakhiv (Olenivka and Novomykhailivka) fronts. They have seen no success so far and fighting continues.
Units of Ukrainian troops on the Zaporizhzhia front are being relentlessly shelled from artillery.
Russian troops did not undertake a concerted offensive on the Pivdennyi Bug front. There were only isolated instances of shelling of Ukrainian troop positions.
No significant changes on the Besarabiia front.
On the Mykolaiv front Russian troops intensified air reconnaissance of the defensive positions of the Armed Forces of Ukraine, probably to establish the presence and character of the activities of reserves.
The Armed Forces of Ukraine shot down 10 Russian air targets: 1 plane and 9 Orlan-10 operational-tactical UAVs.
14 enemy attacks were repulsed in Donetsk and Luhansk Regions. 11 Russian tanks, 7 artillery systems, 28 units of armoured equipment and 14 vehicles were destroyed.