"Grandmother with USSR flag" curses the Russian army because it destroyed her house
Thursday, 5 May 2022, 17:25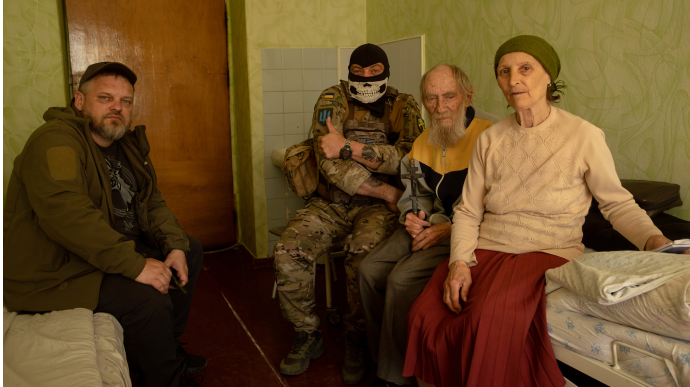 DENYS KARLOVSKY — THURSDAY, 5 MAY 2022, 17:25
Pensioner Anna Ivanova, who came out with a red Bolshevik flag to greet the Ukrainian military, is now cursing the Russian army for destroying her house.
Source: Centre for Strategic Communications and Information Security of the Ministry of Culture and Information Policy
Advertisement:
Details : A serviceman of the 22nd battalion of the 92nd brigade of the Armed Forces of Ukraine with the call sign "Cadet" helped pensioner Anna Ivanovna Ivanova and her husband to evacuate from their house near Kharkiv to a safe place. Before that, he helped them with food and humanitarian aid.
She is currently in one of the city hospitals in Kharkiv. The Russian occupiers fired mortars at her house.
Contrary to Russian propaganda, Anna Ivanovna's son did not take her to Russia, and she herself figured out that the Russian army was responsible for shelling her house.
Anna Ivanovna says that she came out to greet the Ukrainian military because she thought they were Russian infidels and she wanted to "placate" them with a red Bolshevik flag so they would not "smash up" the village and all of Ukraine. But now she feels like a "traitor."
Her grandson is safe in Poland.
The military of the Armed Forces of Ukraine urged people not to chastise or persecute the pensioner.
Recall: Russian propaganda turned Anna Ivanovna into a legendary image. Allegedly, this represents the desire of "ordinary Ukrainians" to reunite with their "Russian brothers" as in Soviet times.
Cheap, temporary monuments have been erected in her honour in Russian cities, and in one city, a mural of her was painted on the wall of a house.
The propagandists said that the grandmother had been living in the village of Dmitrovka, Kyiv Region, but soon after the liberation of the village by Ukrainian units, her son had allegedly taken her to Russia. Rumours spread that her relatives had taken her to Barnaul in Siberia.
Background:
On 3 May, a monument to "a grandmother with the flag of the USSR" was erected in Russian Belgorod, but on 4 May it was removed.
In Mariupol, the Russian occupiers also erected a similar monument to the grandmother.
The sociological group "Rating" in April found that 87% of Ukrainians, after the start of a full-scale invasion of Russia, do not have any positive feelings towards the Soviet Union.