General Staff: Armed Forces of Ukraine destroy Russian ammunition depot in Mykolaiv Region
Saturday, 7 May 2022, 06:34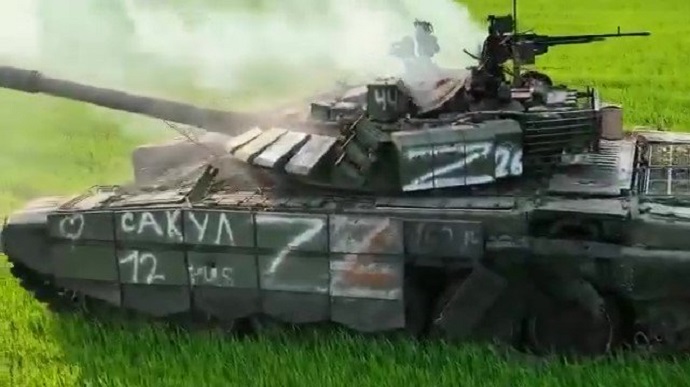 Olha Hlushchenko – Saturday, 7 May 2022, 06:34
Ukrainian troops have destroyed a Russian ammunition depot and 20 units of Russian military equipment in a village in the Mykolaiv Region.
Source: General Staff of the Armed Forces of Ukraine on Facebook
Advertisement:
Quote from the General Staff: "The enemy continues their offensive in the Skhid [East] Operational Zone in order to establish full control over the Donetsk and Luhansk Regions and maintain a land corridor with [Russian-]occupied Crimea."
Details: There was no active combat action on the Polissia front. A covert rotation of units of Russian troops that are covering part of the Russia-Ukraine border might be underway in order to test the units' combat readiness.
On the Siverskyi front, the invader did not undertake any actions. Russian troops are reinforcing their positions and lines of defence in parts of the Kursk Region in Russia near the border with Ukraine.
There was no active aggressor activity on the Slobozhanskyi front. Russian forces continue shelling residential areas and suburbs of Kharkiv with artillery. The aggressor is using drones to carry out aerial reconnaissance on the Izium front to ascertain the positions of Ukrainian troops.
Russian occupiers blew up 3 road bridges near the towns of Tsyrkuny and Ruski Tyshky, Kharkiv Region, in order to hinder the counter-offensive of the Armed Forces of Ukraine.
On the Donetsk and Tavriia fronts, Russian troops continue shelling Ukrainian troops with artillery along the entire line of contact and have deployed operational-tactical aircraft to carry out missile and air strikes on Ukrainian troop positions.
Russians continue to besiege Defence Forces units around Azovstal in Mariupol, and in some areas they have resumed an assault to take control of the plant.
On the Pivdennyi Buh front, the aggressor shelled the positions of Ukrainian troops with artillery, and deployed missiles and rocket-propelled grenade launchers to shell infrastructure in the city of Mykolaiv.
Ukrainian Defence Forces destroyed an ammunition depot and 20 units of Russian military equipment in the village of Ivan-Kepyne, Mykolaiv Region.
Russian occupation forces are undertaking a number of measures to ensure the combat effectiveness of their units and to support the Russian occupation regime in the city of Kherson. The number of checkpoints and mobile patrols has been increased.
The Ukrainian Armed Forces struck 14 Orlan UAVs over the course of Friday, 6 May.

8 attacks by Russian forces were repelled in the Donetsk and Luhansk Regions. 3 tanks, 8 artillery systems, 7 armoured combat vehicles, 1 vehicle, and 3 units of special engineering equipment belonging to the invaders were destroyed by Ukrainian forces.