Priest of Moscow-linked church assaults soldier in Khmelnytskyi
Sunday, 2 April 2023, 14:39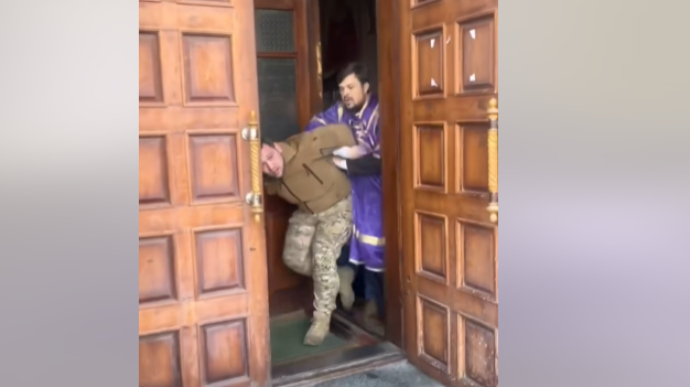 A priest and worshippers assaulted a soldier in a church belonging to the Ukrainian Orthodox Church of the Moscow Patriarchate (UOC-MP) in Khmelnytskyi on the morning of 2 April.
Source: Viktor Burlyk, a member of Khmelnytskyi Oblast Council; local news portal Vsim; Khmelnytskyi Oblast police
Advertisement:
Quote: "In the video we can see the soldier, Artur Ananiev, who went as a volunteer to the front line with the 19th Rifle Battalion at the beginning of the full-scale war. He suffered a concussion and a brain injury."
Details: According to Burlyk, the soldier came to the church and asked, "How many more people have to be killed for you to stop going to the Moscow Patriarchate?"
The police have opened a case against the priest and the soldier.
According to the police, the soldier "threw the Gospel book from the table onto the floor and entered into a verbal conflict with the priest who was reading the prayer liturgy".
Eyewitnesses told local journalists that, in their opinion, the soldier started the conflict.
The police said Khmelnytskyi district investigators had opened proceedings under Art. 296.2 of the Ukrainian Criminal Code (hooliganism).
"The police are now investigating all the circumstances of the conflict and are questioning witnesses and those involved in the incident," law enforcement officers said.
Journalists fight on their own frontline. Support Ukrainska Pravda or become our patron!