Medvedev claims Russia has "nuclear values"
Tuesday, 25 April 2023, 12:17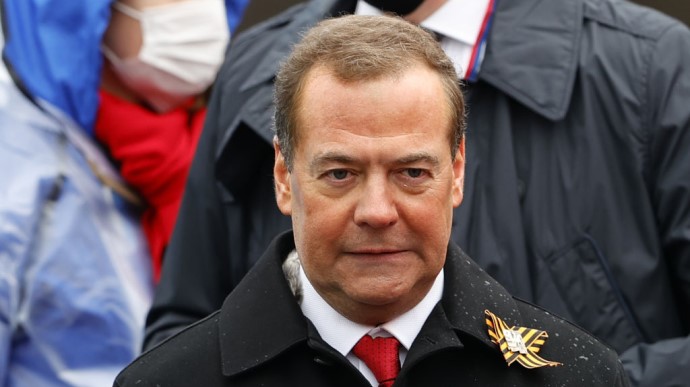 Dmitry Medvedev, Deputy Secretary of the Russian Security Council, has said that nuclear weapons are a "staple" for Russia ["spiritual staples" – a phrase that became popular after Putin used it in 2012, meaning spiritual unity and values of Russian society. From then on, it was used quite often by Russian officials – ed.].
Source: Kremlin-aligned news outlet TASS
Quote: "For Russia's existence as the world's largest state, nuclear weapons are of inescapable importance...
Advertisement:
But nevertheless, we understand that in today's world, nuclear weapons for our country are the very 'staple' that holds the state together."
Details: Medvedev has said that the probability of a nuclear war is growing.
As he states, Russia could be the first to use nuclear weapons if there was aggression against it that threatened the existence of the state.
Medvedev, being the former Russian president, believes that Russia's opponents should not underestimate the possibility of Moscow using nuclear weapons, which "will not flinch".
Medvedev has added that a "quiet division" of Ukraine by Poland and other countries is better than Ukraine in NATO or a world war.
He has stated that Russia has not run out of missiles, ammunition and tanks and that the Russian defence industry can handle the load.
Medvedev believes that the US wants to divide Russia into the United States of Siberia and other separate countries and manage them, and Elon Musk may become the US president.
At the same time, Medvedev has said that it is quite possible that some states could secede from the United States.
Medvedev has called the war a "special operation" and Russia's response to "endless NATO expansion".
In his opinion, "Russia in Ukraine is fighting the whole of NATO" and "the West's undeclared war against Russia continues".
Journalists fight on their own frontline. Support Ukrainska Pravda or become our patron!