Explosion from inside is the most likely cause of Kakhovka HPP collapse – NYT
Wednesday, 7 June 2023, 12:18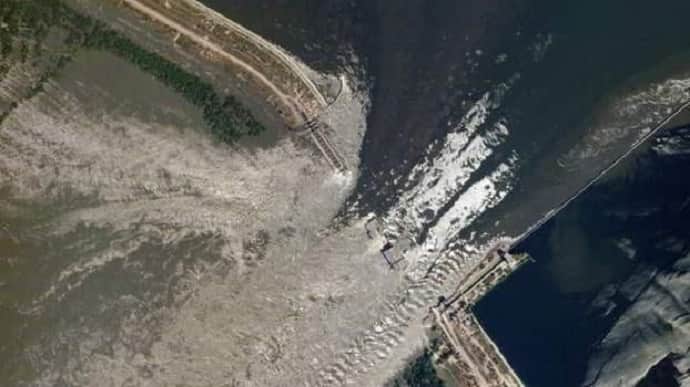 The New York Times, having talked to experts, has concluded that the most likely cause of the destruction of the Kakhovka Hydroelectric Power Plant was an explosion from the inside.
Source: The New York Times, citing engineering and munitions experts
Details: Experts say the available evidence suggests that an internal explosion caused the dam's destruction. As the NYT stresses, local residents reported on social media that they heard a huge blast at around 02:50 when the dam was breached.
Advertisement:
Quote from NYT: "A blast in an enclosed space, with all of its energy applied against the structure around it, would do the most damage. Even then, the experts said, it would require hundreds of pounds of explosives, at least, to breach the dam.
An external detonation by bomb or missile would exert only a fraction of its force against the dam, and would require an explosive many times larger to achieve a similar effect."
More details: Nick Glumac, a professor of engineering and explosives expert at the University of Illinois, stressed that the amount of explosives a warhead can carry is limited. He said that even a "direct hit" might not destroy the dam.
Quote from Glumac: "This takes a significant amount of energy. You think about the forces on the structure in operation — they are immense. You have the water force, which is massive."
More details: Gregory Baecher, a professor of engineering at the University of Maryland and a member of the National Academy of Engineering who has studied dam failures, called the case of the Kakhovka HPP suspicious.
However, photographs and video footage indicate that the Kakhovka dam was breached first in the centre, next to the power plant adjacent to the Russian-controlled shore. Both ends of the dam initially appeared to be intact, although as the day progressed, increasingly more of the dam collapsed.
Even with the previously damaged sluice gates and high water levels, the NYT emphasises that it was not expected that such a large dam could be ripped apart.
Journalists fight on their own frontline. Support Ukrainska Pravda or become our patron!