Russia wants to take Ukrainian children from occupied territories
Wednesday, 7 June 2023, 12:34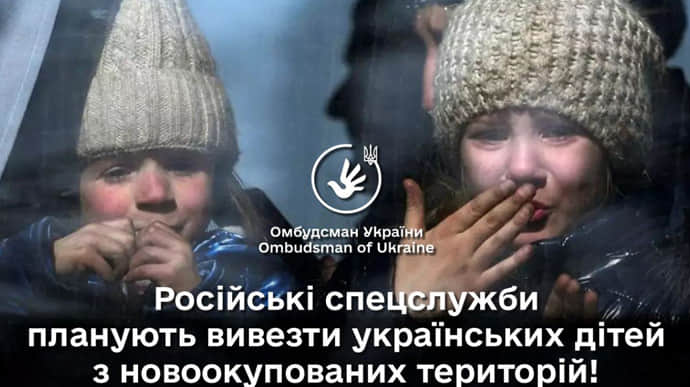 The Russian occupiers want to take Ukrainian children from the recently temporarily occupied territories (TOT) and areas bordering Russia to Russian-annexed Crimea.
Source: Dmytro Lubinets, Ukrainian Parliament Commissioner for Human Rights, on Telegram
Quote: "The Russian Federal Security Service (FSB) may implement a set of pre-planned measures to take Ukrainian children from the new TOT and areas bordering Russia to Crimea under the pretext of the threat of non-stop attacks.
Advertisement:
The children will be accommodated in camps and resorts across the peninsula for the summer period."
Details: Lubinets believes that by doing so, the occupiers are trying to create conditions to reduce the risks of the expected Ukrainian counteroffensive in the direction of Crimea.
The invaders also want to compromise the Ukrainian Armed Forces and present Ukraine as a "terrorist state".
They are spreading pro-Russian narratives in the media and social media that it was Ukraine that blew up the Kakhovka Hydroelectric Power Plant.
The invaders want to present the actual abduction of Ukrainian children as a "rescue mission".
Furthermore, the FSB believes that command posts, nodal units such as missile or artillery units, and equipped clusters of Russian occupying forces (ROF) should be located next to children's recreation areas in the event that the Ukrainian military advances deeper into Crimea.
The Russian secret services believe that putting children "next door" to military facilities will prevent or significantly complicate the Ukrainian military's ability to engage the main units and command posts of the ROF, will limit or slow down the pace of the Ukrainian Armed Forces' advance in Crimea, and will facilitate provocations with mass casualties and compromise the Ukrainian forces.
The Russian State Duma has already asked the government to organise the evacuation of children from the areas bordering Ukraine to summer camps and other institutions in Crimea.
Journalists fight on their own frontline. Support Ukrainska Pravda or become our patron!