Number of victims of attack on Chernihiv rises to 148
Sunday, 20 August 2023, 07:56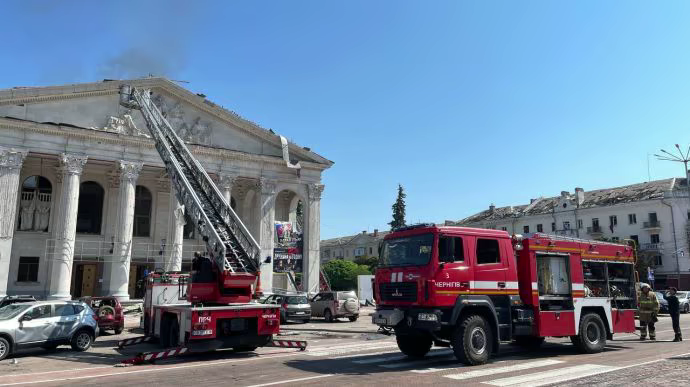 Viacheslav Chaus, Head of Chernihiv Oblast Military Administration, has reported that the number of victims as a result of the Russian attack on the city of Chernihiv with a ballistic missile has risen to 148.
Source: Chaus in the 24/7 newscast, cited by Interfax-Ukraine news agency
Quote: "The Russians claimed the lives of seven people and 148 more people either sought medical help or were taken to hospitals with injuries.
As of 06:20 [on 20 August – ed.], 41 people remain in hospital in Chernihiv. They are receiving the necessary medical treatment, and 15 people have undergone surgery."
"Over 500 apartments, that is, more than 60 residential buildings, are located near the site of the attack."
Details: The site of the attack is being cleaned up, utility services are working at the scene, and all residential buildings and facilities are being inspected in order to assess the scale of the damage.
Chaus remarked that all law enforcement officers are also involved, as well as public and social services. He added that psychologists would be working in hospitals today.
Previously: Earlier, there were reports that 144 people had been injured in the missile attack on Chernihiv.
Background:
Ukrainska Pravda is the place where you will find the most up-to-date information about everything related to the war in Ukraine. Follow us on Twitter, support us, or become our patron!