Macron arrives in Kazakhstan and praises Tokayev for "not being anyone's vassal", making Russia concerned
Wednesday, 1 November 2023, 13:56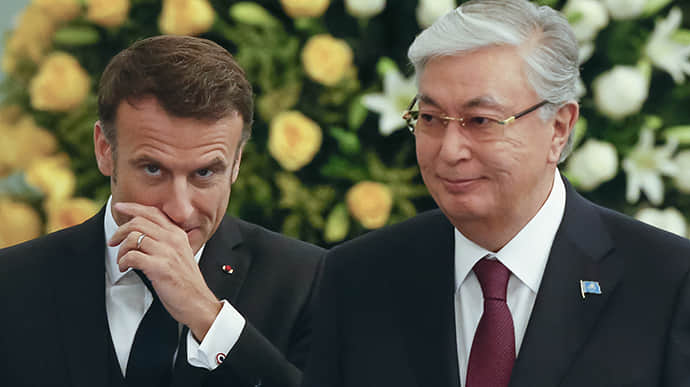 French President Emmanuel Macron arrived in Kazakhstan on Wednesday, 1 November, as part of the first leg of his trip to Central Asia, meeting with President Kassym-Jomart Tokayev and praising him for refusing to be a "vassal of any power".
Source: Reuters, cited by European Pravda
Quote from Macron: "France values ... the path you are following for your country, refusing to be a vassal of any power and seeking to build numerous and balanced relations with different countries."
Advertisement:
Details: Macron called the visit "historic" and said that the two countries had signed business agreements, including a declaration of intent on partnership in the field of rare soils and rare metals.
"I don't underestimate by any means the geopolitical difficulties, the pressures ... that some may be putting on you," Macron said.
Russia has expressed concern over the growing diplomatic activity of the West in the former Soviet countries of Central Asia.
While Kremlin spokesman Dmitry Peskov said on Wednesday that Kazakhstan, as a sovereign state, is free to develop ties with any country, Foreign Minister Sergei Lavrov said earlier that the West is trying to pull "neighbours, friends and allies" away from Russia.
Kazakhstan, as well as Uzbekistan, which Macron will visit next, have refused to recognise Russia's annexation of Ukrainian territories and have pledged to comply with Western sanctions against Moscow, while calling both Russia and Western countries their strategic partners.
Quote from Macron: "We respect our friends, we are here when they need us and we respect their independence. And in a world where major powers want to become hegemons, and where regional powers become unpredictable, it is good to have friends who share this philosophy."
When asked about Macron's visit, Dmitry Peskov said that Russia highly valued its relations with Kazakhstan.
"In our turn, we have historical ties, ties of strategic partnership with Kazakhstan, they are our allies and our interests are united in many international bodies," Peskov said.
Background:
Recently, Kazakh President Kassym-Jomart Tokayev visited Berlin, where German Chancellor Olaf Scholz praised Kazakhstan's efforts to prevent the circumvention of sanctions against Russia.
In October, the foreign ministers of Central Asian countries – Kazakhstan, Kyrgyzstan, Tajikistan, Turkmenistan and Uzbekistan – agreed to continue cooperation with the EU to combat Russia's attempts to circumvent sanctions.
Support UP or become our patron!