Ukrainians conduct larger-scale operations on Dnipro's left bank – ISW
Thursday, 16 November 2023, 05:44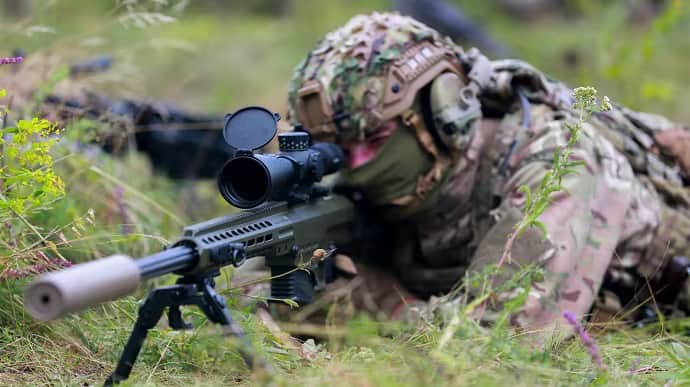 The Institute for the Study of War (ISW) has stated that Ukrainian troops have continued more extensive than usual operations on the eastern (left) bank of the Dnipro River in Kherson Oblast.
Source: ISW
Details: The report states that Russian so-called military bloggers (milbloggers) claimed that Ukrainian forces launched unsuccessful attacks from the centre of Krynky (30 kilometres northeast of Kherson, 2 kilometres from the Dnipro River and approximately 3.6 kilometres north of the E-58 road).
Advertisement:
They also reported that Ukrainian forces were attacking near Poima (11 kilometres east of Kherson and 4 kilometres from the Dnipro River) and Pishchanivka (15 kilometres east of Kherson and 3 kilometres from the Dnipro River).
In addition, these milbloggers claimed that Russian troops were preventing Ukrainian forces from evacuating the wounded and deploying additional personnel on the eastern bank near the Antonivka Road Bridge.
Nataliia Humeniuk, Head of the Joint Press Centre for Ukraine's Operational Command Pivden (South), said that Ukrainian troops were pushing Russian forces back to a distance of three to eight kilometres from the eastern bank of the Dnipro River in Kherson region.
Quote: "The geographic extent of this described effort is significantly larger than what any available open-source evidence currently shows."
Details: ISW indicated that Russian troops made a confirmed advance in a Ukrainian-held area on the eastern bank of Kherson Oblast amid ongoing operations on 15 November.
Geolocation footage released on 14 November showed Russian troops advancing towards Krynky.
At the same time, Russian milbloggers claimed that the occupiers counterattacked and forced Ukrainian troops to retreat from some areas south of Krynky, near Kozachi Laheri (23 kilometres northeast of Kherson and 2 kilometres from Dnipro), and near the Antonivka Road Bridge.
However, ISW stated that they could not confirm these statements.
Ukrainian military observer Kostiantyn Mashovets said that Russian troops had probably developed a plan to eliminate Ukrainian positions on the eastern bank by forming three tactical groups.
Mashovets said that Russian troops were planning to use two groups to bypass the Oleshky-Nova Kakhovka road and the Krynky area from Korsunka (45 kilometres northeast of Kherson and 1 kilometre from Dnipro) and Kozachi Laheri, while the third group will attack south of Krynky and move north.
To quote the ISW's Key Takeaways on 15 November:
The European Union (EU) appears poised to ban the export of precision machine tools and key weapons manufacturing equipment components to Russia.
Denmark will reportedly start inspecting and potentially blocking Russian oil tankers in an effort to enforce a price cap on Russian oil and the European Union's (EU) insurance regulations.
The Ukrainian government reached a deal with international insurers that will provide affordable coverage to vessels carrying grain and other critical food supplies through the Black Sea corridor for civilian vessels, amid continued Russian efforts to deny navigation through the corridor.
Russian President Vladimir Putin stated during a meeting with Russian election commission representatives on 15 November that the Russian government will suppress any foreign or domestic election interference.
Recent Russian opinion polls indicate that roughly half of Russians maintain support for the war in Ukraine and for Russia to engage in peace negotiations.
Yandex NV – the Dutch holding company of Russian internet technology company Yandex – reportedly aims to sell all its Russian assets by the end of 2023, allowing the Russian government to further increase its hold over the Russian information space.
Russian forces conducted offensive operations along the Kupiansk-Svatove-Kreminna line, near Bakhmut, near Avdiivka, west and southwest of Donetsk City, in the Donetsk Zaporizhzhia Oblast border area, and in western Zaporizhzhia Oblast and advanced in some areas.
A Russian insider source claimed that Kremlin-created Defenders of the Fatherland Foundation, which presented a limited number of former Wagner fighters with the certificates of their combat veteran status, is coercing former Wagner fighters into signing contracts with the Russian Ministry of Defence (MoD).
Russian and occupation authorities continue efforts to indoctrinate Ukrainian students in occupied Ukraine.
Support UP or become our patron!