On Monday, invaders launched 16 rockets at Kharkiv
Tuesday, 1 March 2022, 23:21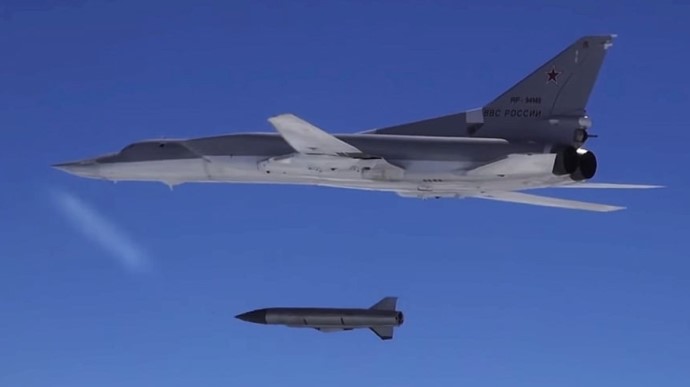 Svitlana Kizilova – Tuesday, 1 March 2022, 23:21
On Monday 28 February, President of the aggressor country Vladimir Putin sent a strategic missile launcher to fire on Kharkiv's civilians; 16 rockets were launched at the city.
Source: General Staff of Ukraine's Armed Forces on Facebook
Quote: "We are now calling Russia's evil actions towards its "brotherly nation" in Kharkiv 'facism' and 'genocide'. Strikes by the Tornado multiple rocket launchers, bombing of residential areas, ballistic rocket strikes on the city's central square and the City Administration building – these crimes have been recorded by bystanders on their phones. In reality, the scope of the war crimes perpetrated by Putin's regime in Kharkiv is much more extensive.
Yesterday, on 28 February, a strategic bomb and missile carrier TU-22m3 –supposedly doing drills– executed strikes on peaceful residential areas of Kharkiv using precision missiles –"rocket-land" rockets– without even crossing the state border. The bomber made four passes along the Besedino (Kursk region) – Belgorod direction, launching 16 rockets at the defenceless city."
Details: As a result of these strikes, high-rise apartment buildings were destroyed, as well as schools, kindergartens, and other civilian infrastructures. According to earlier information, dozens of Kharkiv citizens were killed, among them children.
The General Staff added that the invaders do not dare to storm the city as it is clear that they would be destroyed, which is why they resorted to terrorising the city from the air, killing peaceful Kharkiv residents.
Quote: "Air Forces recorded this crime against humanity during the hour between 19:07 and 19:51 on 28 February 2022. This information will be passed on to [the international court in] the Hague in due course.
Unfortunately, under the current circumstances, it is difficult for Ukraine's Air Forces to cover the skies in the region since part of the country's anti-air strike equipment has been destroyed by the enemy's rockets."